Interim Committee Hearings
October is traditionally a busy month for interim hearings on legislative resolutions (LRs), and this year was no different. I attended four days' worth of hearings in October for two different committees, covering six interim studies.
In the Health and Human Services Committee, we held hearings on a wide variety of topics. LR 529 looked at how Nebraska is implementing federal policies to protect our state's foster care youth. We heard from several experts who outlined the unique challenges faced by children and young adults in the foster care system, and discussed ways the state can help those youth reach their full potential. In the hearing for LR 513 the committee explored workforce challenges in the child welfare and juvenile justice systems. We heard from a range of testifiers who work in and with the system, who highlighted both the dedication of professionals in the field and the obstacles they face in providing adequate services. With LR 514, the committee learned about the successes and difficulties related to transition services for youth who are leaving the juvenile justice system. And finally, we discussed the idea of Silver Alerts in the hearing for LR 507. In other states, the Silver Alert system operates similarly to Amber Alerts, except that they alert the public to missing seniors with Alzheimer's or dementia. I am grateful to all those who came to testify on these challenging subjects, and will continue to engage with the committee, outside experts, and citizens to promote positive outcomes for all involved.

The Health and Human Services Committee listening to testimony on LR 507
In the Business and Labor Committee, we discussed two interim studies. The first, LR 533, was an examination of Nebraska's career education and training for middle-skill jobs. That includes positions that require some postsecondary education, like vocational-technical training or an associate's degree, but less than a bachelor's degree. Nebraska may be facing a shortage of these workers, and during the hearing we discussed Nebraska's options to build and support workers in this important career category. Last, we discussed LR 512 and the Commission of Industrial Relations (CIR). The CIR is a state agency designed to resolve public sector labor controversies, authorized in the Nebraska Constitution. During the hearing, we heard from a range of testifiers who shared their experiences with the CIR and their thoughts on its future.
Alzheimer's State Plan
In addition to Silver Alerts, the Health and Human Services Committee also discussed the new Alzheimer's State Plan. The plan has been crafted to improve information and services for Alzheimer's patients and caregivers in the state, and to help guide policy as the state's aged population grows. The Alzheimer's state plan has already resulted in some additional resources, including a web portal with information for families. That portal can be accessed here.
Charles Dick Medal of Merit
A few months ago I was informed by Major General Daryl Bohac, Adjutant General of the Nebraska National Guard, that I had been selected to receive the prestigious 2016 Charles Dick Medal of Merit by the National Guard Association of the United States. The Charles Dick Medal of Merit was established in 1988 to recognize exceptional contributions to the National Guard by elected representatives at the state or federal level. On October 26th, I joined the National Guard Association of Nebraska at their annual dinner in Lincoln to receive the honor.

Major General Bohac and I at the medal presentation
In my four years in the Unicameral, I have championed numerous legislative policies impacting military members, veterans and their families. These include in-state tuition for veterans who recently left the military (LB 740, 2014); a voluntary hiring preference for private sector employers looking to hire veterans (LB 272, 2015); the creation of a clear legal framework for parents and judges to use during custody proceedings when a military parent deploys (LB 219, 2015), job protections during state deployment for Iowa National Guard members who work in Nebraska (LB 753, 2016), and the establishment of a permanent military commission to address long-term issues of military installations and missions as well as support Nebraska's military members and their families (LB 754, 2016).   
Of the seven elected officials across the country who have been awarded the Medal of Merit this year, I am  the only state legislator. The other recipients include four state governors, a territorial governor, and a US senator. I am humbled and grateful for the recognition of my work to support Guard members and their families, and I look forward to continuing to work with the National Guard Association on these critical issues.
Bellevue and Sarpy County Chamber Forums
The Nebraska Chamber of Commerce and Industry held their annual Legislative Forum for the Sarpy County Chamber on September 29th and for the Bellevue Chamber of Commerce on October 18th.  I attended both along with several of my legislative colleagues, area businesspeople, economic development experts, and Sarpy County residents. One bill highlighted by the Chamber as a "Key Business Bill" that passed last session was LB 1059, a bill heard by the Urban Affairs Committee that made several updates to the Local Option Municipal Economic Development Act.  We also discussed some of the key issues likely to come before the Legislature in 2017, such as property tax reform, the corrections system, and workforce development. The Chamber's presentation was illuminating, and I look forward to the opportunity to discuss those key issues with my fellow senators.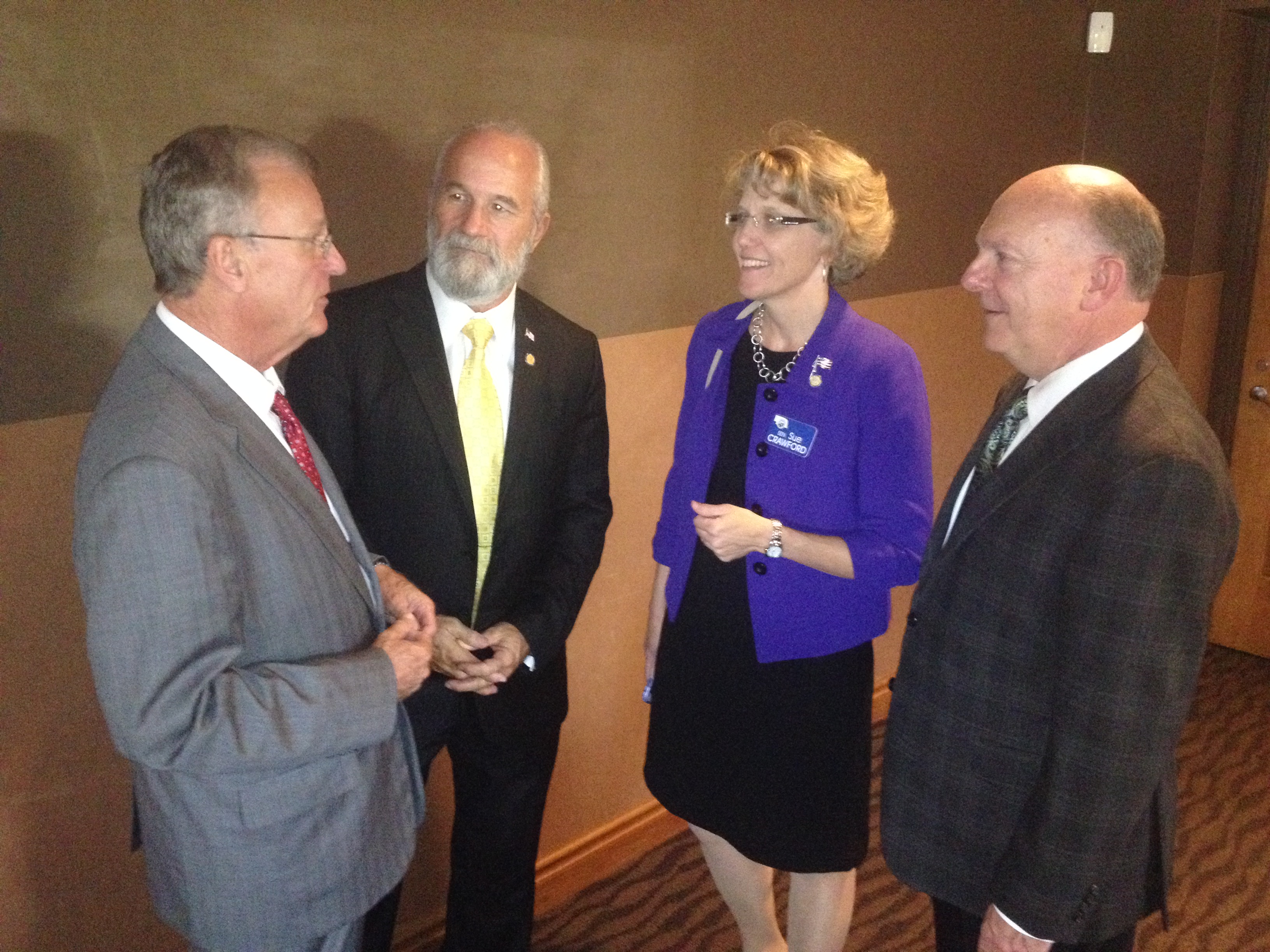 Meeting with (L-R) State Chamber President Barry Kennedy, Senator Tommy Garrett, myself, and Senator Jim Smith
NFC Community Advisory Board
I joined the Nebraska Family Collaborative's Community Advisory Board (CAB) on October 27th to discuss the new managed care plans that will soon be introduced in Nebraska. Known as Heritage Health, the program aims to combine physical, behavioral, and pharmacy services for Medicaid and CHIP recipients into one coordinated care system. The CAB invited representatives from the various Heritage Health insurance plans to talk about the program and answer questions, so that attendees would have a more thorough sense of how the system is supposed to work. The CAB is an excellent opportunity for those involved in the child welfare system to collaborate and share ideas, and it was my pleasure to participate in the Heritage Health discussion this month.
Speaking at Holland Children's Institute
The Holland Children's Institute held an Ideas Summit on October 27, and I was selected to be one of the presenters. The summit brought together experts and policymakers from multiple disciplines to focus on paid family and medical leave, which is a critical tool to address the rising costs of childcare, work-life balance, and other challenges facing Nebraska's working families. Last session I introduced LB 850, which would have created a paid family and medical leave insurance program through the Department of Labor (DOL). DOL data shows that nearly 20% of Nebraskans who apply for unemployment assistance report leaving their job for health and family issues, which is consistent with a 2013 Pew Survey that found 27% of women surveyed quit their jobs to care for a child or a family member. A 2013 survey of Nebraskans over the age of 18 by Nebraska AARP found that over 60% of Nebraskans support paid family leave, and 80% support workplace protections for family caregivers. Evidence from other states that have paid family and medical leave programs indicates that businesses will benefit from less turnover and more productive employees. And with Nebraska's current and projected workforce shortages, we as a state simply cannot afford to have workers sitting on the sidelines.

Speaking at the Holland Children's Institute Ideas Summit
Election Day
Election day is Tuesday November 8th this year. There are many offices being selected in this general election: from the President and House of Representatives, to the State Legislature, to Bellevue Public School Board and City Council, and more. Your vote is an important part of the democratic process. Polls will be open from 8:00 am to 8:00 pm CST, and you can check your polling location here.
Community Events
The Bellevue Police and Fire departments are hosting their annual Holiday Heroes Chili Cook-Off on November 4th at the Volunteer Firefighter's Hall. The event runs from 5:00-8:30 pm, and will feature a silent auction and People's Choice award along with the official chili judging competition. For more information, contact Nicole Clark at (402) 682-6622.
This is the 17th year that Nebraska's Official Veterans Day Parade will take place in Bellevue, and this year it will be held on November 5th. The parade begins at 10:00 am, and runs from the corner of Jackson Street on Mission Avenue to Washington Park on Franklin Street. This year's Grand Marshall is Ellis McClintick, a highly decorated 94 year-old veteran of three wars. I encourage you to bring the whole family to this wonderful event, and to join me in support of our community's many veterans.
As a reminder, Daylight Savings ends on November 6th. Don't forget that your clocks should "fall back" by one hour overnight!
All the best,