MHEC Annual Commission Meeting in St. Louis
The Midwest Higher Education Conference (MHEC) is a collaborative interstate compact dedicated to promoting higher educational opportunities in the Midwest. For 25 years, MHEC has helped educational institutions in its 12 member states work toward greater access, affordability, and quality. MHEC administers programs such as the Midwest Student Exchange Program, in which public institutions agree to charge out-of-state students within the exchange no more than 150% of in-state resident tuition for specific programs; the Multi-State Collaborative on Military Credit, which works to help veterans transfer their military training and experiences into college credit and successfully pursue college credentials; and the eTranscript Initiative, which offers a simplified way for students in member states to transfer information between high schools and colleges.
As one of Nebraska's five commissioners, I attended MHEC's 2016 Annual Commission Meeting November 13-15 in St. Louis. Commissioners from across the Midwest joined with national educational experts to discuss the Commission's previous work and goals for the future. I look forward to utilizing MHEC's many resources to continue promoting excellence in Nebraska's higher education system.
Urban Affairs Committee Holds Final Interim Study Hearings
On December 2nd the Urban Affairs Committee held its final interim study hearing of the year, receiving testimony on two interim studies. The first study, LR526, examined issues related to municipal classifications. State law currently classifies Nebraska municipalities into five categories based on population: 1) cities of the metropolitan class (300,000 or more); 2) cities of the primary class (100,001 to 299,999); 3) cities of the first class (5,001 to 100,000); 4) cities of the second class (801 to 5,000); and 5) villages (100 to 800). The City of Omaha is currently the state's only city of the metropolitan class, and the City of Lincoln is the only city of the primary class. There are currently 30 cities of the first class (including Bellevue) and 117 cities of the second class, with the remaining 381 incorporated municipalities in Nebraska classified as villages.
When a municipality changes classification (i.e. from village to city of the second class, etc.), state law generally provides for municipal officials to certify the relevant change of population to the Secretary of State. LR 526 examined a number of issues related to the municipal classification process, including procedures for certifying a change of classification and whether a population threshold can only be met through the decennial census process or by way of annexation.
The December 2nd hearing also included the second of two hearings on LR490, an interim study to examine the enforcement of state and local building codes in Nebraska. Historically, the Urban Affairs Committee has jurisdiction over most state and local building codes, and since 2007 has heard bills dealing with a wide variety of codes, including building codes, energy codes, and plumbing codes. Earlier this month, the Legislature's Executive Board made several additions to the subject matters under Urban Affairs' jurisdiction, so that legislation related to electrical codes and fire codes will also be heard by the committee in the future.
Visit from Twin Ridge Elementary School Students
I had an excellent time speaking with 4th graders from Twin Ridge Elementary on November 3rd. The students had great questions and lots of enthusiasm as they learned about our state government and toured our beautiful Capitol, and it was wonderful to meet them.

Twin Ridge Elementary 4th graders during the first stop of their Capitol tour
Legislative Council at Offutt Air Force Base
The Legislative Council, which consists of all current senators, met at Offutt on November 17th and 18th. The 17 new senators-elect were also in attendance. Meeting at the base gave us a chance to emphasize the importance of Offutt to senators across the state. During our meetings, we discussed key issues that we will face in the new session including the funding shortfall, corrections, economic development, and challenges to our mental health system.
Veterans Day Events in Bellevue and Omaha
I enjoyed the opportunity to be a part of Nebraska's Official Veterans Day Parade in Bellevue on November 5th, which as always was a great success. Now in its 17th year, the parade brings together generations of Nebraskans to celebrate and thank our veterans. It is always an enjoyable event for the whole family, and this year was no different. My thanks to the many people who worked hard to bring the parade together – the strength of our Bellevue community is marvelous to see on such full display.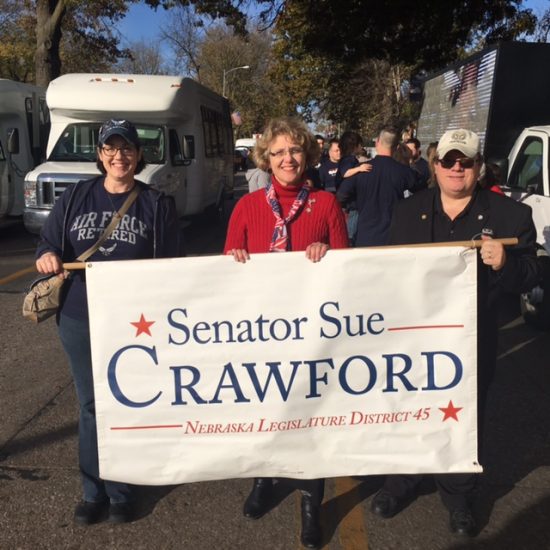 Getting ready to march in the parade with veterans Suzanne Kaufman-McNamara and Bryon Line
On November 9th, I joined the University of Nebraska-Omaha for their annual Veterans Appreciation Dinner. It was an evening of fellowship that brought together veterans, current military members, and the community to celebrate the achievements of UNO's student vets. During the program, scholarships were awarded for the Student Veteran of the Year, the Academic Excellence Recognition Award, and the Community Leadership Award. Our student veterans are dedicated high-achievers, and they all deserve our thanks and support.
Finally, I joined the Eastern Nebraska Veteran's Home for their Veterans Day program on November 11th. The ceremony honored all those who have served, and was also a time of solemn remembrance for all those warriors we have lost. It was an opportunity to express our deepest gratitude for every person who has sacrificed for our nation, and it was an absolute honor to be invited to the ceremony.
Caregiver Coalition
On November 3rd I joined the Nebraska Caregiver Coalition at their annual luncheon in Lincoln. Caregivers form the backbone of many Nebraska families, but their hard work and dedication too often goes unrecognized. It was my pleasure to join the Caregiver Coalition in lifting up and celebrating all those worthy Nebraskans who provide care to family members, friends, and neighbors.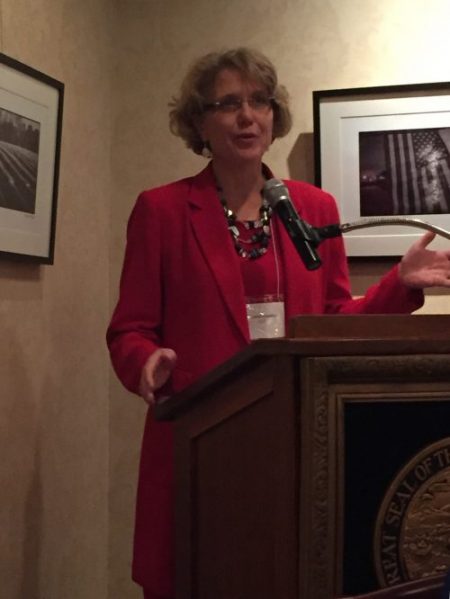 Speaking to the Nebraska Caregiver Coalition Luncheon at the Governor's Residence in Lincoln
Community Conversations with the Radio Talking Book Service
I joined the Radio Talking Book Service (RTBS) for their Community Conversations show on November 4th. RTBS provides a unique service to blind, elderly, and learning disabled students throughout Nebraska who have trouble reading printed text. A dedicated team of staff and volunteers read daily newspapers, magazines, and other publications live on air, and host other live programs to share news on sports, health, and the community. RTBS offers a way to access local, current information, and it was a pleasure to join them.
Clarkson College Nursing School Presentation
I joined the women of Clarkson College's Sigma Theta Tau – Omicron Epsilon chapter on November 15th to discuss policy developments related to nursing. Sigma Theta Tau is the national honor society of nursing. We talked about my LB107, which allows experienced nurse practitioners in Nebraska to provide care without an integrated practice agreement. We also reviewed strategies for legislative advocacy, the challenges facing Nebraska's mental health workforce, and some of the healthcare-related bills that might come up in the 2017 legislative session. It was a productive discussion, and I look forward to seeing these women positively impacting the healthcare system through their work.
Farewell Wishes to Kaitlin Reece…
November 18th was Kaitlin's last day with our office as she has accepted a position as Policy Coordinator with Voices for Children in Nebraska.

Kaitlin with her husband Jarrod and daughter Camille
Kaitlin has been with my office since I was first elected four years ago. Under her leadership, our office passed many new bills to improve the lives of veterans and families in our state. She has always been an energetic and vital member of my staff, and she will will be greatly missed. Please join me and the rest of my staff in thanking Kaitlin for her dedicated service to District 45 and the State of Nebraska.
… And Welcome to Shayna Bartow!
Shayna Bartow is the newest member of my staff, and will be taking up Kaitlin's former position as my Legislative Aide. She joined my office November 29th.
Shayna is a Wisconsin native who came to Nebraska to pursue a bachelor's degree from Creighton University. After earning a degree in Justice & Society and Spanish, Shayna moved to Bellevue and worked on various political campaigns throughout the state. Outside of the Legislature, Shayna enjoys spending time with her family, reading, and traveling.
Shayna's responsibilities include researching, drafting, and advising on legislation, and assisting with constituent communication. She would be happy to talk with you by phone, email, or mail. She is always available to answer any questions you may have at (402) 471-2615 or at sbartow@leg.ne.gov.
I hope you all had a wonderful Thanksgiving!
All the best,