Bill Introduction
The Legislature had five more days of bill introduction this week. At the end of the day Friday, members had introduced 430 bills and a number of resolutions.
On Monday, day 4 of this 90-day legislative session, I introduced LB 139. This proposal would give registered voters in a county the ability to petition for a question on the ballot to make county official elections nonpartisan races.
On day 5 I introduced two bills. LB 224 will mirror the asset limit eligibility requirements for the SNAP and TANF programs with the new regulations for the Child Care Subsidy program recently signed by the Governor. I also introduced LB 225, which gives the Department of Health and Human Services the ability to extend the Alternative Response Pilot in order to finish their evaluation period and gather further analysis on the challenges, barriers, and opportunities of making the program permanent.
On day 6 I introduced a number of bills. LB 252 will increase transparency and accountability in Nebraska elections by requiring the reporting of electioneering materials that are directed at a specific candidate. LB 253 paves the way for greater cooperation on sewer construction for economic development in Sarpy County. LB 254 would allow for those making home brewed alcohol to serve samples at festivals, club meetings, tastings, and competitions without a permit, so long as they are not selling the samples and the event is legally conducted under the Nebraska Liquor Control Act. LB 255 calls for the registration of Dialysis Patient Care Technicians (PCTs). The idea of creating a registration process for PCTs was the result of a 407 technical committee, and was determined to be the most safe and efficient way to allow PCTs to continue performing non-complex nursing interventions tasks as delegated by RNs without creation of a licensure procedure. Finally I introduced LB 280, which will allow victims of human trafficking to participate in our state's Address Confidentiality Program. The program currently provides victims of sexual assault and domestic violence with an alternate address to use on documents that are public record, in order to keep their whereabouts confidential.
On day 7 I introduced four proposals. LB 302 and LB 303 provide resources to the University of Nebraska to create fellowship and internship programs that will recruit, retain, and increase the competency of students studying behavioral and mental health professions. These bills will help address our state's behavioral and mental health workforce shortage, and students in these programs will work in rural and underserved communities. Next, over the interim I met with several Public Housing Authorities, including the Bellevue Housing Authority, to discuss any needed updates in our Public Housing statutes. LB 304 is an update bill that came out of those conversations, Finally I introduced LB 305, a bill that would create a statewide Paid Family and Medical leave insurance program. Under this program, covered employees would have access to 6 weeks of leave to care for a family member with a serious health condition or 12 weeks of leave to address one's own serious health condition or to care for a new child.Various changes have been made from the 2016 version I introduced in order to substantially reduce the program's startup cost.
On day 8 I introduced three bills: LB 371 to remove the State Fire Marshal's role in condemning buildings (at their request), LB 372 to establish employment protections for family caregivers, and LB 425 to make changes in the nurse practitioner statutes requested by the Board of Health.
There will be two more days of bill introduction on Tuesday and Wednesday of next week. Senators must introduce all bills they want considered this year by day 10 of the legislative session, though congratulatory and study resolutions can be introduced at any time during session. I will talk more about some of my bills as we present them at hearings, which begin next week. If you are interested in testifying on any of bills above, or if you want more information, please let us know.  
State of the State Address
Governor Pete Ricketts visited the Legislature on Thursday to give his annual State of the State address. The Governor highlighted some of the unique things about Nebraska in this sesquicentennial year, as the state turns 150 years old in March. The state will be celebrating this milestone throughout the year with public events, educational programs, and other initiatives. You can learn more about the many opportunities to participate here.
One of the unique aspects lauded by the Governor is the way Nebraska has historically paid its bills and passed a balanced budget. This is particularly important this year, as the state is facing a $900 million budget shortfall. I look forward to working with the Governor, the Appropriations Committee, and the rest of my legislative colleagues to find solutions for the budget gap that will not put the state's future at risk but that will at the same time maintain important commitments to the health and safety of our citizens.
Committee assignments and schedule
Last week each senator's committee assignments for the 2017-2018 biennium were finalized. The committee process is unique in Nebraska, in that every bill that is introduced has a public hearing. In other states and at the federal level, whether a bill gets a hearing can depend on the whims of partisan leadership and the politics of the day. In Nebraska, citizens have the opportunity to make their support or concerns known on every bill introduced each year. I highly encourage you to reach out to the committees if you want to make your thoughts known on any bill, either by speaking in person at bill hearings or by submitting written testimony before the hearing date. Committees must give 7 calendar days' notice before they hold bill hearings, which will begin next week. The calendar for all scheduled committee hearings can be found here. It is updated daily to reflect newly scheduled hearings.
My standing committee assignments this biennium have not changed from last year. I am still a member of the Business & Labor Committee, which meets on Mondays; the Urban Affairs Committee, which meets on Tuesdays; and the Health and Human Services Committee, which meets Wednesdays, Thursdays, and Fridays. All senators' standing committee assignments have to add up to the full five days. For the nine members of the Appropriations committee, which meets Monday through Friday, that means they serve on no other committees; most senators, however, serve on multiple committees that meet either one, two, or three days per week. Information about the standing committees can be found here.
In addition to the 14 standing committees, the Legislature has a variety of special and select committees. These committees do not count towards a senator's 5-day schedule, so senators may be members on several of them. For example, I am a member of the Executive Board, which has responsibility for legislative services and employees. Assignments for other special and select committees should be finalized by the middle of next week. A full list of those committees can be found here.
---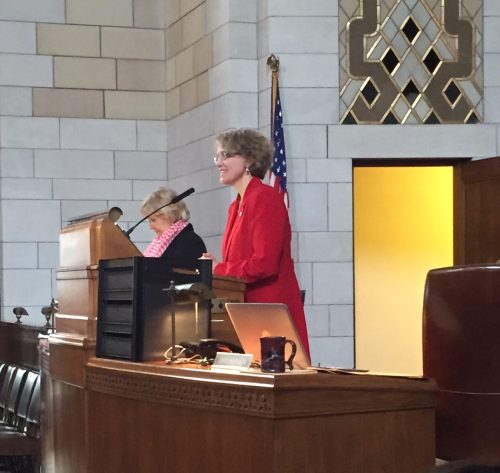 It was my privilege to deliver the Legislature's opening prayer on Friday, asking for wisdom and thoughtfulness as we do our work.
---
Stay Up to Date with What's Happening in the Legislature
All the best,