Continued Rules Debate
This year has been unprecedented in many ways, one of which has been protracted debate over the rules of the legislature at the beginning of the session. I noted last week that usually by that time we would have already approved the rules. Today, after much deliberation, we extended the temporary rules again to a week from Tuesday. This basically means that we continue to function under the rules that were in place last session. We will turn our attention Monday to immediate budget adjustments that need to be made this year to address funding shortfalls, then return back to a discussion of any changes in rules after we take care of that immediate fiscal business.
Right now we have debated and adopted all of the rules changes that were approved by the Rules Committee. I was hoping that we would adopt the rules as amended by committee action and move on to our other matters. However, there has been pressure by some Republicans to get the body to accept other changes that were not approved by the Rules Committee process. There was negotiation throughout the morning and early afternoon on Friday to see if we could get agreement to move forward, but at 1:30, when it was time for hearings, we voted to extend the temporary rules, go to our hearings, and come back to the issue of adopting the permanent rules later next week.
Supporting Domestic Violence and Trafficking Survivors
I was proud to stand with fellow senators in support of a package of bills to prevent sexual assault and protect survivors on Wednesday. In the aftermath of outrage over inappropriate actions by a state senator, we gathered to push for policies to prevent sexual assaults and protect victims.
The package of bills addresses protections for survivors of sexual assault and domestic violence, and increased penalties for human traffickers. The bills include: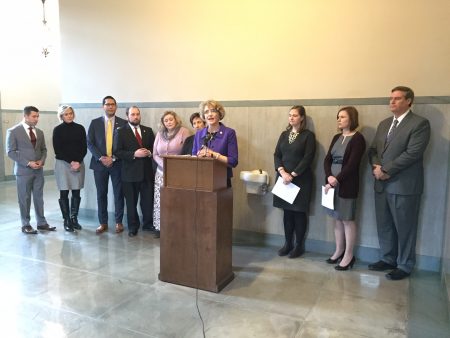 From left to right: Senators Morfeld, Walz, Vargas, Hansen, Blood, Pansing Brooks, Crawford, Howard, Bolz, and McDonnell
I look forward to helping these bills advance through the full legislative process, and will continue to work with and advocate for victims of sexual assault and human trafficking.
Bill Hearings This Week
On Thursday the Health and Human Services (HHS) Committee held a public hearing on my LB 255. The Dialysis Patient Care Technician Registration Act is a bill to ensure the health, safety, and welfare of the public by providing for the safe and cost-effective utilization of dialysis patient care technicians in the administration of hemodialysis.
On Friday the public hearing for LB 425 took place, also in the HHS Committee. This bill is a follow-up to my LB 107 from 2015, which gave Nurse Practitioners the ability to practice without a practice agreement with a specific physician. LB 425 updates education requirements for APRN-NPs, clarifies the transition-to-practice requirement of new graduates, and simplifies licensure requirements for experienced APRN-NPs moving to Nebraska from other states. These updates will allow the Nebraska APRN Board to proceed with the rules and regulation process for LB 107

Meeting with LB425 testifiers after the bill hearing
Information Session on Highway 75 Construction
I will be hosting an information session on Tuesday February 7th at Tregaron Golf Course. The purpose of the gathering is to give residents impacted by construction in the Normandy Hills and Fairview Road area the chance to meet with a representative from the Nebraska Department of Roads. The meeting will begin at 7:00 pm. Please feel free to share this information with anyone you know who might be interested in attending.
Hillcrest Caregiver Support Group and BHECN Mentorship Dinner
This week I attended two evening events to support some of the excellent organizations in our community. On Tuesday I joined the Hillcrest Caregiver Support Group, which meets monthly and offers an opportunity to meet with other family caregivers for education and support. Family caregivers are an enormously important part of our healthcare system, but too often their contributions are overlooked. It was an honor to join the support group this month and meet some of the dedicated caregivers who call our community home.
On Wednesday I attended a Mentorship Dinner with the Behavioral Health Education Center of Nebraska (BHECN). This dinner connected students from various high schools and universities in the metro area (including Creighton and UNMC) who are in behavioral health and medical education programs with professionals in those fields. It is an excellent opportunity for aspiring practitioners to learn from professionals who have been through the same experiences. I wish those young people all the best as they finish their studies and set out into their professional fields.
Meet our Intern: Macy Lloyd
I would like to introduce you to my intern for this 2017 legislative session, Macy Lloyd. Macy is currently finishing up her last semester at the University of Nebraska-Lincoln and plans to graduate in May with a bachelor's degree in Political Science. She also has minors in Communications Studies and Global Studies. Previously Macy worked as a communications intern with the ACLU of Nebraska and as a field intern with Nebraska Appleseed. For the past year and a half she also worked for the Education Abroad Office at UNL. After graduation she hopes to get her master's in Public Health with an emphasis on public health policy.
In her spare time Macy teaches dance classes at Hart Dance Academy and is on the leadership team for UNL's show choir group, Big Red Singers. Her sorority, Chi Omega, is also a big part of her life.

Macy's responsibilities include helping with administrative tasks as well as sitting in on committee hearings and assisting Christina and Shayna with projects. We're excited to have her assistance this session!
Stay Up to Date with What's Happening in the Legislature
You are welcome to come visit my Capitol office in Lincoln. My new office is room 1016, and can be found on the first floor in the northwest corner of the building.
If you would like to receive my e-newsletter, you can sign up here. These go out weekly on Saturday mornings during session, and monthly during the interim.
You can also follow me on Facebook (here) or Twitter (@SenCrawford). In addition to keeping followers up to date on my work in the legislature, we also regularly post a "Today in the Legislature" feature that lists some of the issues before the Legislature that day. You can also watch the Legislature live on NET Television or find NET's live stream here.
You can always contact my office directly with questions or concerns at scrawford@leg.ne.gov or (402)471-2615.
All the best,