Deficit Recommendations Advanced
This week the full Legislature had the chance to review and debate the Appropriations Committee's recommendations to address Nebraska's budget deficit. In a typical odd-numbered year, the Legislature advances a biennial budget covering the next two fiscal years. With the state facing a $900 million shortfall this year, however, the Appropriations Committee first crafted a proposal to make immediate cuts and shrink the budget gap. On Friday the Legislature advanced that bill, LB 22, on a 46-1 vote. The Governor proposed the original strategy for the cuts, including a 1% withholding of appropriations for most agencies each quarter that equals a 4% across the board cut. LB 22 made some adjustments to the Governor's proposal, particularly to reduce cuts to our Justice Reinvestment efforts and the University of Nebraska, and to shore up funding to our providers of Developmental Disability services. Their rated had been cut nearly in half recently because of an issue with DHHS reimbursement practices in the last administration.
Bill Hearings This Week
This week four of my bills had public hearings. The first, LB 78, was heard on Monday in the Transportation and Telecommunications Committee. The idea for LB 78 came from a conversation I had at the door with a former Bellevue City Council member. During our conversation, I learned of some of the challenges the city of Bellevue faced when trying to redevelop a relinquished section of the old Highway 75, which is now Fort Crook road. This bill helps address those problems and creates a more fair, transparent, and efficient process for all parties involved when a highway is relinquished by the state.

Testifiers from Bellevue at the LB 78 hearing: (L-R) Steve Knutson, City Administrator Joe Mangiamelli, and Public Works Director Jeff Roberts
Second was LB 304, which was referred to the Urban Affairs Committee and had its hearing on Tuesday. LB 304 is a follow-up to LR 489, an interim study I introduced in 2016 to examine issues related to Nebraska housing authorities. Over 100 Public Housing Authorities across our state, serving over 25,000 households and over 55,000 people, work in communities to address housing needs. LB 304 would implement several of the changes identified in the LR 489 study, and will allow city and county housing agencies to continue to carry out their responsibilities in the most efficient and effective way.
There were two hearings on Wednesday. The first, LB 225, was held in the Health and Human Services Committee and addresses the Alternative Response (AR) pilot program. AR was first created in 2014 by LB 853, and the goal of the AR program is to provide early intervention and services to at-risk families in order to prevent them from entering the child welfare system. LB 225 would allow the Department of Health and Human Services to continue the AR pilot program. Overall, we've seen promising initial results with the AR pilot program and it is important that we continue to determine the best way to serve families in our state.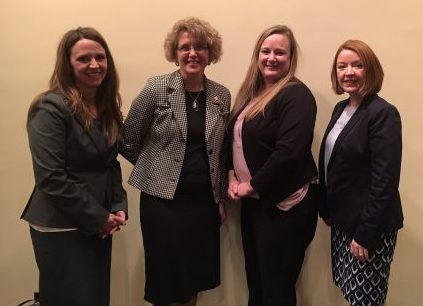 Some of the advocates who spoke in favor of LB 225 – (L-R) Ivy Svoboda, Jamie Vetter, and Erin Aliano
Last was LB 371, referred to the Judiciary Committee. It is a simple bill that clarifies the role of the State Fire Marshal in condemning properties. This bill will uphold citizen safety while avoiding cumbersome, duplicative procedures that can result in a large cost to a city or village
Nomination to lead Military and Veterans Commission
This week the Nebraska Department of Veteran's Affairs announced their selection to lead the Commision on Military and Veterans Affairs. I am hopeful that Phillip O'Donnell, who I met along with Veteran's Affairs Director John Hilgert on Tuesday, will prove to be an effective partner and advocate in his position as Military Affairs Liaison.

L-R: Director John Hilgert, Phillip O'Donnell, and me
Highway 75 Meeting
I will be hosting an information session on Tuesday February 7th at Tregaron Golf Course. The purpose of the gathering is to give residents impacted by construction in the Normandy Hills and Fairview Road area the chance to meet with a representative from the Nebraska Department of Roads. The meeting will begin at 7:00 pm. Please feel free to share this information with anyone you know who might be interested in attending.
Legislative Advocacy Days
Throughout the legislative session, groups host Capitol Days to get their members involved in the legislative process. Groups as diverse as nurses, Girl Scouts, and county officials (among many others) organize gatherings at the Capitol, which gives senators the chance hear a wide range of experiences and meet people they otherwise might not. On most days, especially early in session, there are one or two of these gatherings per day. On Wednesday night I attended a reception to meet National Guard members, and from there attended an event with dentists from across the state. At the Dental Association reception I had a chance to meet a young woman named Hannah who is finishing her residency and coming soon to practice in Bellevue as pediatric dentist.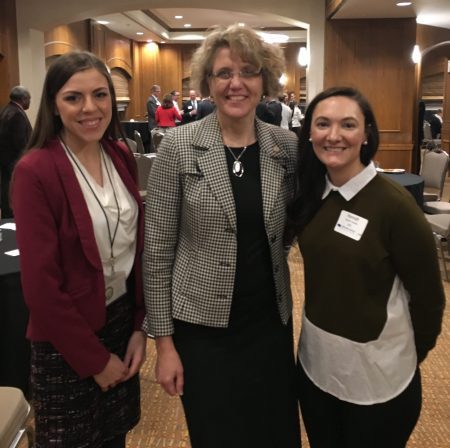 On Thursday this week the Nebraska Physical Therapy Association held their legislative day, and I was able to meet practitioners, students, and others involved in the physical therapy world. Here I met (L-R) physical therapy students Nick Kreuger, Brandon Barber, and Thomas Myers, plus Creighton Physical Therapy Professor Kirk Peck and NPTA President Julie Peterson.
Stay Up to Date with What's Happening in the Legislature
You are welcome to come visit my Capitol office in Lincoln. My new office is room 1016, and can be found on the first floor in the northwest corner of the building.
If you would like to receive my e-newsletter, you can sign up here. These go out weekly on Saturday mornings during session, and monthly during the interim.
You can also follow me on Facebook (here) or Twitter (@SenCrawford). In addition to keeping followers up to date on my work in the legislature, we also regularly post a "Today in the Legislature" feature that lists some of the issues before the Legislature that day. You can also watch the Legislature live on NET Television or find NET's live stream here.
You can always contact my office directly with questions or concerns at scrawford@leg.ne.gov or (402)471-2615.
All the best,