Legislative Committees 101
During this part of the session we are in the Chamber for floor debate in the morning and then in committees for hearings every afternoon.  Although floor debate in the mornings has been stuck on a debate over permanent rules for several days, we continue to work through bills in the committees.  
Committee work on a bill starts with hearings.  The senator who sponsors a bill introduces the bill before the committee to which the bill has been assigned.  Then proponents, opponents, and neutral testifiers speak.  Each of the Senators (except the Speaker) has a committee assignment for each day of the week.  We spend most of our time during this part of the session hearing testimony on bills.  We often hear powerful testimony from individuals across the state who come to talk about how the bills would impact their lives.  Yesterday we heard several powerful stories from parents of children with developmental disabilities about the difference that having key services made and conversely the hardships and missed opportunities that result when those services do not exist.  One young man with developmental disabilities came with his guardian to tell his own story about how he struggled until he got the right supports to allow him to be a productive working adult.  Every bill in Nebraska gets a hearing and anyone can come to testify or submit testimony.  So, you are welcome to participate in this part of this process.
About once a week most committees meet to discuss the bills heard, to decide what additional changes may be needed, and to vote bills that are ready for floor debate out of the committee.  Five of our bills have been successfully voted out of committee so far.  We are still working with committees on 10 other bills that have already had a hearing and we have 14 more bills that have not yet had their hearing.   
Meeting on Highway 75 Construction
Many residents from the Normandy area came to a meeting that I hosted with the Nebraska Department of Roads (NDOR) to discuss construction in south Sarpy County. Thanks to the residents who attended on February 7th, asked questions, and made suggestions.
Thank you to Tim Weander & Sarah Kugler (NDOR) for the update and for taking questions and suggestions. Thank you to Commissioner Kelly for providing an update on Sarpy County work to address some of the concerns, and thanks also to Commissioner Zuger and to Sen. Blood's aide Oliver VanDervoort for attending.
7 Hearings Make a Week
This week was an extraordinarily busy one in my office, as we had seven bill hearings between Monday and Thursday in four different standing committees.  
Monday's bills were heard in the Business and Labor Committee. The first bill, LB305, which is known as the Paid Family Medical Leave (PFML) Insurance Act, establishes a partnership between the State of Nebraska, employers and employees to provide job protections and partial wage replacement to workers who need to take time off to take care of themselves or a loved one.  The state provides the infrastructure for the program, the employees make small contributions to pay for the program, and the employer makes sure that the employee can leave and return. As Nebraskans we value hard work and we value our family responsibilities. Nebraska has the chance to be on the competitive cutting edge by moving forward with a strong state PFML Act that protects families and simultaneously provides competitive benefits to help address our state's workforce shortage.
The second bill I presented on Monday was LB372. Caregivers in Nebraska play a vital role in ensuring that our older population can continue to live at home longer. These caregivers also provide important financial support to aging Nebraskans. LB372 creates protections for caregivers by adding family care responsibilities as a protected class under the Nebraska Fair Employment Practice Act to ensure all Nebraskans, including caregivers, have a fair chance at obtaining and holding employment without discrimination
On Tuesday I had two bills in the Urban Affairs Committee. The first, LB590, works to address conflicts between the state building code and current regulations relating to in-home daycares and in-home care set forth by the Department of Health and Human Services. LB590 makes an exception to newer stricter requirements to allow residential day care centers to operate with twelve or fewer children as they currently do under DHHS regulations, rather than imposing strict new limits on this number as would otherwise be required by the state building code.  
My second  bill on Tuesday was LB591. This bill is the result of stories the Urban Affairs Committee heard from homeowners whose homes were not built to state and local building codes or the Nebraska Energy code. LB591 creates a mechanism to supplement our existing local code enforcement by providing a provision that would remove a contractor who willfully violates codes from the state Contract Registry if all other local and state efforts to resolve the situation were unsuccessful.
The Judiciary Committee held hearings on two of my bills on Wednesday. We started with LB108, which creates protections for children during the arrest, booking, sentencing and incarceration of a parent or guardian in order to reduce the long-term effects of trauma to the child. LB108 requires police departments to create and adopt policies to mitigate that trauma, allows custodial parents or guardians two phone calls to arrange for the care of their children, adds proximity to children to the list of factors the Department of Corrections considers when making a correctional facility placement; and provides that the Department of Corrections adopt policies for age-appropriate physical contact throughout visitations for children.
The second Judiciary bill this week was LB107, which addresses an issue relating to sexual abuse of minors in our state. When this issue was first brought to my attention by Bellevue Police Chief Mark Elbert, I was shocked to learn of a very problematic gap that currently exists in our sexual assault statutes. LB 107 ensures that minors between the age of 16-18 are protected if they are sexually assaulted by an adult who holds a position of special power or trust in their lives, such as their health care professional, educator, or youth facility supervisor. In Nebraska, we hold these professionals to high standards and we trust them to serve, educate, and protect our children, therefore, adults who hold influencing positions of trust with our children should be held accountable if they violate this trust.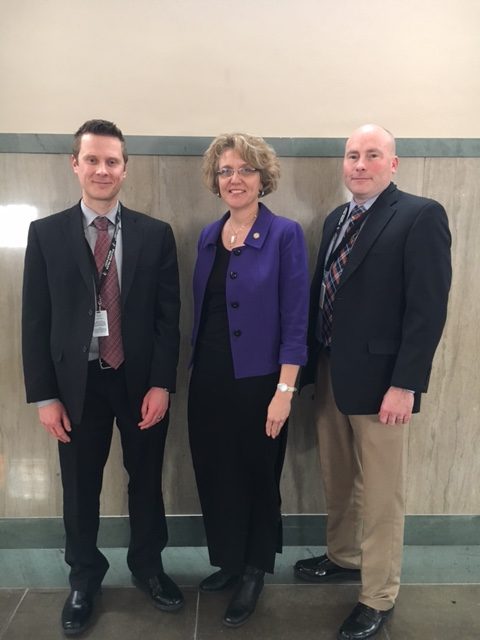 LB107 testifiers: Bellevue PD Sgt. Andy Jashinske and Lt. Tim Melvin 
Thursday was our final bill hearing for the week, which took place in the Government, Military & Veterans Affairs Committee. LB280 amends the Address Confidentiality program. The current program provides victims of abuse, stalking, and sexual assault with a substitute address to ensuring they can fill out any necessary applications with government departments, register to vote, and receive mail without fear that their address will become searchable to the public as well as  their abuser. LB 280 provides that victims of human trafficking, including those who are victims of debt bondage and labor trafficking, can also utilize the address confidentiality program.
Tips for Testifying at the Capitol
You are warmly welcome to testify on any bill before the Legislature this year. Hearing notices are published as they become available, and can be viewed at one of the following links:
If you are looking for information on a specific bill and you know the bill number, use the Search By Number feature

here

. That will bring up the bill's dedicated webpage, which has information about hearing dates, bill language and amendments, and lots of other information. If you only know the bill's introducer or the committee it was sent to, you can search for those criteria. Finally, you can search for bills by keyword at the bottom of the page.

If you are curious about which bills will be heard on a particular date, you can check the legislative calendar

here

.

A schedule of upcoming hearings, which is updated weekly, can be found

here

. This page also allows you to search for all hearings within a set date range.
If you find a bill of interest and would like to express your opinions about it during the public hearing process, here are a few tips as you prepare your testimony:
All bills in the Nebraska Legislature receive a public hearing, and absolutely anyone is welcome to testify.

Personal stories are often the most powerful. If you or someone you know is impacted by a bill and you feel comfortable sharing your experiences, tell the personal story.

Committees often ask testifiers to keep their comments under 5 minutes. Make sure your key points fit within five minutes. Start to speak as soon as you are recognized to get the full time window.

Bring 15 copies of your testimony if possible.

During the hearing, you may see senators come and go during testimony. This is not because they do not care about the testimony offered; rather, it means they need to present one of their bills to another hearing during that time.

If you want to share your thoughts on a bill but cannot attend the hearing in person, you can submit written testimony. Letters and email testimony are typically addressed to the Chairperson of the committee that will hear the bill, so a list of committees and chairs can be found

here

.

If you do submit a letter or email, make sure to request that your testimony be included in the public record for the bill. It is also helpful to send a copy of your written testimony to the bill's sponsor.

If you need an auxiliary aid or other accommodation, please call the Office of the Clerk of the Legislature at (402) 471-2271. Translators and interpreters are also available through the Ombudsman's Office at (402) 471-2035. Please note that a week's notice is requested for translators and interpreters.
Stay Up to Date with What's Happening in the Legislature
You are welcome to come visit my Capitol office in Lincoln. My new office is room 1016, and can be found on the first floor in the northwest corner of the building.

If you would like to receive my e-newsletter, you can sign up

here

. These go out weekly on Saturday mornings during session, and monthly during the interim.

You can also follow me on Facebook (

here

) or Twitter (

@SenCrawford

). In addition to keeping followers up to date on my work in the legislature, we also regularly post a "Today in the Legislature" feature that lists some of the issues before the Legislature that day. You can also watch the Legislature live on NET Television or find NET's live stream

here

.

Newsletters, press releases, and other information can be found on my legislative blog at

news.legislature.ne.gov/dist45/

.

You can always contact my office directly with questions or concerns at

scrawford@leg.ne.gov

or (402)471-2615.
All the best,