A Break in the Rules Logjam
On Wednesday, at the Speaker's request, the Legislature agreed to postpone debate on the rules to focus on debating bills before the body. The Speaker proposed the postponement and asked for our support of the motion and our efforts to work collegially on several bills before us. On Thursday we turned to other bills and one of my bills, LB74, was the first bill to pass in this window. We had productive debate on several bills from the Urban Affairs Committee and all of them passed the first round (General File). We turn to more bills on Tuesday.
In addition to opening a window for several of these bills to get passed, this strategy of postponing rules debate also provides an opportunity for the new members of the Unicameral to build working relationships with Senators from across the state. One of the important dynamics of the Unicameral in the past has been that the coalitions of support vary from bill to bill. So, someone who argues passionately against you on one bill may be a key supporter on your next bill. This dynamic has fostered more civil and productive debate in the Unicameral in the past, even as legislatures all around us (and in DC) became more polarized and dysfunctional. Hopefully these relationships will develop as we work through bills over the next 20-30 legislative days before we return to the rules question in April.
This Week's Bill Hearings
My office had three bill hearings this week, all on Monday and Tuesday. First was LB254, which was heard in the General Affairs Committee. LB254 was introduced on behalf of homebrewers from across Nebraska. The goal is to provide clarification in existing home brew statute on making beer, mead, perry, and products made with honey. It also seeks to allow the thousands of homebrewers across our state to participate in festivals and other events in a regulated manner in order to fine tune their skills and compete to represent our state on the national level. Lastly, LB 254 provides statutory clarity on how homebrew clubs and groups can operate in our state.
On Tuesday we began with LB97 in the Urban Affairs Committee. LB 97 would adopt the Riverfront Development District Act. This gives municipalities the ability to create a Riverfront Development District along with a Riverfront Development Authority to oversee and manage the district. Riverfront Development Districts, or RDDs, are a tool that can be used by municipalities across the state to effectively fund, manage, and promote economic development and tourism efforts on riverfronts. The Urban Affairs Committee has already advanced the bill to the full Legislature, to I look forward to the chance to discuss RDDs with all my colleagues.
The third and final bill hearing this week was LB96. Heard in the Banking, Commerce & Insurance Committee, LB96 gives public and private sector initiatives to improve the military value of military installations the opportunity to access financial assistance through the The Department of Economic Development's Site and Building Development Fund. LB 96 will allow the public and private sectors to proactively improve the military value of our military installations across the state, including Offutt. I was pleased that the committee advanced the bill to the full Legislature almost immediately after the public hearing.
Military Spouse Licensure
One of my priorities in the legislature has been advocating for policies that help our military families who come to Bellevue, including working to help spouses of military members complete their degrees and gain employment. This week in Health and Human Services, we held our hearing on a bill from our newest Bellevue Senator, Senator Carol Blood. She introduced LB88, to make it possible for military spouses with career licences from another state with similar requirements to obtain temporary career licences so that they can begin work right away while they complete the steps to get their Nebraska licence. LB 88 applies to many of our health related careers. The bill had strong support from a wide variety of groups and professions across the state. I look forward to working to get the bill supported by the committee and to the floor. She has another bill, LB109, that addresses this issue for teachers, which was heard in the Education Committee on January 23rd.
Other Upcoming Hearings February 20-24
The Legislature's 14 standing committees hold public hearings on dozens of bills each week. You can access the full hearing schedule for the next two weeks here, but I'd like to highlight a few that you may find particularly interesting for the coming week.
The committee process is vital, as it allows stakeholders and interested citizens to provide input on bills that might directly impact them or their communities. Having a wide variety of input allows the committees to consider both opportunities and challenges that the bill's introducer may not have thought of. Even the most well-researched and carefully crafted bills sometimes need amending before they are ready to be debated by the full Legislature.
Citizens can testify at these hearings or send a letter to the chair of the committee before the hearing and ask that your letter be submitted as testimony in the hearing. If you send a letter, indicate clearly whether your testimony is in support or opposition or if it is neutral. NET allows viewers to live stream hearings here. Hearings begin at 1:30 each day.
Monday: The Legislature is not in session.
Tuesday: The Agriculture Committee will spend Tuesday discussing LB617, a bill to legalize the production and sale of industrial hemp in Nebraska.
Wednesday: The Natural Resources Committee will hear LB610, a bill on community solar projects and the funding sources that would be available to them.
Thursday: The Judiciary Committee will hold public hearings on four bills that would increase protections for victims of domestic violence and human trafficking. Those bills are LB289, LB191, LB178, and LB394.
Friday: The Appropriations Committee will begin public hearings for their biennial budget process. Beginning Monday, each portion of their proposed budget will be open for public comment. These hearings are sorted by agency, and Friday's hearing will include the Department of Veterans' Affairs and Department of Labor.
If you ever have questions or comments about these or any other bills, please feel free to email or call my office.
Leadership Sarpy Capitol Day
Each year the Sarpy County Chamber sponsors a Leadership Sarpy class, aimed at fostering emerging leaders in our community. Leadership Sarpy participants engage in sessions to strengthen their leadership skills and lead projects that benefit the community. As part of the program, this year's Leadership Sarpy class visited the Capitol and I had the pleasure of joining them for lunch at the Governor's Residence. I wish the 2017 class all the best as they continue to develop their leadership skills!
Sarpy and Bellevue Chamber Events
Friday was the first recess day of the 2017 session. I got an early start at the Sarpy County Chamber of Commerce Legislative Coffee. I joined my friend and colleague Senator Blood and our newest Senator, Senator Rob Clements to talk to Chamber members about our legislative agendas and how things are going at the Capitol more generally.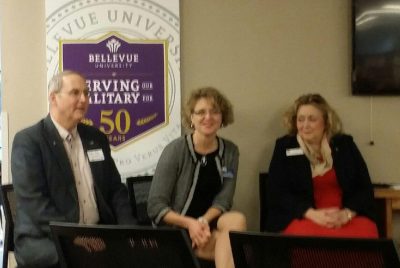 Friday afternoon Senator Blood and I joined the Bellevue Chamber of Commerce for their Legislative Luncheon. It was a pleasure to meet with businesses and members of the public from Bellevue and South Omaha to discuss the legislature and answer questions.
Stay Up to Date with What's Happening in the Legislature
You are welcome to come visit my Capitol office in Lincoln. My new office is room 1016, and can be found on the first floor in the northwest corner of the building.

If you would like to receive my e-newsletter, you can sign up

here

. These go out weekly on Saturday mornings during session, and monthly during the interim.

You can also follow me on Facebook (

here

) or Twitter (

@SenCrawford

). In addition to keeping followers up to date on my work in the legislature, we also regularly post a "Today in the Legislature" feature that lists some of the issues before the Legislature that day.

You can watch legislative debate and committee hearings live on NET Television or find NET's live stream

here

.

You can always contact my office directly with questions or concerns at

scrawford@leg.ne.gov

or (402)471-2615.