Bills Receive Final Approval from the Legislature
This week the Legislature made progress on advancing a number of bills, including on Final Reading. One of my bills, LB74, was approved in that round of debate Friday. Final Reading is exactly what it sounds like: it is the final time a bill is read in the Legislature, and the last round of voting before bills are presented to the Governor. A bill can't be amended or debated on Final Reading, but can be returned to Select File for a specific amendment.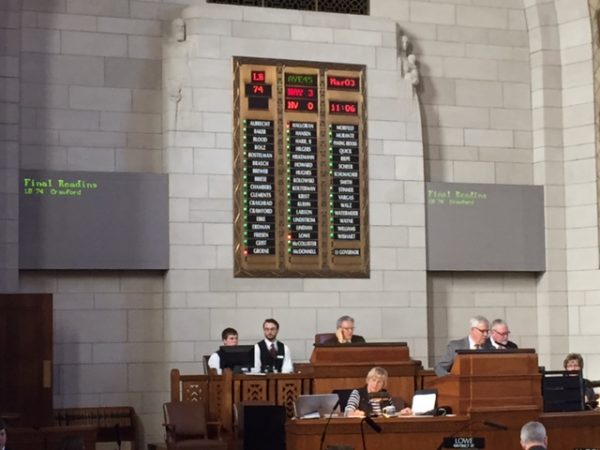 The vote board at the Legislature when LB74 passed on Final Reading
During Final Reading debate, the Legislature is placed under call. That means all senators who are listed as present must be in their seats in the Chamber, and all non-senators including legislative staff and the media must leave the area where our desks are located. Placing the House under call ensures that senators are in their seats and ready to vote when the time comes. Each bill on Final Reading is actually read aloud, likely as a holdover from the days when senators could not simply pull up the PDF of the bill on a laptop. Nowadays the bills are read extremely quickly, and senators can vote to suspend the rules and dispense with the reading for particularly long bills. After the reading is done, the presiding officer invites the senators to vote on whether the bill should pass. In most cases, a bill must have 25 votes to pass; however, a bill with an emergency clause, meaning it goes into effect sooner than a regular bill, requires 33 votes. A proposed constitutional amendment requires 30 votes to place it on the general election ballot, and 40 to place it on a primary or special election ballot.
We passed 12 bills in total on Final Reading Friday, and they will all now go to the Governor for his signature. Under Nebraska law, the Governor has five days (not including Sunday), to decide what he'd like to do with a bill after it is presented to him. If he signs a bill or chooses not to act on it, the bill becomes state law. He can choose to veto a bill; if that happens, the bill is returned to the Legislature with an explanation of why he chose to use his veto. The Legislature can override any gubernatorial veto, although it takes a vote of 30 senators to do so.
Bill Hearings this Week
This was an extremely busy week in my office, as we had seven bill hearings in six different committees.
On Monday LB302 and LB303 had public hearings in the Appropriations Committee. Both bills come from recommendations of the Mental and Behavioral Health Task Force established by LR413 in 2016. LB302 appropriates funds to create post-graduate fellowships for physician assistants. These fellowships will prepare participants to provide advanced psychiatric and behavioral health care in rural and underserved communities, and help Nebraska expeditiously recruit, retain, and increase the competence of the psychiatric prescriber workforce. LB303 appropriates funds for master's level internships in order to recruit, train, place and retain behavioral health professionals to work in primary care medical practices across the state, and improve access to behavioral health services in rural and underserved areas of Nebraska. Both are important bills to strengthen and broaden our mental health workforce.
On Tuesday we had two bills as well. The first, LB95, was heard in the Urban Affairs Committee. In 2016 I introduced LR439 to examine the use of TIF by municipalities for residential development; LB95 is a result of this interim study. LB95 modifies provisions in community development law related to tax-increment financing (TIF) projects in order to make various processes including auditing, public notice, reporting, records retention, and cost-benefit analyzation more transparent, and to provide for more local oversight of TIF projects
The second bill Tuesday was heard in the Transportation & Telecommunications Committee. The idea for LB587 came from a conversation I had with a constituent. During our conversation, I learned about some of the challenges faced by parents and students when it comes to getting students to school. LB587 recognizes that students in both rural and urban areas across our state face unique challenges in getting to school and school related activities. As a result, this bill would make school permits available to students who meet the age and experience qualifications already outlined in statute, without restricting it to students in rural parts of our state.
Thursday had two bills as well. In the Health and Human Services Committee, LB224 offers a step to continue to improve performance and timeliness in processing benefits for some of our most vulnerable families by eliminating asset limits for applicants. LB224 streamlines the administration of several public assistance programs, reducing paperwork and staff time spent on unnecessary verifications. Income and work requirements in these programs are sufficient to direct the assistance to those most in need. Asset limits are unnecessary and even counterproductive to our ultimate aim to encourage self-sufficiency for families who temporarily receive these benefits.
Second on Thursday was LB589, heard in the Judiciary Committee. I introduced this bill to protect children who experience the trauma of experiencing or witnessing sex abuse who have told their story on videotape with professional forensic interviewers from being interrogated about their experience again during pre-trial discovery.  Situations that can be challenging for adults can be downright frightening or trauma-inducing for children, particularly young or vulnerable children. We have a duty to be sensitive to the trauma caused by a child victim or witness continually repeating or being questioned about the traumatic event. LB589 seeks to create an environment that protects truth and accountability for defendants while also protecting our children.

Some of the testifiers and supporters of LB589: Dan McGinn, Dr. Stephen Lazoritz, me, Senator Roy Baker, Ivy Svoboda, Erin Aliano, and Colleen Brazil
Friday had just one hearing: LB252, heard in the Government, Military & Veterans Affairs Committee. LB252 requires the reporting and disclosure of electioneering communications. It does not restrict activity, what can be said in electioneering communication, or limit free speech in any way. Instead, my bill simply provides for a reporting mechanism that creates more accountability in our state's elections. If outside groups or organizations are pouring money into Nebraska to shape campaigns in our state, the citizens and candidates have a right to know who they are.
Nebraska Sesquicentennial Celebration
Wednesday was Nebraska's sesquicentennial birthday, meaning the state was founded 150 years ago, on March 1st, 1867. The Legislature hosted a wonderful ceremony in the George W. Norris Legislative Chamber, in which we celebrated our state's history through music, poetry, and remarks from Nebraska state leaders. It was a particular pleasure to see all of the young people who joined us, either as part of the ceremony or watching from the balconies, for this exciting day.
Hearings of Interest March 6-10
The Legislature's 14 standing committees hold public hearings on dozens of bills each week. Next week we have seven bills up for hearings.  You can access the full hearing schedule for the next two weeks here, but I'd like to highlight a few from among the committees that you may find particularly interesting for the coming week.
Monday: The Department of Correctional Services will have its public budget hearing in the Appropriations Committee.
Tuesday: The Education Committee will hear LB662, which would create a letter-based system to grade Nebraska public schools.
Wednesday: LB501 would change notice requirements for private property locations that do not allow carrying a concealed handgun. This bill will be heard in the Judiciary Committee.
Thursday: The Government, Military & Veterans Affairs Committee will hear LB25, which would reinstate the winner-take-all system in Nebraska for presidential electors.
Friday: The Legislature will be in recess on Friday March 10th, so there will be no hearings this day.
University of Nebraska Legislative Dinner
On Tuesday the University of Nebraska held its annual Legislative dinner. The event is a chance for senators to meet with students from all four branches of the university system (UNL, UNO, UNK, and UNMC) and discuss their experiences. I have enjoyed attending this dinner in the past, but was unable to do so this year. My staffer Christina attended in my stead, and had a wonderful evening speaking to students and University staff.

Christina with Dr. Chris Kratochvil, friend of the office and Associate Vice Chancellor for Clinical Research at UNMC
Stay Up to Date with What's Happening in the Legislature
You are welcome to come visit my Capitol office in Lincoln. My new office is room 1016, and can be found on the first floor in the northwest corner of the building.
If you would like to receive my e-newsletter, you can sign up here. These go out weekly on Saturday mornings during session, and monthly during the interim.
You can also follow me on Facebook (here) or Twitter (@SenCrawford). In addition to keeping followers up to date on my work in the legislature, we also regularly post a "Today in the Legislature" feature that lists some of the issues before the Legislature that day.
You can watch legislative debate and committee hearings live on NET Television or find NET's live stream here.
You can always contact my office directly with questions or concerns at scrawford@leg.ne.gov or (402)471-2615.
All the best,