March is women's history month, and March 8th is International Women's Day. As such, I'd like to highlight some of the female leaders and trailblazers, past and present, who have served in Nebraska state government.
Sarah Muir, Clara Humphrey and Mabel Gillespie became the first women ever to serve in Nebraska's legislative branch when each won election to the State Legislature in 1924. This was before Nebraska adopted Unicameralism, and the three women served in Nebraska's House of Representatives. Representative Gillespie, who was from Gretna, represented Sarpy County for one term. After Nebraska adopted Unicameralism, the first woman to serve in the new Legislature was Senator Nell Krause, appointed to fill a vacancy in 1946. She served during a special session the Governor called in August of that year.
Leadership by women senators has deep roots in Nebraska. In 1954, Kathleen "Pat" Foote became the first woman  to run for and win a seat in the Unicameral by election. A Republican farm wife, Senator Foote successfully launched a "Keep Nebraska Beautiful" campaign through landmark legislation a decade before Lady Bird Johnson began her Keep America Beautiful campaign aimed at improving our nation's highways. In 1972, Nebraska became the second state, after Hawaii, to endorse the Equal Rights Amendment, an effort led by Senator Fern Hubbard Orme. During her fourteen years as senator, she also led efforts to preserve the Thomas Kennard House in Lincoln and allocate funding for a women's physical education building on UNL's campus.

L-R: Senators Kathleen "Pat" Foote and Fern Hubbard Orme

In 1977, Senator JoAnn Maxey of Lincoln became the first female African American state senator following her appointment to the Legislature by then-governor Jim Exon. During her two years as state senator, she successfully passed legislation over a gubernatorial veto to create funding for women who found themselves homeless or without resources due to divorce, death or separation from their spouse. Around the same time, Senator Shirley Marsh was instrumental in structural changes inside the body. She helped lead the charge to end smoking on the floor of the Legislature and help bring a women's bathroom to the lounge outside the chamber. Before these changes, female senators relied on state troopers to guard the door to the men's bathroom.

L-R: Senators JoAnn Maxey and Shirley Marsh
In 1986, not one, but two, women ran for Governor of Nebraska: Republican Kay Orr and Democrat Helen Boosalis. This contest marked the first time in American history that two women faced each other as nominees from the two major parties in a Governor's race. With her victory on election day, Governor Kay Orr set additional records, becoming the first female governor of Nebraska and the first female Republican governor in the nation.
In the 1990s, the Legislature saw a series of influential female committee chairs. Senator Ardyce Bohlke, for example, as chair of the Education Committee, used her leadership position to help increase the amount of state aid to our K-12 schools. And Senator DiAnna Schimek, who chaired the Government, Military & Veterans Affairs Committee, was one of the driving forces behind the change to apportion Nebraska's electoral college votes by congressional district.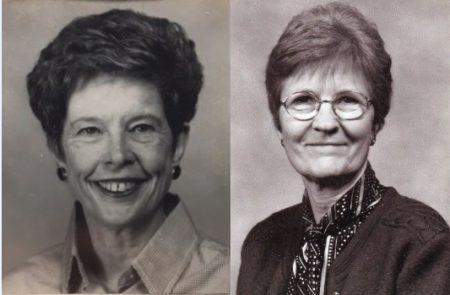 L-R: Senators Ardyce Bohlke and DiAnna Schimek
In 2008, Senators Tanya Cook and Brenda Council became the first African American women to win election for their seats in the Legislature. Both were deeply involved in education policy during their time in the Legislature, and Senator Cook led the charge to alleviate the "cliff effect" in the childcare assistance program.

L-R: Senators Tanya Cook and Brenda Council
Nebraska's first ever female US Senator, Eva Browring, was appointed and served 8 months after the death of Senator Dwight Griswold in 1954; Senator Hazel Abel then won the special election to a 60-day term that opened up after Senator Browring resigned due to an odd provision in Nebraska's election law. Senator Abel was the first woman ever to succeed a woman in the US Senate. Most recently, former state senator Deb Fischer became Nebraska's first female US Senator elected in a regular election, following her defeat of Bob Kerrey in 2012. Also in 2012, Senator Sara Howard was elected to the seat previously filled by her mother, Senator Gwen Howard, marking the first mother-daughter legacy in the Nebraska Unicameral.

L-R: Senators Gwen Howard and Sara Howard
13 of the 49 state senators in the Unicameral today are women: Senators Joni Albrecht, Carol Blood, Kate Bolz, Lydia Brasch, Joni Craighead, Laura Ebke, Suzanne Geist, Sara Howard, Lou Ann Linehan, Patty Pansing Brooks, Lynne Walz, Anna Wishart, and me. My female colleagues serve in leadership positions on the Agriculture, Appropriations, Business & Labor, and Judiciary Committees. Many of the most integral positions in the offices that make the Legislature run smoothly are also held by women – in the Clerk's Office, Transcribers, Fiscal Analysts, Accounting, Information Office, Revisor of Statutes, Legislative Research, and so many more. On this International Women's Day, I want to thank all of them for their contributions to our great state.
Photos courtesy of the Nebraska Blue Book and Unicameral Information Office.