40 Bills in First Week of All-Day Debate
This week we shifted into full-day debate schedule. Most committees only meet occasionally from now on to decide on remaining bills in the committee. Our Appropriations Committee and our Revenue Committee are key exceptions; they continue to meet to hammer out a budget proposal and tax proposals, both tougher jobs in this year with a multi-million dollar budget shortfall.
About 40 bills on the agenda were heard in this first week of debate. However, we ended up debating even more that that number because some of the bills have other bills amended into them. For example, a bill that we debated to increase penalties for sex trafficking now also includes provisions from a bill to improve our process for renewing protection orders, a bill to prohibit the purchase of a deadly weapon by someone subject to a domestic violence protection order, and a bill to allow the termination of parental rights of a person convicted of sexual assault to the child born out of that assault. This bill advanced to the next round after a long debate about the implications of the longer prison sentences in the underlying sex trafficking bill and discussions of language that Senators, including me, wanted to be made more precise so that the bill clearly targeted sex trafficking.
On the afternoon of Wednesday March 29th, I helped to lead extended debate on a bill that bankers have had a senator introduce over the past few sessions. The bill in its various forms seeks to ensure that in the case of a governmental bankruptcy, the bond holder would be guaranteed to be first in line. I argued that we should not put bond holders, who receive interest for their risk and tax benefits from government bonds, ahead of taxpayers, government services, government employees and retirees. The bankers are a powerful group, so they usually have many senators on their side. Our main tool to fight back on this bill has been extended debate that requires a cloture motion.
On Friday March 31st we advanced LB 75. Currently Nebraska has a two year waiting period before felons who have completed their sentences can restore their right to vote. LB75 removes this waiting period so that citizens who have served their time can participate in our democracy. The bill was introduced and prioritized by Senator Justin Wayne. He noted the symbolism of advancing this bill in this sesquicentennial year for Nebraska. A heated issue in Nebraska's statehood was a provision that required that the state ensure the enfranchisement of its citizens regardless of race. Our state was founded on a key principle of ensuring that citizens can vote and our constitution has strong provisions to protect the right to a free and unencumbered right to vote. LB 75 strengthens our voting rights consistent with these Nebraska values.
Most states restore rights after a felon completes his or her sentence. We are one of only two states that has a waiting period for those who have paid their debt to society.
Bellevue Leadership Day
The annual Bellevue Leadership Day was held on Thursday March 30th, and was a great success. Members of this year's Leadership Bellevue program, sponsored by the Bellevue Chamber of Commerce, spent the day in Lincoln to experience state government firsthand. The group met with Governor Ricketts and Treasurer Don Stenburg, Appellate Court Justice Riko Bishop (herself a Bellevue native), Speaker Jim Scheer, Senators Carol Blood, Jim Smith, and John Murante, and several other senators.

Leadership Bellevue participants with Governor Ricketts
Each of the officials they spoke to discussed their ideas about leadership, and were wonderfully open to answering questions about their experiences at the Capitol. Each speaker contributed something unique to the Leadership Bellevue group's knowledge. Following the day's program, the group moved over to the Governor's Residence for an evening reception. I very much enjoyed speaking with the group in a more informal atmosphere. Each Leadership Day is different, and this year's group are wonderful examples of the great people we have in Bellevue.

Speaking with the Leadership Bellevue group over lunch
The Bellevue Chamber also delivered delicious cupcakes from the Cake Specialist around the Capitol on the morning of Wednesday March 29th. These treats are always well-received by senators and legislative staff alike!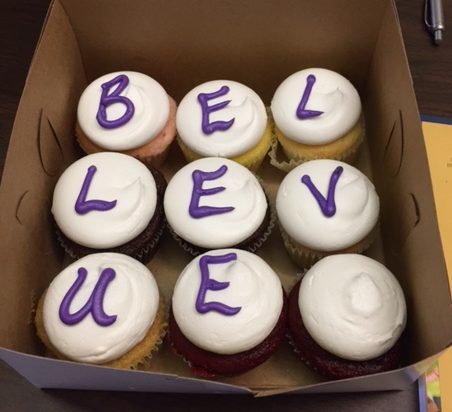 UNL Research Day
Thursday March 30th was UNL Research Day at the Capitol, an event for students in the Undergraduate Creative Activities and Research Experience (UCARE) program to share their work with senators and staff. UCARE is a great program, in which undergraduates get the opportunity to work directly with faculty on research or creative projects. One participant in this year's Research Day was Megan Manheim, a Bellevue resident whose research with Michelle Haikalis and Dr. David DiLillo looks at the effects of alcohol intoxication and bystander training on the acceptance of the myths surrounding campus rape.

Research partners Michelle Haikalis and Megan Manheim presenting their work at the Capitol

UNMC/Army partnership event
On Monday March 27th I joined Senator Blood, Mayor Rita Sanders, and representatives of Nebraska Medicine and the US Army for the announcement of a new partnership. The Partnership for Youth Success (PaYS) Program is a strategic partnership between the Army and various private and public institutions to help soldiers prepare for a career after the Army. PaYS connects service members with companies and organizations that understand the benefits veterans can bring to the table, as well as the challenges they may face transitioning back to civilian life. The Nebraska Medicine PaYS Program is an exciting development for our warriors, and an excellent opportunity for Bellevue.

L to R: Frank Venuto, Bellevue Mayor Rita Sanders, Antonio Johnson, Senator Blood, and Captain Renata Russo
Stay Up to Date with What's Happening in the Legislature
You are welcome to come visit my Capitol office in Lincoln. My new office is room 1016, and can be found on the first floor in the northwest corner of the building.
If you would like to receive my e-newsletter, you can sign up here. These go out weekly on Saturday mornings during session, and monthly during the interim.
You can also follow me on Facebook (here) or Twitter (@SenCrawford). In addition to keeping followers up to date on my work in the legislature, we also regularly post a "Today in the Legislature" feature that lists some of the issues before the Legislature that day.
You can watch legislative debate and committee hearings live on NET Television or find NET's live stream here.
You can always contact my office directly with questions or concerns at scrawford@leg.ne.gov or (402)471-2615.
All the best,