Manic Monday: 3 Bills Advance to Final Reading
Monday was a big day for my 2017 legislative agenda, as three bills were advanced to the final round of debate in one day. The first, LB590, is the bill to protect our in-home daycare centers from being required to conform to non-residential building code regulations; next was LB425 (amended into Senator Blood's LB88), which streamlines and reduces regulations for nurse practitioners; and third was my personal priority bill, LB225, which reauthorizes the Alternative Response pilot program at DHHS and includes provisions to reduce the risk of sex trafficking for our juvenile youths and to improve our ability to analyze what program work for kids across our various departments. All three of these bills improve the efficiency and effectiveness of our state laws and I am pleased the legislature has chosen to support them to Final Reading.
Where Do We Find $1 Billion?  
We entered this session with over a $900 million founding shortfall. This financial situation has loomed over the session. Whatever other bills are tackled, by the end of the session we need to close this funding shortfall. Unlike the federal government, we must balance our budget each session. We started this process with LB22, which found approximately $160 million in savings for the 2017 fiscal year. The Appropriations Committee has been hard at work for months, assessing possible budget cuts and deciding when to hold the line.
The governor's proposal for the FY2017-18 budget seeks to close the shortfall and cut taxes, primarily through spending cuts that hit our working and low income families the hardest. Instead, we should be tackling the budget shortfall by considering both parts of the budget picture: revenue policies and spending policies.  A balanced approach to addressing the shortfall would consider both sides of the ledger.  
Efforts to close the funding shortfall need to involve efforts by both the Revenue Committee and the Appropriations Committee. Some senators have offered bills to rethink some of our tax credit, tax cut, and tax exemption policies, such as Senators Krist (LB467 and LB468), Scheer (LB63), Schumacher (LB373) and Briese (LB312 and LB313). Another proposal on the table is a bill by Senator Howard to increase the cigarette tax. This proposal would help the budget shortfall and have public health benefits. Youth are particularly sensitive to price increases and less likely to start smoking as cigarette taxes increase. Nebraska currently has one of the lowest cigarette tax rates (41st at $.64) and spends $162.3 million in Medicaid costs per year related to smoking. Recent polling data shows broad support from Nebraskans for a cigarette tax as the most popular way to reduce the budget shortfall. This support exists across party lines. Now, a cigarette tax increase will not solve the entire budget shortfall, but it would yield over $100 million a year.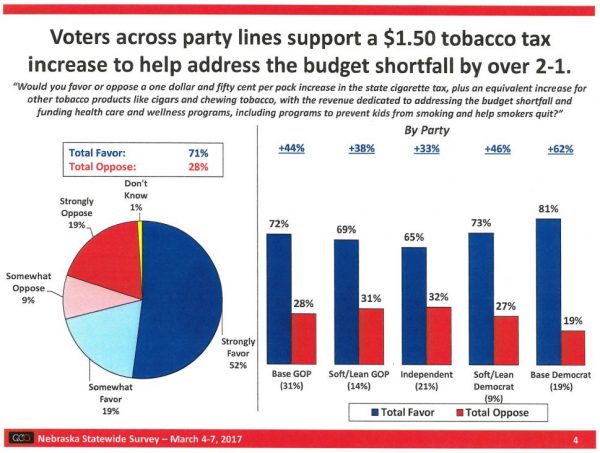 How do you feel about raising taxes on cigarettes? Take the poll below or send an email to let me know what you think.
Bills of Interest This Week
The Legislature had a productive week overall, debating and advancing a number of important bills. My LB97, which would allow creation of Riverfront Development Districts in the state, was debated Wednesday and voted to the second round of debate. The bill was amended to remove any impact to the state's revenue stream (important when we are facing such a shortfall), but should still allow cities with riverfront areas to more fully take advantage of the economic opportunities presented by our state's many beautiful waterways.
On Tuesday we debated and advanced several other interesting bills. One, Senator Vargas' LB427, directs schools to ensure pregnant and breastfeeding students have access to appropriate accommodations to help them continue their education. Under the best of circumstances, becoming pregnant and becoming a parent while going to school is difficult. When, as often happened, the circumstances aren't ideal, prospective or new parents may be forced to delay their education or drop out altogether. Though many schools do an excellent job working with these students and keeping them on track to complete their degree, many schools do not have clear and consistent policies in place to support and accommodate the unique situations new or expecting student parents may encounter.
Another bill which had significant, in-depth debate was Senator Krist's LB300. As currently written, Nebraska law requires civil suits based on alleged sexual assault of a child be brought within 12 years of the victim's 21st birthday. LB300, as originally written, would eliminate that statute of limitations on civil action. An amendment to this bill that we debated on the floor contains a provision to retroactively revoke the statute of limitations for cases for which that time limit has already passed. That brought up important constitutional and justice questions about whether the state can retroactively open up civil liability. Clearly we cannot retroactively make an act criminal, but the questions are not as clear for civil liability. It turns out that this issue will be considered in the Doe vs McCoy case before the Nebraska Supreme Court later this month. So, a decision was made to adopt a severability clause that allows the rest of the bill to stand if one part is found unconstitutional, and to also adopt the amendment. The vote was very close though, so I expect us to continue to debate this question on the next round.  
Elementary Visitors
This week four different Bellevue schools visited the Legislature. On Monday I met with the students of Two Springs Elementary in the Supreme Court chamber, where they asked me lots of great questions, including how I got this job. They thought it was pretty weird that I knocked on strangers' doors to ask them to vote for me day after day. I always use these opportunities to encourage the kids to look for ways that they can help in their schools and neighborhoods now and to consider being on a school board, city council, or state legislature when they are older.  

Two Springs Elementary students at the Capitol
On Friday three schools visited, but unfortunately I was tied up in meetings for the challenge to Senator Chambers' residency almost all day. My staff met with the teachers from Betz Elementary and met and spoke with students from St. Mary's and St. Matthew's over the lunch hour.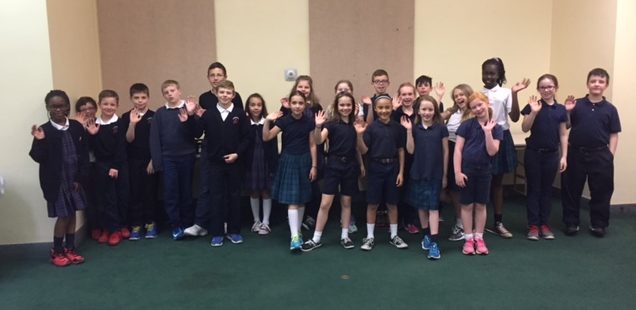 St. Mary's & St. Matthew's 4th graders
Events with Constituents and Students
This week I was able to attend several events with constituents and others who have an interest in the Legislature. At the 2017 Sophomore Pilgrimage, which occurred on Wednesday this week, I spent lunch talking to students from Bellevue East, Bellevue West, Thayer Central, and Wilber-Claytonia at the Governor's Residence.
Tuesday night was the annual Chiropractors' Association legislative reception, where I enjoyed visiting with chiropractors from Bellevue and across the state. And on Thursday I participated in Creighton's Take Back the Night event, where students rallied to support sexual assault survivors and learn about some of the policies the Unicameral is considering to assist survivors. Each of these events was filled with a diverse range of Nebraskan voices, and it was an honor to hear them all.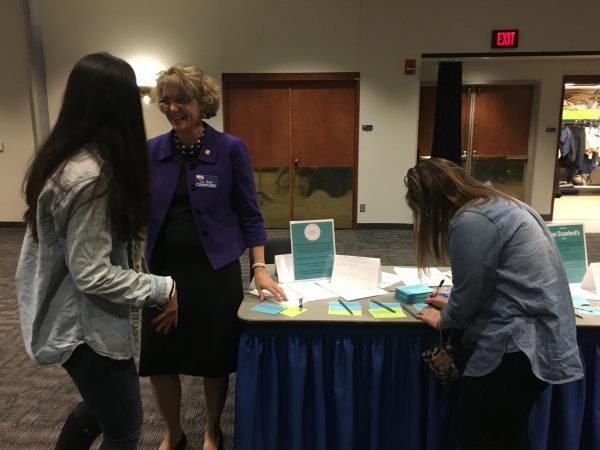 At Take Back the Night 2017 with a few of the student participants
Bellevue: Tree City USA
On Wednesday the City of Bellevue's Tree Board received an award from the Tree City USA organization. The award recognized Bellevue's commitment to planting and caring for trees in our community.
Nebraska Birthday Cards
Wake Robin Elementary School's Kid's Time program made cards to celebrate Nebraska's 150th birthday over spring break and sent them to my office. I distributed the cards to my colleagues here at the Legislature, where they were very well received. Thank you to the students at Wake Robin for designing such beautiful cards!
Stay Up to Date with What's Happening in the Legislature
You are welcome to come visit my Capitol office in Lincoln. My new office is room 1016, and can be found on the first floor in the northwest corner of the building.
If you would like to receive my e-newsletter, you can sign up here. These go out weekly on Saturday mornings during session, and monthly during the interim.
You can also follow me on Facebook (here) or Twitter (@SenCrawford). In addition to keeping followers up to date on my work in the legislature, we also regularly post a "Today in the Legislature" feature that lists some of the issues before the Legislature that day.
You can watch legislative debate and committee hearings live on NET Television or find NET's live stream here.
You can always contact my office directly with questions or concerns at scrawford@leg.ne.gov or (402)471-2615.
All the best,