Taxes, Guns & Drugs
Over the past two weeks we have debated several of the controversial bills that have been prioritized for debate this year including taxes [LB461], funding for rural schools [LB640], guns [LB68], medical marijuana [LB622]. Each of these bills has passionate defenders and passionate opponents. I have been impressed with the depth of our debate on these important issues. In past years, each of these bills with a sizable opposition, but shy of a majority opposition that can kill a bill outright, would run for 8 or 6 hours to a cloture vote that would kill the bill. This year the Speaker has instituted a different system for these bills. The bills run for 3 hours of debate so that each side has a chance to lay out their argument and to persuade other senators. If the bill is still alive after 3 hours and the 3 hours of debate indicate that the senators are still very divided on the issue, then the Speaker asks the proponents of the bill to determine if they have 33 senators who will vote for cloture. The Speaker, then, only schedules the bill for the remaining 3-5 hours of debate if he is confident that there is a good chance that a cloture motion at the end of that debate would be successful. Sometimes the break after the first three hours provides an opportunity for Senators on the two sides to come up with a compromise before the bill hits the floor again. This approach allows more of these controversial bills to be heard in the limited time we have to debate. It does not provide closure or a vote on those issues that do not meet the 33-vote threshold. We have yet to see how this process unfolds as we move through the end of the session and into the following year, as those bills will all still be alive in the next year. If the Speaker follows past practices, these bills that do not get sufficient votes for cloture would need a new priority designation next year to come back to the floor.
We ended the week with an extensive debate on LB461, which is a package of income and property tax changes advocated by Governor Ricketts. I appreciate those of you who contacted me with your views on the bill. The calls and emails to my office on the bill were overwhelmingly against the bill. Below is a copy of my floor statement on the tax bill.
"LB461 brings some interesting property and income tax reform ideas to the floor for debate and I commend all of those who have been involved in these discussions and who brought other Revenue reform bills this year.  Most of us in this room understand the need to make our income tax more competitive and fair and the need to consider what the state's role can be in helping to pull down property tax burdens in the state that are out of line with other states.  I understand the frustration with past inaction and the impatience to just pass something to "at least get started."  However, while LB461 includes some components that are good starting points for income and property tax reform, as it stands now, it also includes fiscally irresponsible and unfair measures and it fails to address our current need to restore our cash fund and address funding shortfalls in our current tough economic situation.
I grew up on a farm during the 1980's farm crisis so I appreciate the disconnect between farm land prices and family income to pay property taxes.  I understand that farm land is purchased for ag production and so its value is more fairly assessed by considering its production value instead of its resale value.  So, I appreciate the work of Senator Brasch and Senator Erdman to push for a change in our ag property valuation to make it more dependent on the income production potential of the land and less reliant on the sale prices.  This seems to be a fair and an appropriate component of ag land tax reform. However, LB461 also includes an arbitrary cap on valuation growth and a provision to pull ag land valuation down to 55-65% of value, which does not seem fair to other landowners who pay property taxes or fair to our other Nebraskans who earn income in other ways.  As we discussed extensively last year when we debated a bill to pull valuation down to 65%, this shift simply shifts the property tax burden in counties where it can be shifted and raises levies in counties where it cannot be shifted.  
I appreciate the efforts of Sen. Smith and the State Chamber and the Greater Omaha Chambers' to push us to pull down our top income tax rate and corporate tax rate to make our state more competitive.  Although our effective top income rate is really around 4%, if someone looks up our actually top income rate it does not look good in comparison to other states and it is made worse by the fact that our top rate kicks in for our middle income taxpayers.   I appreciate that LB461 includes components to begin to restructure the brackets and that it includes provisions to shield lower income taxpayers from being harmed from those provisions and that it includes a freezing of two exemptions to pay for a corporate income tax cut.   However, the bill uses fiscally irresponsible triggers to cut income tax rates in the future rather than taking the responsibility to pay for those tax cuts right now – and it also ignores the responsibility that we have to use some revenue policy changes to help with our fiscal shortfall.  Those same Nebraskans who get very little from the existing provisions in LB461 are the same families that will suffer the most from our appropriations cuts that lead to higher tuition rates, higher child care rates, and higher fees for school activities.  Triggers in general pass the buck to future lawmakers, but the triggers in LB461 are particularly troublesome because they are based on revenue projections, not actual revenue and only have a 1 year lookback instead of a more stable baseline.  There are millions of dollars of tax exemptions and exceptions that are on the table from various bills before the Revenue committee from several senators in this room that could be used to pull down top tax rates and reduce the cuts in our budget to our investments in our children and the future of our state.  
We cannot accept the risks in LB461 out of frustration to do something.  If we want to do something this year we need to pull out the unfair and fiscally irresponsible components of the bill – or use this debate this year as the launch for an effort next year to pull together a fiscally responsible and fair package that works for all of our Nebraska families and doesn't threaten the future of our state."
Consent Calendar
On Thursday the Legislature took up the Consent Calendar, which is a unique feature of the Unicameral that allows the body to move quickly on non controversial bills. There is a strict 15-minute limit on debate for each Consent Calendar bill, after which point a vote is automatically taken. Three of my bills got Consent Calendar designation and advanced from General File on Thursday.
This year the Speaker Jim Scheer put 43 bills on the Consent Calendar.  In order for a bill to be considered for the Consent Calendar, senators must send a letter to the Speaker making the case for inclusion. It is up to the Speaker to decide which bills get this special designation and how many bills get this designation.  Any three senators who disagree with a bill's inclusion can submit a letter to the Speaker to remove the bill from the Consent Calendar.  One of the bills did get removed from the Consent agenda this year.
Although the Speaker decides which bills fit on the Consent Calendar, there are some rules for the kinds of bills that can be considered.  Bills must be non-controversial (which means either no opponent testifiers spoke at the public hearing, or else any opposition has been addressed by a committee amendment); the general topic must also be non-controversial (so for example a bill that makes a non-controversial change to a gun law would not be eligible for inclusion); the bill cannot make a lot of changes; it must have no general fund impact, but can have a cash fund appropriation; and it must have been voted out of committee, almost always unanimously. In other words, Consent Calendar is reserved for bills that are simple, unlikely to raise objections from anyone, and do not expend the state's tax funds. This is one of the few ways for a bill to receive consideration without a formal priority designation, and is designed in part to allow seemingly minor issues, which may not rise to the level of priority compared to other bills but are still important to the state, to be dealt with.
Three of this year's 43 Consent Calendar bills were mine. First was LB255, which creates the Dialysis Patient Care Technician Registration Act. The bill establishes a registry for Dialysis Patient Care Technicians (PCTs). PCTs work under the direct supervision of a registered nurse who is required to be at the dialysis facility. The registered nurse is responsible for making decisions and providing guidance any time the treatment varies from normal parameters or the patient's condition becomes unstable. Conversations about how to ensure safe and cost-effective utilization of dialysis patient care technicians in the administration of hemodialysis led to the decision to maintain an updated record of registered Dialysis PTC's in the state. LB255 ensures that PCTs can enter the workforce and advance their training and certification safely on the job, that practicing PCTs maintain their certification, and that PCTs can continue to serve Nebraskans receiving dialysis in a safe and effective way.
The second, LB371, was introduced on behalf of the State Fire Marshal. This bill repeals statutory sections that lay out the requirements and procedures for the State Fire Marshal Agency to condemn properties. The State Fire Marshal has not utilized these statutes for many years.

Listening to Senator Schumacher (standing, far right) during debate on LB371
LB280, which makes a change to the Secretary of State's Address Confidentiality Act was my final bill on the consent agenda. The purpose of the program is to provide victims of abuse, stalking, and sexual assault with a substitute address that they can use when interacting with state and local agencies. The program also provides them with a new mailing address to ensure that their actual mailing address remains confidential. This program is critical in ensuring the safety of many victims. When victims and survivors move to a new address that is unknown to their abuser, the address confidentiality program ensures that they can fill out any necessary applications with government departments, register to vote, and receive mail without fear that their address will become searchable to the public. Although some victims of human trafficking also experience sexual assault or abuse and may therefore qualify for the program already, LB280 explicitly states that all victims of human trafficking, including those who are victims of debt bondage and labor trafficking, can utilize the address confidentiality program.
One of the other bills on the consent agenda, that I was pleased to see pass, was LB20.  This bill streamlines the homestead exemption process for disabled veterans by eliminating the current requirement that disabled veterans prove their disability each year, even when the disability is a permanent one.  I look forward to this bill passing on final reading and simplifying the homestead exemption process in our counties.
Former Senators' Day
On Wednesday a number of former senators returned to the Legislature at the invitation of Speaker Scheer. Former senators come to the Capitol as guests of the Legislature, watch debate, and are brought to the front of the Chamber and recognized for their years of work. We had some senators attending who were in office as recently as last year, and some who finished their legislative service decades ago. 
As a fairly informal event, the day is a wonderful opportunity to speak with those who have experienced the Legislature in different eras, and who understand some of the unique quirks that come with the territory of being a state senator. Many thanks to the senators who attended this year!
Budget Debate Begins Next Week
Next week we turn to our budget debate. You can find a full copy of the Appropriations Committee's biennial budget recommendation here. Feel free to send me your comments and concerns about the budget.  It is a tough budget year, and so there are tough decisions ahead.  I would appreciate your comments. Recall from our earlier newsletter that there is broad support across the state (over 70% support) for a tobacco tax increase in the state to to reduce the need for some of these cuts. I am disappointed that we have not had a chance to discuss revenue as well as spending solutions to our budget shortfall. The Governor has threatened to veto any bill that will increase revenue to address our budget shortfall (or to reform our tax structure). This has kept important discussions of meaningful tax reform and appropriate balanced discussions of spending and revenue to address our budget shortfall off of the table in this critical year.
Elementary Visits
This was a busy week for visiting Bellevue students. Four different schools toured the Capitol this week, and happily I was able to meet with all of them. On Tuesday I met with 4th graders from Bellaire Elementary. They asked great questions about how senators get elected and whether it's difficult to get to know all of my colleagues. We also talked about how important it is to communicate and have good relationships with the people around you – whether they're senators, classmates, friends, or neighbors.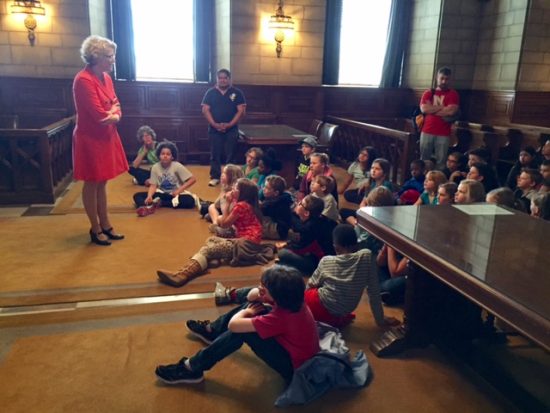 Belleaire Elementary students in the Supreme Court chamber
Birchcrest Elementary visited on Wednesday. This group was excited and engaged. We talked about some of the things that are unique about Nebraska's Unicameral, and how we make the laws that impact all Nebraskans.

Birchcrest students in the central Hall of Fame portion of the Capitol
Central and Bertha Barber Elementaries visited on Thursday. We talked about some of the skills needed to be a good leader, then sent them on their way to tour their marvelous Capitol building.

Bertha Barber and Central students sitting in the entrance hall of the Capitol
Events this week
There were a number of organizations visiting the Capitol this week for their annual legislative advocacy days. On Tuesday the Lincoln and Metro-area Homebuilders held a joint lunch to allow their members to meet with senators and staff about their work.
On Wednesday I attended three events. First was an informal event with Senator Deb Fischer, who was in Nebraska during the Senate's Easter recess. Senator Fischer was at the Capitol Wednesday to share coffee and talk with us, and also to meet some of the senators who were newly elected in January. Over lunch I had two events: the Greater Nebraska Schools Association, which I attended with Bellevue Superintendent Dr. Jeff Rippe, and the Nebraska Occupational Therapy Association.
On Thursday a number of students from ASUN, UNL's student government, hosted a breakfast at the Capitol. It was an opportunity for these emerging young leaders to discuss their experiences.
On Friday, I joined other Senators and the Governor for lunch. Governor Ricketts has continued a long-standing tradition of inviting Senators to come over to the Governor's residence for lunch about once a month, with the explicit rule that we do not talk politics while we're there. This lunch provides a chance for us to get to know one another and build the strong personal relationships that help us to do our work together better.  
Stay Up to Date with What's Happening in the Legislature
You are welcome to come visit my Capitol office in Lincoln. My new office is room 1016, and can be found on the first floor in the northwest corner of the building.
If you would like to receive my e-newsletter, you can sign up here. These go out weekly on Saturday mornings during session, and monthly during the interim.
You can also follow me on Facebook (here) or Twitter (@SenCrawford). In addition to keeping followers up to date on my work in the legislature, we also regularly post a "Today in the Legislature" feature that lists some of the issues before the Legislature that day.
You can watch legislative debate and committee hearings live on NET Television or find NET's live stream here.
You can always contact my office directly with questions or concerns at scrawford@leg.ne.gov or (402)471-2615.
All the best,