Early Sine Die Announced
On Tuesday the Speaker made a surprise announcement that the Legislature will end its work early this year, on May 23rd. Nebraska's constitution dictates that the Legislature cannot meet for more than 90 days in odd-numbered years and 60 days in even-numbered years, but it is the Speaker's prerogative to set the calendar within those parameters. Thus, he determined that this year we will adjourn Sine Die (Latin for "without day", meaning we adjourn at the end of the year without a set date to come back) on the 86th day of the 2017 session.
The Speaker's primary reason for ending the session early is that we will have discussed every priority bill (except those held in committee) by the 23rd, and will have finalized the budget. An additional benefit of adjourning early is that it does save money. Though the Speaker did not address that issue in his public explanation, it is certainly a bonus in this difficult budget year.
Budget Passes
On Monday and Tuesday the Legislature voted to advance the budget bills to the Governor's desk.  In Nebraska, the Governor has line item veto power for budget bills. This means that the Governor does not have to decide whether to accept or reject the entire budget, like the President does. Instead, the Governor can pick out specific items to strike or to reduce. So, the Governor really has line item editing power on budget bills. The Governor, however, can only adjust the spending amounts down, and cannot authorize more funds to be appropriated than the Legislature approves. Governor Ricketts will either sign the budget as is or deliver it, with his line-item vetoes, back to the Legislature next week. At that point, if necessary, we will assess what actions he took and determine whether veto override efforts should proceed.
Status of My Bills
This session I introduced a total of 29 bills. Seven of those bills (LB74; LB425, amended into LB88; LB590; LB225; LB97; LB253 and LB255) have been signed into law and two (LB280 and LB371) have been approved by the Legislature and are currently waiting for the Governor's signature. Considering the rocky start to this session and the limited number of bills that were heard on the floor, I am glad that I was able to get these bills signed into law by Sine Die. As for my remaining bills: four have been advanced to General File by the relevant committee and 16 are still being held in committee. Although we will not be able to debate them this session, these bills will roll over into the 2018 session.  After session we analyze which of these carry over bills we should try to push through in current form next year, which are unlikely to succeed any further, and which may need to be changed enough to warrant introducing a new bill to address the issue in the next year.   
Military Spouse Luncheon
On Friday I had the honor of joining the spouses of approximately 70 other Offutt leaders for a Military Leadership Spouse Appreciation event. Military spouses shoulder enormous burdens while their loved ones serve, but frequently receive little recognition or thanks for their personal sacrifices. This event was set up so the whole community could come together to show our gratitude.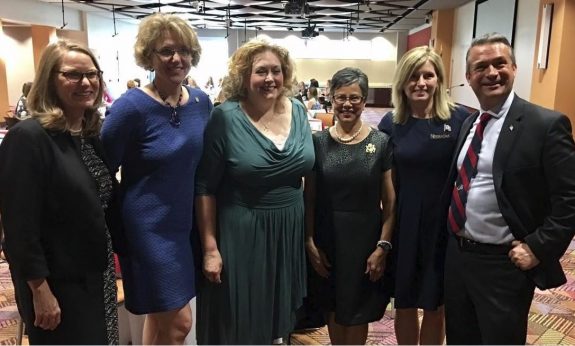 Angie Bacon, who organized the event, asked the elected officials in attendance to be servers on the buffet line. This was both a service to the spouses and an opportunity to speak to and thank each of them personally. Nebraska's First Lady Susanne Shore, Senator Carol Blood, Bellevue Mayor Rita Sanders, Angie, and Angie's husband Representative Don Bacon (L-R above) all joined me on the line. Entertainment was provided by country singer Jimmy Weber.
Governor's Signatures
The Legislature passed a large number of bills to Governor Ricketts this week, and he added his signature to all of them. There will likely be one more wave of signatures (and potentially vetoes) next week.
Among the bills Governor Ricketts approved this week was LB478, which allows felons to own bows and arrows and hunting knives for recreational purposes. That approval comes hot on the heels of his veto of LB75 last week, which would have restored voting rights for felons immediately after the completion of all court ordered probation and parole.
LB20, introduced by Senator Kolterman, will simplify the certification process for veterans with disabilities who receive a homestead exemptions. Currently, veterans who are totally disabled by a non-service accident after separating from the military are required to annually submit certification outlining their total disability to the county assessor in order to qualify for a homestead exemption. LB20 will make it so this classification of veterans do not need a new certification annually so long as no change in medical condition has occurred.
LB645, introduced by Senator Pansing Brooks, adds dyslexia to the list of covered disabilities under Nebraska's Special Education Act. This ensures that students with dyslexia are being fully recognized and served in schools across our state.
LB223 makes some tweaks to Nebraska's Prescription Drug Monitoring Program (PDMP), which was established last year by Senator Howard's LB471. PDMP is a statewide tool to help address the opioid addiction crisis in a way that focuses on patient safety. Over the 2016 interim a task force was created to make sure veterinarians prescribers would not be unduly harmed PDMP's reporting requirements and restrictions. LB223 is the result of those efforts as well as further work by Senator Howard to protect Nebraskans and make the program as effective as possible.
LB323, introduced by Senator Kolterman, creates the Palliative Care Consumer and Professional Information and Education Program. Under this program, the Department of Health and Human Services will provide information on their website about palliative care in order to assist interested health care providers in locating training resources and to connect families with educational resources so that they can learn about palliative care options and how they can secure this type of care for a loved one. Palliative care provides ongoing support to individuals with serious health conditions with the hope of relieving stress and providing comfort in a way that improves their overall quality of life.
LB481 will allow pharmacists to substitute interchangeable biological products for prescribed biological products (you can learn more about the technical aspects of interchangeables here). In practice, this bill allows biological products to be treated and interchanged in the same way as name-brand and prescription drugs are. The bill requires that pharmacists, the patient, and prescribing doctors work together to ensure patient safety and preferences are considered.
Interim Studies Introduced
Wednesday was the deadline for senators to introduce interim study resolutions. Interim studies can be introduced by individual senators or by committees, and like regular bills are referred to one of the 11 standing committees. They are an opportunity to gather information about a particular topic in a more formalized way. Sometimes the studies are completed by the standing committees to which they're assigned, which means that committee staff are more involved in research and information-gathering wand a public hearing is more likely.  Other times, because so many studies are introduced annually (126 this session alone), individual senators and staff  conduct the study.  The interim study resolutions give citizens an opportunity to see the issues being considered for future legislation early in the process.
This year I introduced three resolutions. LR138 is an interim study to examine the current mechanisms and funding sources available to municipalities to condemn or take down vacant and abandoned buildings. This session I introduced LB371, a bill that clarifies the role of the State Fire Marshal in the municipal condemnation process. During the debate on this issue, Senator Schumacher highlighted some of the obstacles municipalities face when dealing with vacant and dilapidated buildings. During this study, we will further explore challenges of the current process and opportunities to improve resources available to municipalities.
LR147 is a study of the Nebraska State Immunization Information System. During this study, the Health and Human Services committee will explore opportunities to increase the rate of immunizations reported to the system across the state. This system currently helps school nurses and other health care providers to track immunization records.
LR199 will further explore the staff structure here at the Legislature. One of the challenges of term limits has been continuity of committee staff. Committee chairs change frequently, and in our current system, committee chairs select the staff for the committee. While some chairs recognize the importance of retaining experienced staff, other chairs have not followed that model. Committee staff play an important role in ensuring that Senators on committees have sound legal advice and the research necessary for the committee to carry out its critical roles of screening bills and preparing bills for floor debate. LR 199 will explore training processes and possible opportunities for staff restructuring to ensure continuity, expertise and institutional knowledge of legislative committee staff.
Last Ag Breakfast
One of the regular events for senators is a bi-monthly Ag Breakfast. This Thursday was the last Ag Breakfast of the session. Usually only rural senators attend, but I attended two of these breakfast events this year to continue to build relationships across the state and with other senators. At each of these breakfasts those who attend receive a flower; if you watch the legislature regularly, you might have noticed that several of the senators are wearing carnations on their lapels on some days. Senator Howard and I attended this week's breakfast, so we were among those wearing flowers on Thursday.
Events in the District
The Renaissance Festival of Nebraska, a fun annual event for the whole family, takes place this Saturday and Sunday at the Bellevue Berry Farm (11001 S. 48th St). Activities start at 11 a.m. each day and go until to 6 p.m. You can learn more about the event and order tickets here.
The Sarpy County Chamber's State of the County event will be held on Tuesday March 16th from 7:30 – 10:30 am at the Beardmore Event Center. Speakers from a variety of disciplines will discuss county transportation, Offutt, county sewer development (including my LB253), economic projects, and other items relevant to Sarpy residents. To learn more and register, visit the Sarpy County Chamber's website here.
Crisis Response Initiative Launched
Crisis response, previously provided in pockets across the state, is now available statewide through a $12-million, four-year grant awarded to DHHS in 2016 from the Substance Abuse and Mental Health Services Administration (SAMHSA). The initiative should deliver more coordinated and supportive services. In a recent press release, DHHS Division of Behavioral Health Director Sheri Dawson explained that "Crisis Response brings a much-needed service to Nebraska families. It will allow youth and families immediate access to behavioral health interventions in their most critical time of need. Crisis response provides for early intervention and referral to treatment and supports. We want families to be served in their communities and not in higher levels of care whenever possible." For the Metro area, which includes Cass, Sarpy, Dodge, Douglas, and Washington Counties, families can reach the crisis hotline at 888-866-8660.
Stay Up to Date with What's Happening in the Legislature
You are welcome to come visit my Capitol office in Lincoln. My new office is room 1016, and can be found on the first floor in the northwest corner of the building.
If you would like to receive my e-newsletter, you can sign up here. These go out weekly on Saturday mornings during session, and monthly during the interim.
You can also follow me on Facebook (here) or Twitter (@SenCrawford). In addition to keeping followers up to date on my work in the legislature, we also regularly post a "Today in the Legislature" feature that lists some of the issues before the Legislature that day.
You can watch legislative debate and committee hearings live on NET Television or find NET's live stream here.
You can always contact my office directly with questions or concerns at scrawford@leg.ne.gov or (402)471-2615.
All the best,