Sine Die Adjournment
Last week I wrote about our fun unofficial Sine Die traditional celebration each year (Sine Die: The Fun One). This week it was time for our official Sine Die traditions and adjournment. Since we debated all of the priority bills for the session ahead of schedule, the Speaker ended the session on Tuesday, May 23. On the last day of session, the Executive Committee met to appoint Senators to one more special committee: the Nebraska Justice System Special Oversight Committee (LR127). The full body convened at 1:00 to approve the last two appointments, including Chuck Hutchison from LD 45 as a member of the Power Review Board, and to complete the final motions required to approve the Legislative Journals and to kill the bills that were already adopted as amendments to other bills. The bills that were not passed, adopted as amendments to other bills or killed in committee continue to be in play as we move into the next session. We begin debate next year on those bills that advanced out of committee on to General File this year but did not get to the floor before the priority bill deadline. There will be the usual ten days to introduce new bills at the start of the 2018 session, but all new bills must go through the committee public hearing process before they can advance to the floor.  We can debate the holdover bills that advanced in 2017 right away, even during this first 10 day bill introduction window.
The Governor came to speak to the Legislature on the last day of session as usual.  In reflection of the importance of the separation of branches in Nebraska government, members of other branches of government can only enter the chamber if they are invited by the Legislature and escorted into the chamber. So, when the Governor or the Supreme Court Justices, or members of the State Board of Education or the University Regents visit the chamber to speak or to be sworn into their offices, the Speaker appoints a committee to escort the guests into the chamber. I was a part of the committee this week that escorted in the Governor for his parting remarks. After the Governor's remarks, the Speaker gave his parting remarks.
During our last day, reporters from the Lincoln Journal Star asked many of the Senators for a one word description of the session. That became an interesting point of discussion among Senators during the afternoon. I picked the word "polarized." Senator Chambers said "horrendous." One of the more interesting choices from an insider perspective was Senator Morfeld's "33." We started the session with many weeks of wrangling over whether cloture should stay at 33 (it did) and then a few of the hot bills of the session died when they did not get to this 33 cloture vote mark. You can see the full article here.
Final Status of Crawford Bills  
Bills on General File
Four of our bills are in the batch of bills that may hit the floor for debate when we return for session next year. These bills were successfully voted out of committee, but did not get selected as a priority bill or reach the floor before we ran out of time for debate this year.  These include:
Bills that Passed
This session I introduced a total of 29 bills. Nine of those bills have been signed into law:
During the State of the County meeting in Sarpy County, we further discussed the passage of LB253 and the impacts that a regional sewer system will have on our community as we continue to grow. The Bellevue Leader article on the State of the County event can be found here.  
Bills Still in Committee
After subtracting the 9 bills that passed and the 4 that remain on General File, 16 bills that I introduced last year remain in committee. None of have been killed (Indefinitely Postponed or IPP'd). Over the interim we will revisit these bills to determine which ones we may still be able to get out of committee, which ones need to be reintroduced in a different form, and which ones we are not likely to continue to pursue. Three examples of these bills include:
LB107

, my bill to address cases where teenagers are sexually assaulted by adults in positions of power or special trust, remains in the Judiciary Committee. During the session, I had various conversations with members of the Judiciary Committee with the hope that this bill could be amended into some of the other bills heard by the committee to improve our sexual assault statutes. Unfortunately, the bills that I hoped would work as a vehicle for LB 107 ended up not being viable options. However, there are members of the committee who are supportive of the bill, so I hope to get the bill out of committee and to the floor for full debate next session.

LB108

, which I introduced with the goal of mitigating trauma for children have a parent or parents incarcerated, also remains in the Judiciary Committee. After speaking with Senator Pansing Brooks (who is a member of the Judiciary Committee) about this issue, she decided to introduce an interim study to thoroughly examine the impact this trauma has on children around our state and ways to reduce the effects of this trauma. If you are interested in learning more about this issue make sure to follow the progress on Senator Pansing Brooks'

LR198

. She may build on LB 108 with amendments or she may decide to draft a new bill to address these concerns.

One bill that I expect to reintroduce in a different form relates to family leave.  I will continue to work on the issue to decide our best strategy for moving forward next year to help our new parents and family caregivers. I expect that we will introduce a new bill that differs from

LB305

, our Paid Family and Medical Leave Bill in 2017.  Before we left Lincoln on the last day of session I started discussions with stakeholders to develop a work plan for next steps.  
Other bills still in committee:
Other Key Bills in 2017
Each week we have highlighted some of the other bills being debated and passed.  Over the course of the 2017 session, 173 bills out of the 667 bills introduced made it across the finish line either as bills passed directly or bills passed as amendments to other bills.  A few notable bills that passed include:
An update to the Prescription Drug Monitoring Program so that our state can continue to fight prescription drug abuse and the opioid crisis in the most effective ways possible.

Strengthened penalties for sex trafficking crimes.

Creation of a legal pathway that allows victims of sexual assault (who become pregnant as a result of that assault) to terminate the parental rights of the convicted rapist.

Several bills to improve career licensure in our state, including changes to the processes in place for transferring credentials in order to ease the transition for military spouses and those moving into Nebraska.

Providing the court with alternative sentencing options in order prevent imprisonment for indebtedness or failure to pay minor fines.

School policies to support breastfeeding students and their children.
Chandler View Elementary Visit
On Tuesday more than 100 4th graders from Chandler View Elementary visited the Capitol. They arrived just in time to watch the Legislature on the very last day of session. I had the opportunity to join the students during their lunch out on the Capitol lawns to greet them and wish them well on their tour.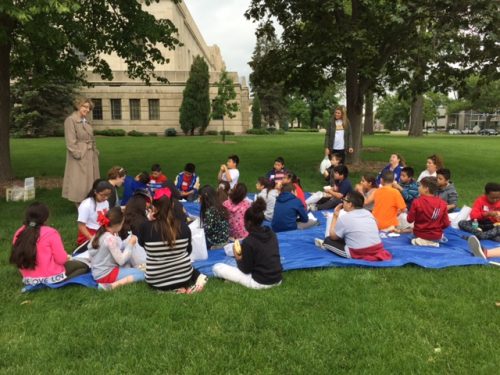 As many other schools do, Chandler View participated in the Ag Sack Lunch program. This program provides students with lunch and teaches them about agriculture in the state. It's a great chance for kids who may not know much about agriculture to learn about one of our state's major economic drivers.
Meeting on Military & Veteran Mental Health
On Thursday morning I met with Bill Duerr, who works with the federal Veteran's Administration in the Veterans Experience Office for the Midwest District. We talked about some of the problems facing military members and veterans when it comes to accessing mental health care, and how the VA, the State of Nebraska, and non-profit organizations can work together to support our veterans and their families.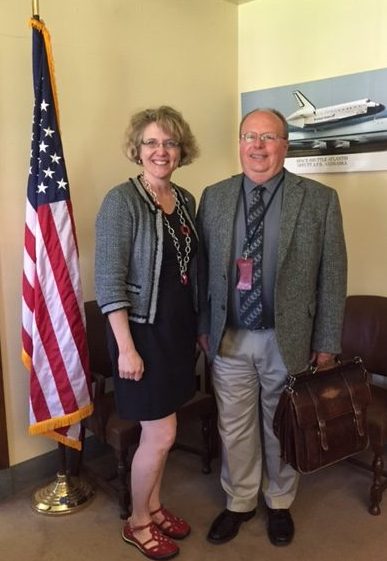 Mr. Duerr stressed how much he hoped that veteran families will turn to Vet Centers for help for their own stresses and for help in their care for their veteran family members. For Bellevue residents, the closest Vet Center is in Omaha. The Omaha Vet Center's hours and contact information can be found here.
Corrections Employee Recognition Event
On Thursday afternoon the Department of Corrections' held their annual Employee Recognition Event in Lincoln. This event honors Corrections staff who have showed particular excellence in their work. This year Bellevue resident Phillip McClymont was honored as the 2017 Supervisor/Manager of the Year. Thanks to Phillip for his work, and to all Corrections staff for their hard work in a tough job on our behalf.
Memorial Day Celebrations
Memorial day is Monday May 29th. This event is an opportunity to remember and honor those who gave their lives in service to their country; and to thank those servicemembers and veterans who are still with us. The Bellevue community is particularly attuned to the sacrifices required by military service, as so many of our community members are serving or have served. This year there will be three Memorial Day events in Bellevue.
The first ceremony will take place at Offutt Air Force Base at 9:00. The speaker will be Colonel George M. Reynolds, 55th Wing Commander. As this event takes place at Offutt, arrangements for base access will need to be made if you wish to attend. Contact Vincent Shaw at (402) 294-6244 for more information.
The second event on Monday begins at 11:00 am at Bellevue Cemetery, the ceremony will include a presentation of wreaths to veterans and their family members and a performance by the Sarpy Serenaders.
The third, at the Eastern Nebraska Veterans Home, begins at 2:00 pm and will feature a performance by the USAF Heartland of America Offutt Brass. The ceremony has a special dedication to ENVH residents who have passed away in the last year.
New Update Schedule
Now that we have reached the end of session, we will shift to our interim schedule for future legislative updates. We will send updates once a month until the 2018 Legislative session begins again next January. These updates will focus on interim study and bill research for next session and will continue to feature events in the district and information about town hall events. We will send our next update at the end of June.
Stay Up to Date with What's Happening in the Legislature
You are welcome to come visit my Capitol office in Lincoln. My new office is room 1016, and can be found on the first floor in the northwest corner of the building.
If you would like to receive my e-newsletter, you can sign up here. These go out weekly on Saturday mornings during session, and monthly during the interim.
You can also follow me on Facebook (here) or Twitter (@SenCrawford). In addition to keeping followers up to date on my work in the legislature, we also regularly post a "Today in the Legislature" feature that lists some of the issues before the Legislature that day.
You can watch legislative debate and committee hearings live on NET Television or find NET's live stream here.
You can always contact my office directly with questions or concerns at scrawford@leg.ne.gov or (402)471-2615.
All the best,