Second Economic Development Taskforce Meeting
On July 14th the Nebraska Economic Development Taskforce met to discuss education and economic development issues. The Taskforce brings together chairs of several of our standing committees (Appropriations; Revenue; Banking, Commerce & Insurance; Business & Labor and Education) and one senator from each of our three congressional districts across the state to foster proactive discussion of economic development priorities for our state that likely cross our typical committee boundaries. Our first task has been to learn more about what is already happening in our core agencies and our successful Nebraska communities.
At our July meeting, which focused on education, we first heard from the Nebraska Department of Education (NDE) and our state's Coordinating Commission for Postsecondary Education (CCPE). Rich Katt, the Director of Career Education at NDE, shared some of the ways in which Nebraska's career education field has transformed in recent years. Many of those changes have happened through partnerships with schools across the state to develop priorities and plans for career education that best fits each school district. Two examples of NDE's work in this area stood out: career readiness standards for schools and a new career curriculum developed by NDE. To learn more about NDE work on career education, you can visit their website here. While NDE works with K-12 education, CCPE provides state oversight for planning and coordination of higher education programs and facilities across our various types of institutions of higher learning. One of the innovative economic development programs they implement is a "gap" program that provides financial assistance to students who take community college courses that lead to careers, but who do not qualify for Pell Grant assistance because it does not lead to a degree (https://ccpe.nebraska.gov/gap). Dr. Michael Baumgartner, the CCPE's Executive Director, also reported on innovations in other states that leverage Pell Grants with state incentives so that students have improved access to education and encouragement to stay in the state after graduation.
During the second half of our meeting we heard from leaders in education and innovation from across the state. Dr. Tawana Grover, Superintendent of Grand Island Public Schools, talked about Grand Island's successful high school career academy that brings machines and computers from area workforces into the classroom and connects students to employment. Steve Elliott, the Vice President of Academic Affairs at Wayne State College, described how Wayne State collaborates with area businesses and works to recruit and retain Nebraska teachers for our career courses. Wayne State has one of the few programs in the region that specifically trains teachers for vocational education. Chuck Schroeder, the Founding Executive Director of the Rural Futures Institute at UNL, talked about their work in communities across the state to connect students to community leaders in order to tackle economic development challenges and build community capacity. Dr. Tom Pensabene, Executive Director of the Workforce Innovation Division at Metropolitan Community College, reported on Metro's developments to expand information technology career readiness. And Dr. James Linder, UNL's Chief Strategist former Senior Associate to the University President for Innovation and Economic Competitiveness, discussed ideas from current entrepreneurs in Nebraska on how we could encourage more innovation and entrepreneurship.
We meet next on August 11th. At that meeting we will hear about successful efforts across the state to foster economic development through cultural and arts programs.
July Travel
This was another busy month for me travel-wise. I had several great opportunities to work with colleagues and experts from around the country to learn about a range of issues.
In the second week of July I headed across the Missouri River to the Council of State Governments (CSG) Midwest meeting in Des Moines, Iowa. I serve as vice-chair of the Health and Human Services policy committee for CSG Midwest. We organized sessions on various topics, including the future of the ACA for our states and ways states might tackle health problems from opioid and lead. The session on opioids provided opportunities to hear from many different states about the work to combat opioid overdoses in their communities. Nebraska's prescription drug monitoring program compares well to what other states are doing, and our rates of death from opioid overdoses remains lower than in other states around us. The discussion on addressing lead poisoning featured Kara Eastman from Omaha Health Kids Alliance. She discussed the work of Omaha Healthy Kids Alliance (http://omahahealthykids.org/) and the challenges to be addressed in all of our states related to lead in paint and drinking water.
* * *
At the end of July I set out for Carlisle Barracks, Pennsylvania to participate in the 12th Annual Commandant's National Security Program (CNSP) at the U.S. Army War College. The CNSP brings civilian leaders to the Army War College for four days of lectures and seminars with the Army War College students who are earning their Master's in Strategic Studies Degree. The program serves as a capstone experience right before their graduation.
Col. Shane Martin, Construction and Facilities Management Officer at the Nebraska Army National Guard, and now a graduate of this program, nominated me to participate. It was a good opportunity to meet with civilian leaders from all kinds of backgrounds to discuss strategic leadership in the military and beyond. It also provided an opportunity to continue to learn about ways Nebraska can support our active duty military and guard families.
Each of the civilians met with one of the smaller seminar groups for sessions throughout the week. I had a wonderful seminar group with a great Army War College faculty member. 
Bellevue-Offutt Kiwanis
One of the things I like to do during the interim is meet with local groups to discuss how this year's legislative session went, talk about my priorities for the next session, and answer questions from attendees. The first such meeting of this interim was with the Bellevue-Offutt Kiwanis Club on July 21st. We had a good discussion about what happened in the last session. I took copies of the Nebraska Information Office's overview of the 2017 session, which reports on key bills passed and not passed for each committee in the Unicameral. You can read those reports here.
Visiting Japanese Delegation
A delegation of visitors from Japan spent time in Omaha on July 17th, and it was my honor to meet with them. The delegation was invited to visit the United States as part of the International Visitor Leadership program. The primary focus of their visit was to discuss the issues that arise in communities that host military bases, particularly the coordination and cooperation that makes those community-base relationships work in Nebraska.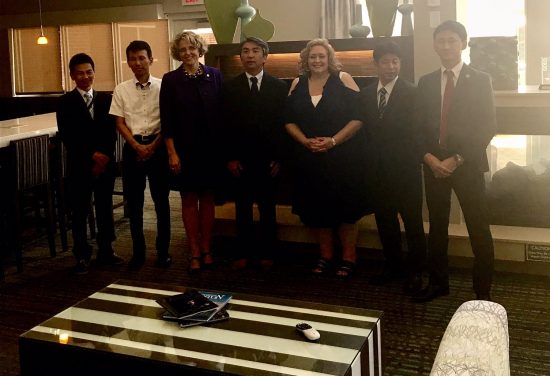 Senator Carol Blood and Mayor David Black were also part of this conversation. It was a pleasure to meet these visitors, and to learn from their perspectives as well.
Cancer Action Network Breakfast
The American Cancer Society's Cancer Action Network hosted their annual Nebraska Cancer Research Breakfast on July 20th. My legislative colleague Senator Mark Koltermann received their Legislator of the Year award for his work on a palliative care bill, LB323, last session.

Senator Kolterman (left) and Nick Faustman, Government Relations Director for Nebraska's Cancer Action Network
The CAN breakfast focused on research about the link between HPV and neck and throat cancers later in life. Part of our conversation was the added impetus that this connection provides for strong HPV immunization rates for our adolescents. Improving immunization rates effectively requires good medical records, which relates to my interim study on immunization record-keeping – LR147.
Events in the District
On Tuesday August 1st Bellevue will celebrate National Night Out at Everett Park. The event, which runs from 6:00-8:30 pm, is an opportunity for Bellevue residents to gather together and meet some of the law enforcement personnel who keep our community safe. This year's event at Everett Park will include food and activities for the whole family. If you have any questions about this event, you can contact Roger Cox with the Bellevue Police Department at 402-682-6623.
Representative Jeff Fortenberry will hold a town hall in Bellevue at the BPS Welcome Center at 2600 Arboretum Drive. The town hall will start at 12:00 pm on Monday July 31st. Representative Fortenberry will hold several other town halls in the region during the first week of August; you can find the full list here.
The Sarpy County Fair begins next week, running August 2nd-6th at the County Fair Grounds in Springfield. There will be a wide variety of contests, exhibits, concerts and other fun things to do. For a full schedule of events, visit the County Fair's website here.
Stay Up to Date with What's Happening in the Legislature
You are welcome to come visit my Capitol office in Lincoln. My new office is room 1016, and can be found on the first floor in the northwest corner of the building.
If you would like to receive my e-newsletter, you can sign up here. These go out weekly on Saturday mornings during session, and monthly during the interim.
You can also follow me on Facebook (here) or Twitter (@SenCrawford). In addition to keeping followers up to date on my work in the legislature, we also regularly post a "Today in the Legislature" feature that lists some of the issues before the Legislature that day.
You can watch legislative debate and committee hearings live on NET Television or find NET's live stream here.
You can always contact my office directly with questions or concerns at scrawford@leg.ne.gov or (402)471-2615.
All the best,