Arts and Economic Development
Over the lunch hour on September 15, I co-hosted a lunch with Nebraskans for the Arts to allow Nebraska senators and staff to learn more about Colorado's creative districts from Margaret Hunt, Executive Director of Colorado Creative Industries. These districts bring together artists and other creative entrepreneurs to foster community growth and economic development. I'd like to thank Doug Zbylut, Executive Director of Nebraskans for the Arts, for helping us bring this lunch together.

Doug Zbylut and I speaking at the arts lunch 
Economic Development Taskforce
In the afternoon the Economic Development Taskforce held its monthly briefing. For September we focused on business incentives and job growth from several angles. We heard first from the Department of Economic Development about the department's process for recruiting new businesses to Nebraska. This was followed by a panel of business owners from across the state, who talked about their experiences starting and expanding businesses in the state. They talked about how incentives fit into their choices to expand. Jeff Chapman, Project Director at the Pew Charitable Trusts, presented an overview of his organization's research on improving the effectiveness of tax incentives. Finally we invited Martha Carter, head of the Legislative Performance Audit office, to discuss results of work done to evaluate the Nebraska Advantage Act and to propose improvements. We had a full agenda for the afternoon, but it was a good opportunity to understand our state's business incentives in a more more in-depth way.
Urban Affairs Committee in Grand Island
Continuing our meetings around the state this fall, the Urban Affairs Committee met in Grand Island on September 29th for interim study public hearings. The first study discussed was my LR138. LR138 seeks to study the challenges municipalities across the state are facing as they try to deal with vacant and abandoned buildings, and search for a way to remedy the lack of resources available to municipalities to address these problematic properties. We heard from a number of interested parties in Grand Island, whose testimony will be extremely helpful as senators tackle this issue.
The second part of the hearing was a continuation of last month's discussion on LR60, sponsored by the full Urban Affairs Committee. LR60 was introduced to give us an opportunity to more thoroughly examine a 2016 report on Tax Increment Financing (TIF) produced by the State Auditor's office. Last month the same study had a hearing in North Platte to hear from municipalities and interested parties from the western part of the state. Next month the same study will have a hearing in Lincoln.  
The Urban Affairs Committee will hold one more interim hearing this fall. On October 6th the Committee will meet at the Capitol to continue hearing about LR60, and to hear testimony on Senator Justin Wayne's LR81 on fire codes. To find more details about these or any other interim hearings scheduled by legislative committees, you can access the Legislature's official calendar here. Hearings will be added throughout the fall as they're finalized by each of the committees, so check back often if you're interested in specific topics
Heritage Health Oversight Hearing
The Health and Human Services Committee convened its second quarterly Heritage Health Oversight Hearing on September 22nd. In the morning we heard from DHHS and the Managed Care Organizations about some of the improvements they have made to their processes, and their plans for continued improvement. We also heard from providers in the afternoon, however, who reported significant problems that still exist in some areas. These oversight meetings are important to hear about both the advances and issues we still see in the system. I appreciate the concrete steps taken by DHHS and the MCOs to improve performance, but am still concerned about the obstacles and administrative roadblocks reported by many providers. If you are experiencing problems with Heritage Health, please be sure to report those problems to DHHS.HeritageHealth@nebraska.gov. This email is designed to be a tracking system for problems as well as a means to get help. If you are not getting responses to or resolution for your concerns, please let me know.
Nebraska Public Health Association
The Public Health Association of Nebraska held its annual conference in Lincoln on September 21st. I joined them as part of a three-senator panel discussing public health and strategies for working effectively with senators on issues.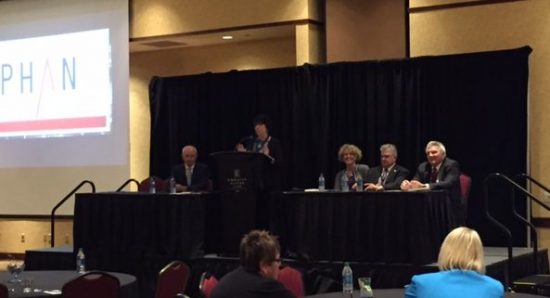 L-R: Greg Adams, PHAN Secretary Pat Lopez, Senator Kolterman, & Senator Stinner
Former Speaker Greg Adams moderated, while Senator Mark Kolterman, Senator John Stinner, and I talked about how public health workers can be the most effective advocates for themselves and their patients. We also talked about some of the challenges facing health professionals in Nebraska, and how the Legislature can play a role in promoting and investing in public health.
Nebraska 150 Celebration
The state has been celebrating its 150th birthday for all of 2017, and September 22nd was the official community celebration at the Capitol. The whole day was filled with events, starting with the dedication of the newly completed fountains in the Capitol courtyards.

With Jamesena Moore at the fountain dedication ceremony
Outside on the Centennial Mall, built in 1967 to celebrate Nebraska's 100th birthday and recently refurbished, was a giant party for the whole state. We were first treated to a performance from the 43rd Army Band, made up of men and women from our own Nebraska National Guard. Next came musical performances from several Nebraska artists, closing out with a laser light show and fireworks.

The 43rd Army Band plays in front of the Capitol
As we celebrate 150 years of statehood, we should also remember the many sacrifices made by so many to build our state. The Good Life over the years has relied on the work of countless individuals and communities working together and sacrificing to make a better future.  
Soldier for Life Meeting
I met with Lieutenant Colonel Chris Pase and Lieutenant Colonel Jon Sowards from Soldier for Life on September 22nd to discuss opportunities to improve the transition of military members to communities and careers.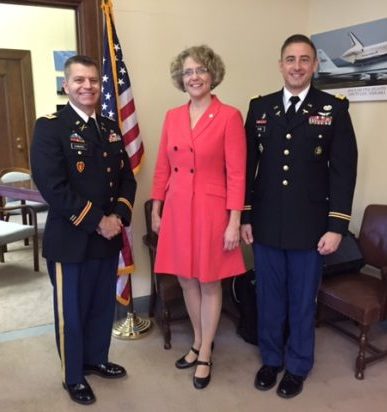 Meeting with Lt. Col Sowards (L) and Lt. Col Pase (R)
They were in town for trainings to help nonprofits who provide community services better understand how to work with veterans and their families. We also discussed ideas to recruit and help veterans transition into medical careers in the state. I appreciated the insights provided by Lt. Col. Pase and Lt. Col. Soward, and look forward to continued work on those issues going forward.
Rosie Revere Engineering Program
On September 23rd the Bellevue Public Library hosted an annual program to encourage girls to consider careers in engineering.

Working with some of the girls in the program
Based around the book "Rosie Revere, Engineer" by Angela Beaty, the event lets girls explore engineering in a fun and interactive way. This year's event was sponsored by Senator Carol Blood, E&A Consultants, and Leo A Daley. It was a lot of fun spending time with so many smart young women!

Senator Blood leading the full group
Offutt Advisory Council
The Offutt Advisory Council (OAC) met on September 13th to discuss this year's programs and plan for upcoming events. OAC is made up of community and business leaders in Sarpy County whose goals are to promote the base outside Nebraska and make life as welcoming as possible for Offutt servicemembers and their families.
OAC hosts events like the annual Offutt Appreciation Day Picnic, which provides a free day of food and fun to Offutt families to thank them for their service, and the Holiday Wishes drive to send care packages to troops overseas. OAC has worked closely with the leadership at Offutt for 25 years to support the base, and I am proud to be a part of those continuing efforts.
Grand Marshal Nominations
Nebraska's Official Veterans Parade will take place this year on November 11th in Bellevue. Parade organizers are currently accepting nominations for the 2017 Grand Marshal, and you are invited to submit your suggestions. Nominations are due by October 13th.  
In order to nominate someone, you should provide a detailed bio on service to country and your reasons that you feel your nominee deserves the acknowledgement. Your nominee must be able to be at the dignitary breakfast beginning at 7:30 a.m. on November 11th, be available to ride in the parade from approximately 9:00 a.m. until 12:00 noon, present a small speech at the breakfast on their experience, and be willing to be interviewed by media.
You can send your nomination information to Doris Urwin at the Greater Bellevue Area Chamber of Commerce. You can email Doris at doris@bellevuenebraska.com or mail your nomination materials to 1102 Galvin Road South, Bellevue NE 68005. They request that you include both your contact information and the contact information for your nominee. Once a selection is made, the winner will be contacted. If you have any questions, you can also reach Doris at 402-504-9774.
Columbus Day
Please note that the Legislature and other state offices will be closed on Monday October 9th in observance of Columbus Day. If you need anything that day, please send me an email or leave a voicemail with my office. My staff will be back in the office Tuesday morning.
Stay Up to Date with What's Happening in the Legislature
You are welcome to come visit my Capitol office in Lincoln. My new office is room 1016, and can be found on the first floor in the northwest corner of the building.
If you would like to receive my e-newsletter, you can sign up here. These go out weekly on Saturday mornings during session, and monthly during the interim.
You can also follow me on Facebook (here) or Twitter (@SenCrawford). In addition to keeping followers up to date on my work in the legislature, we also regularly post a "Today in the Legislature" feature that lists some of the issues before the Legislature that day.
You can watch legislative debate and committee hearings live on NET Television or find NET's live stream here.
You can always contact my office directly with questions or concerns at scrawford@leg.ne.gov or (402)471-2615.
All the best,