Legislature Resumes January 3rd
The 2nd session of the 105th Legislature will begin next week on January 3rd. As in all even-numbered years, the upcoming session will be sixty days long (you can see the tentative 2018 calendar here). This email also marks the last monthly newsletter before we transition back to sending out updates on a weekly basis, so that you can receive the latest news about what is happening in committee hearings and on the legislative floor.
We've been working over the interim on several bills that we will discuss in our updates next session as we introduce them. The topics include: protecting our children from sex abuse; allowing entrepreneurs to sell food from their home that they can currently sell at farmers' markets; expanding opportunities for our best and brightest to work in internships in Nebraska; allowing workers with no paid time off or sick time from their employer to be able to earn sick leave time to take care of themselves and their family; bills to strengthen accountability measures to help us continue to push our new Medicaid system (Heritage Health) to improve; bills to protect our children in our child welfare system; and bills to reduce licensure barriers to careers in the state (while still protecting public safety). Of course, I will also be working with my colleagues on bills that will be good for our district and the state, and fighting against bills that threaten our future. I look forward to another session of working for you!
Teacher Licensing for Military Spouses
Spouses of active duty military members face a number of unique challenges, and in my time in the Legislature it has been one of my priorities to support policies that alleviate those challenges. One such example affects spouses who are teachers. Moving frequently from base to base can make it extremely difficult to obtain or retain a teaching license, since many states have disparate requirements and not all of them recognize existing licenses from other states. The Nebraska Department of Education (NDE) recently announced that they have finalized and given initial approval to a rule change to help military spouses past that barrier.
The draft rule change, which would create a special class of licence known as the Military Teaching permit, can be found here (the relevant section begins on page 20). NDE will hold a public hearing on this proposed rule Thursday January 25th at 10:00 am, at the NDE's offices in the State Office Building in Lincoln – 301 Centennial Mall South. If you are able to attend and would like to comment on the proposal, I encourage you to attend.
This proposed rule change has come about thanks to the hard work of several individuals, particularly Shannon Chandler Manion, wife of 55th Wing Commander Col. Michael Manion, who dedicated a great deal of her personal time to the effort. NDE has also been a helpful and responsive partner, without whose cooperation and active investment the change would not have moved forward. Senator Carol Blood has also been a consistent voice for policies like this one that help military families live the most normal lives possible while their loved ones serve.
Protecting our Kids
Project Harmony is a Child Advocacy Center with a mission to end the cycle of child abuse and neglect. Project Harmony supports child abuse victims and collaborates with law enforcement, social services, and medical professionals to work for the best outcomes for survivors. On December 7th I toured their Omaha offices, which serve Douglas and Sarpy Counties and a portion of western Iowa. I look forward to working with these dedicated individuals to advance child welfare in our state.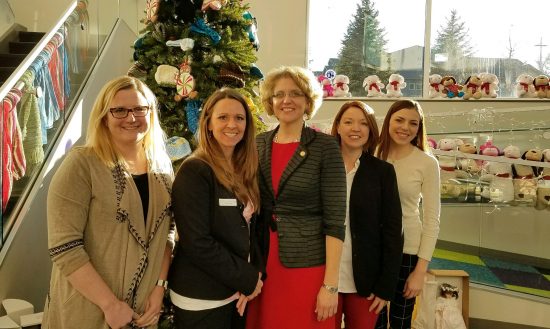 Meeting with several Project Harmony staffers at their Omaha offices
Protecting our children is a critical obligation for all of us. I have two bills from last session that I will continue to push in 2018. One protects 16- and 17-year-old kids from sexual abuse from persons of authority, such as teachers, coaches, and foster parents. The bill stipulates that consent is not a defense in this situation. Currently Nebraska children of this age do not have this protection. The other bill protects children who have suffered abuse, and have told their story to a trained forensic interviewer on tape, from additional pre-trial deposition questioning unless the defendant can make the case that it is essential for their defense. This change does not take away the rights of the accused during trial, but protects these children from the trauma of retelling their story unnecessarily and having their story questioned by a defense attorney before the trial without a judge present. The child advocates at Project Harmony, the Nebraska Alliance of Child Advocacy Centers, and the Nebraska CASA Association all supported this bill last session.
We have a special obligation to protect the children who are under our care in our foster care system. Unfortunately, we learned with two reports near the end of the year that we have much work left to do to protect these kids in Nebraska. I have been working with Senator Bolz, Senator Howard, and child advocates from across the state to identify some bills that could help strengthen our child welfare system. We plan to meet with other senators from both parties in the first week of the new year to build a coalition of senators who will take on some important changes in the system.
Hwy 75 Farm Implement Meeting
If you've been south of Bellevue on Highway 75, you've seen all the construction underway. After the construction is done, Hwy 75 will be a freeway through that area. One of the consequences of the freeway designation is that farm implements would normally not be allowed onto the road. However, since Hwy 75 is the only crossing over the Platte River for several miles, we have been talking with the Department of Transportation about the need to make allowances for farm equipment in the area.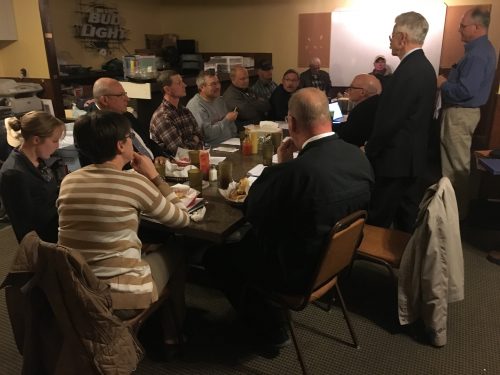 On December 13th, we worked with the Nebraska Farm Bureau to organize a meeting to allow farmers and implement dealers in the area to provide input on a draft plan to allow farm equipment to be on Hwy 75 for a short span with permit. Thanks to The Lodge for hosting us! The draft of the permit rules are available here; comments and suggestions can be sent to our office. I am happy to forward your comments to the Department of Transportation.
Economic Development Task Force
The Economic Development Task Force spent six months exploring existing research and hearing from state economic development experts, businesspeople, education specialists, and others. Our goal was to formulate a better understanding of what Nebraska's economic landscape looks like now, and what the state's priorities should be to foster more effective development in the future.
From that work, the Task Force created a report for 2017 that must be submitted to the Legislature. Once it is publicly posted – which should be January 2nd – the report will be available here under the "Select/Special Committees" tab. I welcome any feedback you may have.
We've been working on bills to tackle some of the key priorities of the report, including attracting and retaining our best and brightest and improving our economic development incentive programs to strengthen their effectiveness and to protect our other budget priorities. More on these bills in the new year updates!
Operation Holiday Cheer
Each year the Bellevue Chamber of Commerce and Bellevue Economic Enhancement Foundation coordinate Operation Holiday Cheer, which provides hundreds of airmen at Offutt with bags of goodies for the holiday season. Operation Holiday Cheer is a way to show the Bellevue Community's support for our locally stationed troops.
On December 5th dozens of people came together to stuff the bags and pack them up to be distributed. Thanks to all those who volunteered their time or resources to help make Operation Holiday Cheer successful for another year.
Independent Cattlemen Event in Valentine
On December 16th several other Senators and I flew up to Valentine to attend the Independent Cattlemen of Nebraska (ICON) annual gathering. We discussed property tax challenges facing Cattlemen and other issues that we will be discussing in the next session.

Panelists L-R: Senator Anna Wishart, me, Senator Bob Krist, Senator John Lowe, and Senator Mike McDonnell
Holiday Office Closure
The Legislature will be closed this Monday January 1st. We will return on January 2nd, ready to begin the 2018 session! I wish you all a very happy New Year's.
Stay Up to Date with What's Happening in the Legislature
You are welcome to come visit my Capitol office in Lincoln. My new office is room 1016, and can be found on the first floor in the northwest corner of the building.
If you would like to receive my e-newsletter, you can sign up here. These go out weekly on Saturday mornings during session, and monthly during the interim.
You can also follow me on Facebook (here) or Twitter (@SenCrawford). In addition to keeping followers up to date on my work in the legislature, we also regularly post a "Today in the Legislature" feature that lists some of the issues before the Legislature that day.
You can watch legislative debate and committee hearings live on NET Television or find NET's live stream here.
You can always contact my office directly with questions or concerns at scrawford@leg.ne.gov or (402)471-2615.
All the best,