Legislative Session Begins
The 2nd Session of the 105th Legislature formally convened on Wednesday of this week. We began with a few opening formalities, including the swearing-in of a new Chief Sergeant at Arms, Jim Doggett. We also welcomed a new colleague to the body: Senator Theresa Thibodeau, who was appointed in October to fill former Senator Joni Craighead's seat.  
Though there are fewer big opening events for short sessions, many senators invite friends, family, or other guests to the Capitol for the first day. This year my husband and both sons were able to join me. Their support has been invaluable as I enter my sixth year of legislative service.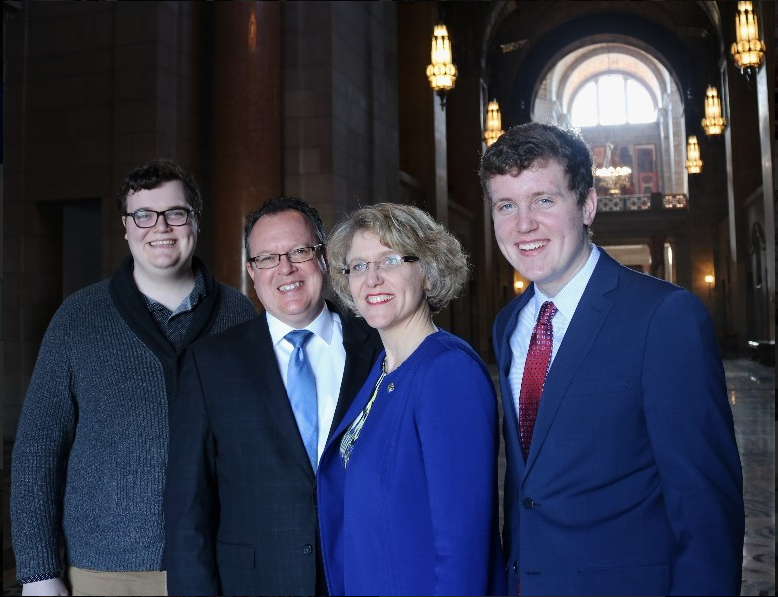 In the Capitol rotunda with my sons Nate (L) and Phil (R), and husband David
Time Change for Military Spouse Teacher Licensure Hearing
The December update included information about a Department of Education hearing on military spouse licensure (full details here). That hearing will take place on January 25th, but the time has now been changed – the hearing will take place at 1:00 pm rather than 10:00 am. I still encourage anyone interested to attend, and wanted to make sure you know about the time change.
Crawford Bills Introduced
The three session days this week were devoted just to introducing bills. During that time I introduced six bills. I will elaborate about each of my bills as they come up for public hearing, but to give you a preview:
LB 764 allows Nebraskans to sell many of the items that they can already sell at farmers' markets to customers from their homes if they do not make more than $25,000 a year on these sales.  
LB 839 expands state disclosure rules for organizations that spend money on ads that specifically target a candidate in the 60 days prior to an election. This requires reporting for election-related materials that would not be covered under our current reporting requirements. If groups are pouring money into Nebraska campaigns, our citizens and candidates have a right to know who they are.
LB 844 requires employers to allow employees to earn paid sick leave to take care of themselves or a family member if the employer doesn't already provide sick leave or paid time off. In a recent survey, over ¾ of Nebraskans favor policies that expand paid sick leave. (Nebraska Values Project, Holland Children's Institute, 2017).
LB 865 – prevents municipalities from waiving second and third readings of ordinances by vote if the ordinance concerns redistricting or annexation. Currently, state law prohibits cities of the first class (like Bellevue and most Sarpy cities) and smaller cities from waiving the second and third readings for annexation ordinances. The bill makes sure that on these major city issues citizens will be able to know that a second and third reading will occur if they wish to be present.
LB 866 – provides a mechanism that ensures that the Health and Human Services Committee of the Legislature is informed in a timely manner when the Department of Health and Human Service makes major changes to our Medicaid program through waivers. This notification ensures that the Legislature can respond if necessary before the waiver goes into effect. Waivers are special agreements with the federal government that can change who qualifies or what services are provided. Recent federal changes have opened up greater possibilities for waivers that might have major impacts on our programs.  
Finally, I introduced LB 867 to increase accountability and performance in DHHS' three Medicaid managed care organizations, collectively known as Heritage Health.  The bill addresses a couple of issues that have repeatedly been raised in our oversight hearings.

Turning in my first bill of 2018 to the Clerk of the Legislature
Senators have ten working days total to introduce bills at the start of each session, which means new proposals may be introduced through January 18th this year. However, our deadline to submit bill drafts is January 12th, so most bills are already in progress. You can find out the status of any bill by searching for it at nebraskalegislature.gov. You can look at the full list of the bills introduced this session here.
Legislative Procedures and Schedule
Starting on Monday of next week, we will begin debating a motion to adopt permanent rules to govern the 2018 session. It is my hope that this debate will be a short one, so that we can move on to the business of the bills before us for the session.
Committee bill hearings will begin the afternoon of Tuesday January 16th (Monday the 15th is a holiday for Martin Luther King Jr. Day). Except in rare circumstances, committees must post notice of all bill hearings no later than 7 days before the scheduled date. Thus, the first hearing notices should be posted no later than Tuesday January 9th. Hearings typically begin at 1:30 pm each day that the legislature is in session, and will run through the end of February.
You can browse the hearing schedule and check out daily legislative agendas here. Live streams of all debate and committee hearings are available through NET's online service here.
Economic Development Task Force
Friday morning the Economic Development Task Force invited all senators to discuss our 2017 report (read the report here). This informal meeting was an opportunity to talk about the report and its recommendations with senators outside the Task Force. We will continue those conversations in 2018, and expect to begin taking up our 2017 recommendations, as well as exploring new economic development avenues, this summer after the 2018 session adjourns.
Stay Up to Date with What's Happening in the Legislature
You are welcome to come visit my Capitol office in Lincoln. My office is room 1016, and can be found on the first floor in the northwest corner of the building.
If you would like to receive my e-newsletter, you can sign up here. These go out weekly on Saturday mornings during session, and monthly during the interim.
You can also follow me on Facebook (here) or Twitter (@SenCrawford).
You can watch legislative debate and committee hearings live on NET Television or find NET's live stream here.
You can always contact my office directly with questions or concerns at scrawford@leg.ne.gov or (402)471-2615.
All the best,