Bills Introduced This Week
This week was Day 4 through 7 of the 2018 session. Since this is the second year of the session, we have bills carried over from last year to debate during the first 10 days of bill introduction. I introduced five new bills this week. Next week we have three more days to file any remaining legislation to be considered for the year. Expect a flurry of new bills towards the end of the week! Senators sometimes save bills that they do not want to get as much attention for Day 10, so it is fun to see what bills Senators drop on the last day.
My new bills are:
LB 894 authorizes Nebraska to be a participating state in the EMS Personnel Licensure Interstate Compact (REPLICA). As a member state, licensed Nebraska EMS personnel will gain the ability to practice in other participating states and those licensed in other REPLICA states will be able to provide services in Nebraska. All participating states are required to meet background check and safety standards to ensure quality care. There are currently 11 states participating in the compact including three of our border states: Colorado, Kansas, and Wyoming.
LB 926 extends the military vehicle registration exemption currently in place for out-of-state activity duty military to Nebraska residents who are currently on active duty and spouses.
LB 973 requires that maps that become part of legislative debates for drawing election district lines only use state-issued computer software. This is one small step to reduce partisan consultant influence by making it more difficult for partisan consultants to use mapping to create partisan advantages and get those maps introduced in the legislature. In 2021, with information from the 2020 Census, state legislatures across the nation will draw new state legislative districts and Congressional districts. In Nebraska we also draw the lines for the University of Nebraska Board of Regents, Public Power districts, and the State Board of Education. Unfortunately, partisan majorities in state legislatures can draw these lines to create unfair advantages for candidates of their party, often called gerrymandering. The process for drawing these district lines can influence whether the elections will be competitive and fair. LB 973 is just one of multiple bills introduced this session to shape this process. I hope that we get some of our other redistricting bills to pass (LB974 — Sen. Vargas [adds criteria for the existing process]; LB975 — Sen. Howard; LB216 — Sen. Harr; LB653 – Sen. Murante) but LB 973 provides at least one step that we could get into statutes regardless of other changes in the redistricting process.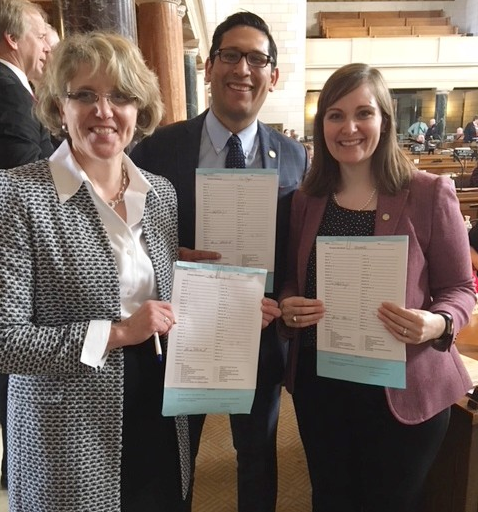 Senator Vargas, Senator Howard and I preparing to introduce our redistricting bills
LB 979 establishes that Physician Assistants and Nurse Practitioners can provide expert medical testimony on issues related to their expertise (scope of practice in state policy terms).
LB 996 proposes four changes in our largest tax incentive act (the Nebraska Advantage Act). Most of the changes seek to ensure that jobs created by these tax incentives are good-paying ones. The bill requires that the jobs created to earn the benefits must be full-time jobs that each pay above the county average wage. The bill also seeks to control the long-term cost of the incentive by phasing out one of the benefits designed to be an important early benefit for recipients. Currently, this benefit continues as other earned benefits kick in. The bill proposes that this early benefit (the ability of the company to keep the state income tax withholding for new employees) remains in place for three years and then phases out by the end of five years.
Motorcycle Helmet Repeal & Other Bills Debated
This week my colleagues and I were able to make good progress on bills that were passed out of committee last year, but which did not make it on the agenda due to time constraints. Since we have not begun the committee process to approve this year's bills, the first two weeks of session are an opportunity to spend time on a few of those carry-over proposals.
On Tuesday my LB 304, which updates our state Public Housing Authority rules, was advanced to the second round of legislative debate, known as Select File.
On Wednesday the Legislature engaged in extended debate on LB 368, a bill to repeal Nebraska's mandatory helmet laws for all motorcycle riders. The bill failed to pass the first round of debate as supporters were unable to garner 33 votes to end debate.
Human Trafficking Prevention
Human trafficking is a serious issue in Nebraska, which the Legislature has worked with the Attorney General's office to address. On Friday dozens of senators, Governor Ricketts, the AG, and other stakeholders joined together at the Capitol to announce the Demand an End initiative, a public awareness campaign to address sex trafficking of minors in our state. An important part of the initiative is a "Buyer Beware" focus on cracking down on the buyers in sex trafficking.

Standing with other Senators as Attorney General Doug Peterson the Demand an End campaign
Hearings Begin Next Week
As a reminder, committee bill hearings begin on Tuesday January 16th. In Nebraska every bill introduced receives a public hearing in one of the Legislature's 14 standing committees. Anyone can come to testify during these hearings. The introducer of the bill speaks first to explain the bill. Committee members then have a chance to ask questions of the introducer. Then, those who wish to support the bill have time to speak, followed by those who wish to speak against the bill. Finally, those who wish to speak in a neutral capacity speak. In most committees testifiers have three or five minutes to testify. Committee members may ask questions of testifiers as well. The introducer gets a chance after all testifiers are finished to "close on the bill," which provides an opportunity to respond to the testimony and make a final case for the bill to committee members. In most cases five to ten testifiers speak. However, an important Nebraska tradition is to let anyone come to testify and to do our best to accommodate everyone who wishes to speak by staying as late as necessary to accommodate those who come.
I have my first bill hearing on our first day of hearings, on Tuesdayafternoon. I will present LB865, which forbids cities from waiving second and third readings for ordinances dealing with annexation and redistricting, but instead requires that these ordinances have all three readings on three different days (for most ordinances, state law allows a city council can waive the second and third readings of ordinances by a supermajority vote of the council members). Requiring all three readings ensures that citizens have the full opportunity to participate in the debate on these critical ordinances that impact elections in our cities. The idea for this bill came from the experience of one of my friends, Autumn Sky Burns, who spent much of last year preparing to run for a Papillion City Council seat. In early December she learned that new districts were passed in one city council meeting, as the members voted to waive the second and third readings to pass the new districts in a single meeting. These new district lines put her in a different district. The city leaders wanted to act quickly to get a newly annexed area into districts for the next round of elections. Under LB 865 the city would be required to hold three different readings of the bill on different days, but the council could set special meetings to get the three readings in quickly. This bill builds on a law passed in 1994, which was introduced by Senator Paul Hartnett. That bill established restrictions on cities across the state (except Lincoln and Omaha) against waiving second and third readings of annexation ordinances.
Hearings typically begin at 1:30 pm each day that the legislature is in session, and will run through the end of February. Usually a committee will hold hearings on 4-6 bills each afternoon.
You can browse the hearing schedule and check out daily legislative agendas here. Live streams of all debate and committee hearings are available through NET's online service here.
Chief Standing Bear Sculpture at the Captiol
The Ponca Chief Standing Bear was a Nebraska icon who fought for Native Americans to be treated equally under the law. This fall, a larger-than-life statue to Chief Standing Bear was unveiled to complete the renovated Centennial Mall in Lincoln. You can learn more about the statue and its unveiling from the Lincoln Journal Starhere. It is a fitting tribute to a extraordinary man, who was unfailing in his pursuit of justice for his people in the face of staunch resistance and intense personal loss.
This week on Wednesday, a small ceremony and reception were held at the Capitol to welcome a miniature version of the statue for temporary display. If you happen to be at the Capitol before January 23rd, I invite you to visit this smaller version in the cafeteria to learn about a great Nebraskan. The Centennial Mall statue is a permanent fixture, which you can visit any time.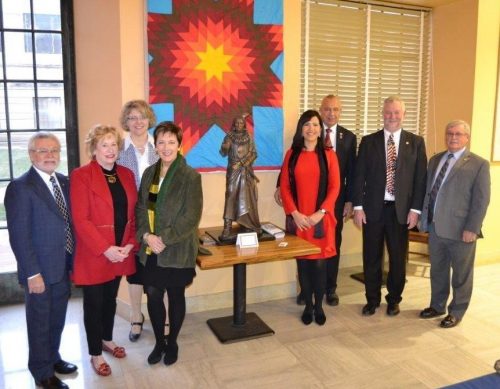 (L-R) Senators Halloran and Linehan, me, Senator Pansing Brooks, Nebraska Commission on Indian Affairs Executive Director Judi gaiashkibos, and Senators Brewer, Lowe, and Erdman
Sarpy Chamber Legislative Coffee
On Friday, which was our first recess day of the session, I joined the Sarpy County Chamber for their inaugural 2018 Legislative Coffee. These events are always an enjoyable way to engage with Sarpy businesses and residents about the legislative session and our priorities, and receive feedback in return.

Speaking to attendees at the legislative coffee
Sarpy County Election Commission Swearing-In Ceremony
Also on Friday, I attend the ceremony at which Michelle Andahl was sworn in as the new Sarpy County Election Commissioner and Deb Davis as the returning Chief Deputy Election Commissioner. I look forward to working with both of them!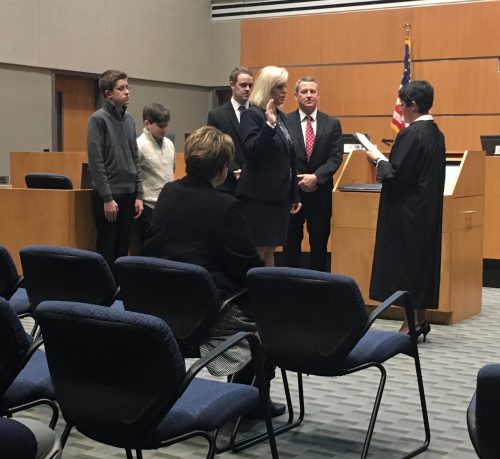 Michelle Andahl takes the oath of office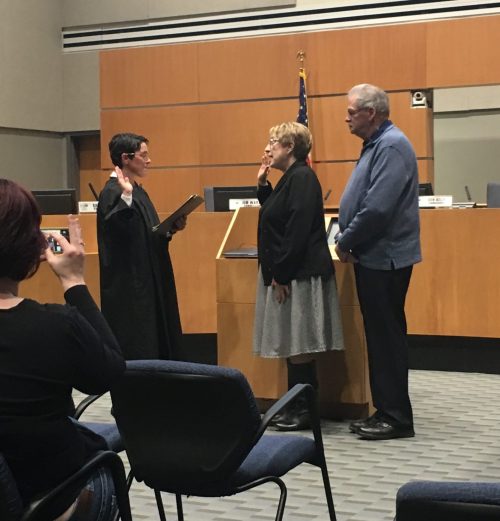 Deb Davis takes her oath of office
Stay Up to Date with What's Happening in the Legislature
You are welcome to come visit my Capitol office in Lincoln. My office is room 1016, and can be found on the first floor in the northwest corner of the building.
If you would like to receive my e-newsletter, you can sign up here. These go out weekly on Saturday mornings during session, and monthly during the interim.
You can also follow me on Facebook (here) or Twitter (@SenCrawford).
You can watch legislative debate and committee hearings live on NET Television or find NET's live stream here.
You can always contact my office directly with questions or concerns at scrawford@leg.ne.gov or (402)471-2615.
All the best,