Crawford Bill Hearings
My first bill hearing of the week took place on Wednesday in the Health and Human Services committee. Nurse practitioners and physician assistants are an integral part of our healthcare system. Attorneys brought to my attention that there are some courts where the expert medical opinion of a nurse practitioner or a physician assistant is not accepted as a medical opinion, even when he or she was the one providing the relevant medical care in the case. We introduced LB 979, as a possible solution to this problem. As conversations continued before and after the hearing, we have discovered that we need to take a different strategy for the bill. The committee process exists so that every bill gets scrutiny, and talking about the advantages and disadvantages of each bill is an important part of the process.
On Thursday my LB 973 had a hearing in front of the Executive Board. The Exec Board, as it's usually called, is responsible for supervising all legislative services and employees, and hears bills related to the legislature's internal workings and processes. LB973 would require that the Legislature's in-house, state-issued redistricting software be used to create any map that is part of the decennial redistricting process. LB973 will strengthen and codify guidelines that have been used in the past into state statute, and will ensure all maps that are debated on the floor have undergone the expertise and scrutiny of the Legislative Research Office (LRO) to ensure they are in compliance with state and constitutional standards.
Meet Our Intern – Molly Triggs
Our intern this session is Molly Triggs, a 20 year-old Junior at the University of Nebraska-Omaha. She was born in Detroit Lakes, Minnesota and was raised by her parents (Adam Triggs and Melanie Schur) and grandmother (Marsha Congdon) alongside her three younger sisters (Rhiannon, Jocelyn, and Isabelle). Molly was also raised alongside countless chickens, several goats, and a very fat Weimaraner.  
Molly is currently studying social work with a minor in women and genders studies. She is hoping to continue her education and study law or public administration. Molly currently works as a job coach for adults with intellectual disabilities, a speech and debate coach at Millard North High School, and as an administrative assistant/property manager. Her responsibilities at the Legislature include helping with administrative tasks and working on policy research projects, as well as sitting in on committee hearings.
In her free time Molly loves to read books, write poetry, and keep caught up with Law and Order: Special Victims Unit. She says she is extremely thrilled to be learning more about the legislative process and the wonderful state of Nebraska – and we are equally thrilled to have her in the office helping us out!
Childhood Health and Welfare Briefings
Tuesday marked the release of Voices for Children in Nebraska's annual Kids Count Report, which collects and analyzes data on our state's children on a range of metrics. The Kids Count project monitors issues related to health, welfare, education, juvenile justice, and economic stability. This data is a reminder that there are many vulnerable children among us who need their community to speak up on their behalf – 9% of the kids in Sarpy County were in poverty in 2017. I will continue to work for these kids and their families, so that they can have the best chance possible to lead healthy, productive lives in our great state.
Action for Healthy Kids, a nonprofit dedicated to tackling both obesity and hunger among children, hosted a presentation on Friday about their work in Nebraska. Together with representatives from the Army National Guard and other local nonprofit groups, they highlighted the many ways in which childhood hunger and obesity are linked. They also outlined how the obesity epidemic in our country, which typically starts during childhood, has resulted in a national security threat as the Armed Services continue to struggle with large numbers of recruits being disqualified from service due to weight. We know that hungry kids have a harder time staying focused and engaged at school, and that healthy foods and activities are beneficial to all students. This presentation was an important reminder of the many challenges facing students in our state, but also of the many efforts being made to support them.
Session and Committee Work
This was another full week of debate. We began the week with my LB 589 (which you can read about in last week's update here), and spent several hours discussing it. I anticipate that LB 589 will return to the agenda in the next week or so for further first round debate. We also took up other important bills that were not prioritized last year, but are nonetheless good policy: for example, LB 480, which would prohibit termination of a private health insurance policy solely because the policyholder is in jail; and LB 256, which gives municipalities another tool to deal with vacant properties. Friday we also began debate on LB 211, which would raise Nebraska's tipped minimum wage, but due to time constraints were not able to get much into the discussion.
Committees were equally busy. On Tuesday, the Urban Affairs Committee had a full day of bills related to Tax Increment Financing (TIF). LB 874, which makes many substantive changes to TIF statutes, has been designated as one of the Urban Affairs Committee priority bills for 2018. Each committee can select two bills to prioritize each session. The Judiciary Committee spent Wednesday discussing bills related to the State Patrol and other law enforcement agencies. On Thursday the Government, Military & Veterans Affairs Committee took up bills related to the Nebraska Accountability and Disclosure Commission (NADC). And on Friday the Health & Human Services Committee heard from a number of testifiers on a bill to change licensure requirements for barbers, cosmetologists, cosmetology instructors, and cosmetology-barber dual licensing programs.
As always, the Legislature discussed many other interesting, important bills aside from what I am able to list here. For a full picture of what was discussed each day, check the Legislature's committee calendar here.
State Historical Society Foundation Event
On Friday the Nebraska State Historical Society Foundation hosted a lunch at the Capitol. As part of that event, we had the chance to interact with some very cool items: the gavel that Senator George W Norris used to open the first unicameral legislative session on January 5, 1937; a pair of spurs worn by Nebraska Pony Express rider David McLaughlin; and the WWI aviation helmet of 1st Lt. Jarvis Offutt, who was killed in France in 1921 and after whom our own Offutt AFB is named.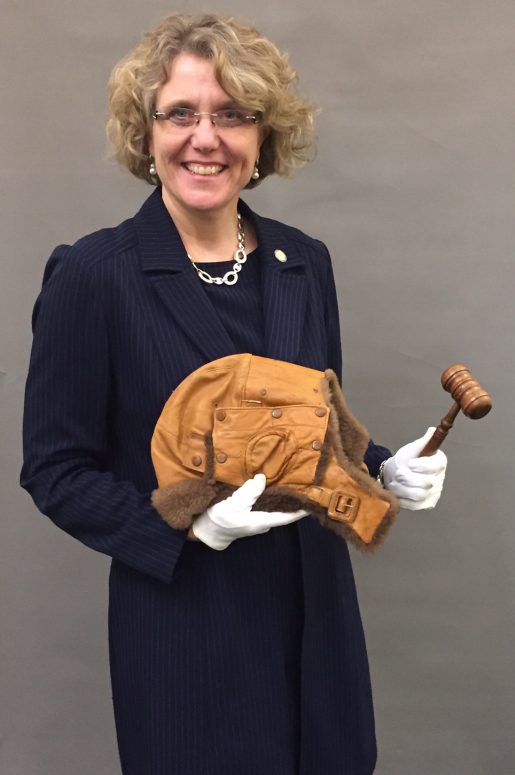 These physical objects help us stay in touch with our history, and learn from those who came before us. Thanks to the NSHS for all their work to preserve objects like these for many years to come!
BHECN Mentorship Dinner
On Wednesday I attended a Mentorship Dinner with the Behavioral Health Education Center of Nebraska (BHECN). This dinner, which is held annually, connects students from various high schools and universities in the metro area (including Creighton and UNMC) who are in behavioral health and medical education programs with specialists in those fields. The dinner provides an opportunity for aspiring practitioners to learn from professionals in a more personal setting. I wish those young people all the best as they finish their studies and set out to start their careers.
Stay Up to Date with What's Happening in the Legislature
You are welcome to come visit my Capitol office in Lincoln. My office is room 1016, and can be found on the first floor in the northwest corner of the building.
If you would like to receive my e-newsletter, you can sign up here. These go out weekly on Saturday mornings during session, and monthly during the interim.
You can also follow me on Facebook (here) or Twitter (@SenCrawford).
You can watch legislative debate and committee hearings live on NET Television or find NET's live stream here.
You can always contact my office directly with questions or concerns at scrawford@leg.ne.gov or (402)471-2615.
All the best,