Crawford Hearings
This week I had two bill hearings – a nice slow week.  Next week we have six!  My staff and I are working hard to prepare for these hearings and for bills that are on the floor for debates and votes.
Our bill hearings this week started with LB 1020 in the Urban Affairs Committee on Tuesday. This bill clarifies provisions relating to direct borrowing from a financial institution by cities and villages.  In 2015 the Urban Affairs committee passed a bill (LB 152) to allow municipalities to borrow money directly from banks for purchases of items that would not be appropriate to bond. The bill clarified that most cities could only borrow up to 10% of their budget for certain kinds of purchases. As banks and cities began to use the authority in the bill, it became clear that the bill as written appears to mean that all loans must be smaller than 10% of a single year budget.  However, a city could take out that size of loan year after year and the bill clearly states that loans can be over multiple years. So LB 1020 clarifies that the debt load to be paid in any single year would need to be under 10% of the budget for a single year, and that loans can not exceed seven years.
On Thursday we had our hearing for LB 1073 in the Health and Human Services Committee. LB 1073 calls for the Department of Health of Human Services to include in their existing weekly report to the Foster Care Review Office information on whether relative and kinship foster placements are licensed, or instead, have been issued a waiver for licensing standards. LB 1073 is a simple, budget neutral way to gather critical data about our foster care placements. As we work to increase licensure among relative and kinship placements for both safety and budget reasons, real-time data will help the state track progress on this important measure.
Committee Bill Work
We will have two more full weeks of hearings for this session, and then a half-week on the 26th and 27th to wrap up for those committees that need the time. Once committees finish their work and have held public hearings on every bill, we will move to all-day debate with the full Legislature. Thus, committees are working hard to make sure they give time to each proposal.
On Monday the Transportation & Telecommunications Committee spent time talking about rural broadband (LB 994) and our state's 911 system (LB 993). Particularly as cell phones increasingly phase out landlines, those are important discussions to have. In another future-focused hearing, the Banking, Commerce & Insurance Committee heard LB 987, the Uniform Regulation of Virtual-Currency Businesses Act, on Tuesday. That bill opens the conversation about digital currencies such as Bitcoin, and how businesses and regulators might deal with them as they become more common.
The HHS Committee considered several important bills this week. On Wednesday we took up LB 770, which would address the "cliff effect" for families receiving SNAP benefits in Nebraska. The cliff effect refers to the situation when families suddenly face a situation where any small increase in their incomes produces a major drop in their ability to support themselves because they lose critical assistance.  A few years ago we addressed the cliff effect in child care subsidies by tapering off the subsidies as a family incomes increase.  LB 770, proposed by Senator John McCollister, would allow families that have higher childcare or medical expenses to earn more money and still qualify for SNAP food benefits. The bill allows a family's gross income to go up to a higher bar as long as their net income remains at 100% of the poverty line.
LB 1046, also heard in the HHS Committee on Thursday, addresses the chronic issue of caseloads in DHHS. The Department has been out of compliance for years now with caseload ratios that we have established in our Nebraska law based on best practices. LB 1046 requires the Governor to declare a state of emergency when caseloads are out of compliance for two consecutive quarters, and requires a 90 day correction plan to be put in place. Heavy caseloads exacerbate staff turnover, which then makes it harder to meet caseloads, and high caseloads make it harder for the workers to do all that is required to help the child. Meanwhile, our kids suffer when they get moved from caseworker to caseworker. As Senator Sara Howard noted at the hearing, we do not expect an agency to come back year after year to report on why they are out of compliance. As Senator Steve Erdman said more bluntly, we don't want to have to come back next year and be in this same situation. Unfortunately, the Department of Health and Human Services has been in this non-compliant state for several years. Our new DHHS director, Courtney Phillips, appears committed to bringing the caseloads into compliance and has put some workforce and workload reforms in place that have shown some early signs of success. Workforce shortages that plague other industries across the state also make it more difficult for us to meet these caseload ratios. So while our vacancy rates are going down, we still need more workers across the state to meet the needs of our most vulnerable children.
On Thursday the Government, Military & Veterans Affairs Committee considered two bills related to voter registration and identification: LB 1064, which requires the Secretary of State to check the citizenship status of all registered voters in our records at a cost of over $1.5 million; and LB 1066, which would require a photo identification to vote. The Judiciary Committee, meanwhile, discussed a proposal for a constitutional amendment on medical cannabis (LR 293CA). If LR 293CA passes, then the question of whether to put the following language in our constitution would be on the ballot in 2018:  
The people of Nebraska have the right to use or consume medical cannabis products, regardless of form, to treat or relieve any medical condition or illness, subject only to laws, rules and regulations regarding the authority of medical professional to recommend and dispense medical cannabis, so long as such laws, rules, or regulations preserve or facilitate the right to use or consume medical cannabis.  
In an unusual move, the Judiciary Committee also held hearings all day Friday, which was a recess day when the full Legislature did not meet. The Judiciary Committee was assigned an extremely large number of bills this year, so adding a day outside the usual calendar allowed them to give full consideration to each of them. On Friday a range of bills were considered, including LB 930, which addresses the admissibility of confessions made by juveniles in custodial interrogation admissible without the presence of their parent, guardian, or custodian; and LB 988, which proposes an affirmative sexual consent standard for the state.
As always, the Legislature discussed many other interesting, important bills aside from what I am able to list here. For a full picture of what was discussed each day, check the Legislature's committee calendar here.
Bellevue Library Coffee – February 17
You are all cordially invited to attend the Bellevue Public Library's first Legislative Coffee event of 2017, which will begin at 10:00 am on February 17th. Senator Carol Blood and I will be there to talk about the legislative session and our bills, and to answer any questions attendees may have. I hope to see you there!
Veteran Farmer Conference
On March 24th the Center for Rural Affairs and Legal Aid of Nebraska are sponsoring Answering the Call, a free conference for military veteran farmers who are currently farming or want to begin farming. Farmers looking to transition operations to veteran farmers, or who are willing to mentor are also encouraged to attend. The conference will cover topics such as farming, diversified agriculture, conservation, and agritourism.
This is the second year that this event has been held, and will take place Saturday March 24, 9:00-4:30, at Central Community College in Hastings. Conference attendance is free, but pre-registration is required by Friday, March 16. You can register at www.cfra.org/AnsweringTheCall
If you would like more information, check out the website above or contact Cora Fox at coraf@cfra.org or 402-687-2100 ext 1012.
Thanks to the Nebraska Veterans Coalition for helping get the word out about this awesome event!
LD45 Student Visitor
On Monday representatives from Nebraska's career and technical student organizations visited the Capitol to talk about the importance of the programs they take part in. Bellevue East's own Adrianna McKing, who participates in DECA, spent some time in my office to talk about their work. It was a pleasure to meet such an outstanding young woman!

Adrianna and I in my Capitol office
Sarpy Chamber Legislative Coffee
Friday morning was the second Legislative Coffee event of 2018, sponsored by the Sarpy County Chamber of Commerce and hosted by Black Hills Energy. Senator Robert Clements and I were there to talk about our bills, how the session is going overall, and answer questions. We got to have a good debate about constitutional amendments, as well as several other important issues before the body.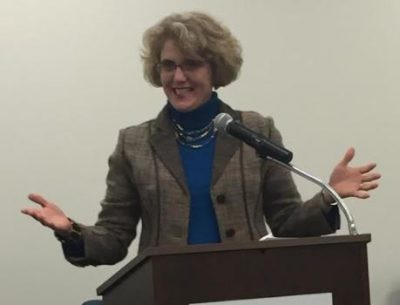 Senator Clements is on the Appropriations Committee, so he discussed the challenges of finding $200 million dollars of cuts in the budget. I noted that two tax policy changes would get us very close to closing that gap. Namely, an $1.50 increase in cigarette tax would bring in about $105 million, and changing our S-Corp tax policy to match that found in other states would bring in an additional $87 million. These two policies are part of a larger tax policy bill, LB 1084 brought by Senator Briese, that also includes increases in the income tax going to education, some curbs on property tax growth, reductions in sales tax exemptions, additions of sales taxes on new services, and an increase in the sales tax rate among other changes (the bill is over 70 pages!). His emphasis in the bill is to fund education and put more resources to bringing down property tax loads across the state. I briefly discussed this bill and the Governor's and Senator Smith's LB 947 as the two major tax bills that I expect to get the most attention this session.
I also discussed two of our bills that passed final reading on Thursday. LB 304, which updates our Public Housing laws and includes changes brought by the Bellevue Housing Authority, and LB 96, which adds collaboration on military installations as a possible use of our popular Site and Building Development Fund economic program.  
Stay Up to Date with What's Happening in the Legislature
You are welcome to come visit my Capitol office in Lincoln. My office is room 1016, and can be found on the first floor in the northwest corner of the building.
If you would like to receive my e-newsletter, you can sign up here. These go out weekly on Saturday mornings during session, and monthly during the interim.
You can also follow me on Facebook (here) or Twitter (@SenCrawford).
You can watch legislative debate and committee hearings live on NET Television or find NET's live stream here.
You can always contact my office directly with questions or concerns at scrawford@leg.ne.gov or (402)471-2615.
All the best,