My Bill Hearings this Week
This week we had hearings on seven different bills. It was quite a whirlwind! Next week is the final full week of hearings, followed by a final few on the 26th and 27th. I only have two bills left to present in the committees. On February 28th, we move to all-day bill debate with the full Legislature.
Our first hearing of the week, LB 1078, took place on Monday in the Executive Board. In 2017, the Nebraska Inspector General of Child Welfare (OIG) issued the Child Sexual Abuse Report. Sadly, during this investigation, the OIG identified 50 children who were victims of sexual abuse that had been substantiated by DHHS or the courts between 2013 and 2016. Of these 50 victims identified, twenty-seven were in state care at the time of their sexual abuse and 23 were sexually abused in an adoptive or guardian home in which the state had placed them. LB 1078 will allow the Department and the OIG's office to analyze in real-time the number of sexual abuse cases being reported that involve children in the state's care. When vulnerable children are being abused on our watch, we as a state must respond to the systemic shortcomings that allowed these tragic incidents to occur, and put safeguards in place to ensure children are better protected moving forward. I am proud to say that LB 1078 was quickly advanced to General File, and has been named a committee priority bill. It has been placed on the floor bill agenda, and I look forward to discussing it in the full Legislature soon.
The second hearing on Monday was held in the Business & Labor Committee. LB 844, the Healthy and Safe Families and Workplaces Act, addresses the fact that an estimated 46.3 percent of the Nebraska workforce cannot earn a single paid sick day to use to recover from common illnesses or to seek medical care. Access to sick and safe leave is even more limited for some of our most vulnerable families, with 70% of low-wage workers not having paid sick days to care for their own health. LB 844 ensures that hard-working Nebraskans can earn up to a week of paid leave to care for themselves or a family member without having to worry about losing their jobs.
On Wednesday I had two bills in the Health & Human Services Committee. The first, LB 866, deals with Medicaid waivers. Medicaid is a program that is critical to over 300,000 adults and children in the State of Nebraska–most of whom are our most vulnerable, low-income citizens. Medicaid waivers allow states to make major change to the services provided, delivery methods, and payment requirements for Medicaid and the Children's Health Insurance Programs. LB 866 builds on an existing statutory process in place for rules and regulations to provide a time period for legislative consideration of certain applications for Medicaid waivers before they are submitted to the Centers for Medicare and Medicaid Services.
In January of 2017, the Department of Health and Human Services rolled out a new health care delivery system that combines Nebraska's physical health, behavioral health, and pharmacy programs into a single comprehensive and coordinated system for Nebraska's Medicaid and CHIP clients. This program, Heritage Health, is managed by contracts with three private Managed Care Organizations (MCOs).Our second HHS bill, LB 867, is an attempt to resolve long-lasting issues providers have experiences with the Heritage Health MCOs. Without our Medicaid providers, there are no health care services for the most vulnerable Nebraskans. Seeing that we are now over a year in to the Heritage Health process, the MCOs need to be held to a higher standard. LB 867 puts in place provisions to start increasing accountability and encourage system improvements.
On Thursday we had three hearings, so I did a lot of racing back and forth between hearing rooms. We began with LB 926 in the Revenue Committee. In current statute, active duty members of the armed forces who are stationed in Nebraska but are a resident of another state are exempt from the motor vehicle tax imposed on motor vehicles registered for operation in Nebraska. LB 926 provides that active duty members of the armed forces who are Nebraska residents, as well as their spouses, would also qualify for this exemption. This issue was brought to me by one of my constituents who is a retired Chief Master Sgt. of the Air Force. LB 926 is a cost-effective way to show a little extra appreciation to our Nebraska residents serving in our military.

The view from the testifier's chair as I introduced LB 926
The next bill, LB 1055, was heard in the Appropriations Committee. It designates a funding source for the Intern Nebraska program. Since its inception 7 years ago, the Intern Nebraska Program allocated nearly $11 million to over 600 companies that facilitated 2,750 internship experiences across our state. Intern Nebraska grants can reimburse up to a 50% of an intern's wages, up to $5,000 per internship. These internships have gone to companies both big and small. As we continue to look for innovative ways to attract and retain young professionals in our state, I believe that it is critical that we continue to fund this important program that links students and recent graduates to Nebraska businesses, especially since, according to the National Association of Colleges and Employers, more than 50% of interns become full‐time employees at their place of internship.
We wrapped up the week with LB 1117, which was back in the Revenue Committee. This bill would raise the tax rate on cigarettes, snuff, and other tobacco products. Surveys of registered voters across the state have found strong support for such increases. The benefits of LB 1117 are two-fold. First, raising the cigarette tax will improve the health of Nebraskans and help keep kids from picking up the habit. Young people are the most price-sensitive population when it comes to purchasing cigarettes and other tobacco products, and studies have repeatedly shown that higher taxes do deter youths from ever starting to smoke. Second, raising our tobacco tax rates would provide an important influx to the state's General Fund. Spending cuts are important to discuss in times of fiscal constraint, but should never be the only option on the table. LB 1117 is an important avenue to start to discuss the full range of fiscal options. It was great to have Brooklyn Larimore, a Bellevue East senior, as one of the testifiers in support of the bill. Brooklyn has been to my office before with the organization No Limits to advocate for policies to reduce tobacco use among teens. She also testified on another tobacco bill in the Appropriations Committee on Thursday (LB 1062), so her day was as busy as mine!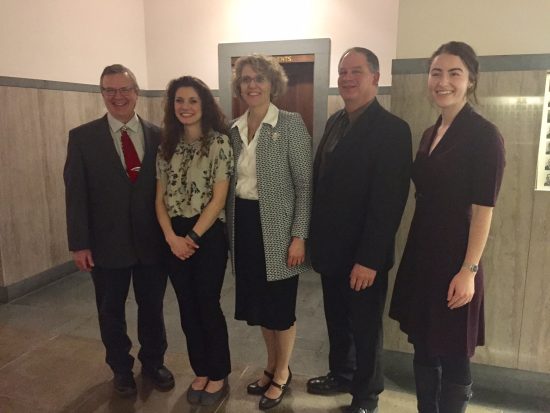 Some of the testifiers for LB 1117 (L-R): Chuck Cone, Loup Basin Public Health Department; Brooklyn Larimore, Bellevue East senior; me; Roger Wiese, North Central District Health Department; and Emma Schultz, UNMC Student Delegate
Priority Bill Deadline Approaching
We are reaching the halfway point of this 2018 session – we are only in session 60 days, and day 30 is on February 21st. We have already begun debating senator and committee priority bills, which senators can designate as early as they want. Each senator gets to select one bill as his or her priority. Often it will be one of a senator's own bills, but it's not uncommon for someone to prioritize a bill introduced by another senator. These bills get top priority for floor debate at some point before the end of the session. Each standing committee also identifies 2 priority bills. Tuesday February 20th is the deadline for both senators and committees to identify and submit their priority bills. As of Friday, 20 senators of the 49 have designated their priorities, and 8 of the 16 committees that can designate priorities have announced at least one of their two choices. I am among the senators who will announce my priority bill on Tuesday, so stay tuned!
The Speaker of the Legislature, Senator Jim Scheer, also gets to select 25 priority bills. Wednesday February 14th was the deadline to submit bills for the Speaker to consider as a Speaker priority bill, and he will announce his selections on Wednesday of this coming week. Senators who want a Speaker priority for their bill must send a letter to his office with the reasons it's a good choice. Speaker Sheer announced this week that he received 72 requests, so obviously not all of them can be granted. Speaker priority bills have historically been reasonably non-controversial and broadly impactful, but the Speaker may choose any bills he likes from among the requests.
You can find the full list of personal and committee priority bills here; once the speaker announces his priorities on Wednesday, they will appear there as well.
Bills on the Floor
We discussed a number of bills this week during debate. One important bill that was debated and advanced was LB 874, which was introduced in response to an Auditor's report on the Tax Increment Financing (TIF) program. LB 874 represents the culmination of more than six months of work by the Urban Affairs Committee to examine the findings of the Auditor's report and a year of work prior to that to discuss ways to strengthen the accountability and transparency of TIF decisions. Over this past interim the Urban Affairs Committee held public hearings throughout the state on TIF, and ultimately put together the most significant changes to the TIF statutes since 1997. LB 874 was advanced without a single dissenting vote.
We also spent some time on Select File bills, which is the second round of debate after General File. One, my LB 78, was inspired by some of the challenges the city of Bellevue faced when trying to redevelop a relinquished section of the old Highway 75, which is now Fort Crook road. This bill helps address those problems and creates a more fair, transparent, and efficient process for all parties involved when a highway is relinquished by the state. LB 78 now moves on to the last round of debate, called Final Reading. After that, the last stop is the Governor's desk.
We also spent some time on Confirmation Reports this week. In Nebraska, the Governor has the power to appoint leaders for many of the state agencies, boards, and commissions. Each time the Governor makes such an appointment or reappointment, the person's application must be sent to the Legislature to be confirmed. Confirmation hearings are held by the standing committees, and follow the same process as bills: the appointee appears either in person or by phone to answer questions from senators on the committee, after which members of the public are invited to testify in support, opposition, or a neutral position on the appointment. The committee then votes on whether to send the appointment to the full Legislature, which must vote on final confirmation. Most appointments are approved with little fuss, as those appointed are generally well-qualified for their roles. Still, it is an opportunity for the Legislature to vet executive appointees and for the public to weigh in on the people who will lead the state agencies and organizations with whom they interact.
Leadership Sarpy Application
Each year the Sarpy County Chamber chooses a small group of professionals to participate in Leadership Sarpy, a year-long leadership development class. Through a number of monthly sessions, participants learn leadership skills, meet local and state representatives and businesspeople, and network with other professionals. The 2017-2018 class visited the Capitol just this week, and it was a pleasure to meet all of them. The Chamber is currently accepting applications for the 2018-2019 class. You can learn more about the program here, and if it seems like a good fit you can apply here. Contact the Sarpy Chamber at 402-339-3050 or President@SarpyChamber.org with any questions.
Stay Up to Date with What's Happening in the Legislature
You are welcome to come visit my Capitol office in Lincoln. My office is room 1016, and can be found on the first floor in the northwest corner of the building.
If you would like to receive my e-newsletter, you can sign up here. These go out weekly on Saturday mornings during session, and monthly during the interim.
You can also follow me on Facebook (here) or Twitter (@SenCrawford).
You can watch legislative debate and committee hearings live on NET Television or find NET's live stream here.
You can always contact my office directly with questions or concerns at scrawford@leg.ne.gov or (402)471-2615.
All the best,