Priority Bills Finalized
As I explained last week, one of the unique features of the Nebraska Unicameral is our priority bill process. Now that all senators and committees have designated their priority bills, and the Speaker has announced his priority list, we will shift to discussing those prioritized bills almost exclusively (find the full list here). If you look at the agenda for any given day (which you can pull up by clicking on the date you want here), you may notice the inclusion of "divisions" named after senators. This is just an easy way to group bills, and is a convention that the Legislature has used for some time. Having a division named after you is rather fun, but has no bearing on how a bill is treated.
This year I have three bills with priority status: my personal priority, LB 589; a bill designated as an Executive Board committee priority, LB 1078; and one speaker priority, LB 865. I will discuss each of those bills in more depth as they come up on the agenda.
Though we will likely debate only priority bills for the rest of this 2018 session, a bill without a priority is not necessarily dead. Other bills can get debated and passed if they are amended onto a designated priority bill. This cannot be done with speaker priorities, but if an introducer is amenable both personal and committee priority bills can serve as a vehicle for other proposals. There are a few unwritten rules for this process. First, a bill must usually have been passed by the committee to which it was referred – there will be objections if a bill is amended into a vehicle while it's still sitting in committee. The general feeling is that such action circumvents the committee process, so it's frowned upon (though senators do try it sometimes).
Second, bills must be about the same general subject if they're amended together. This is known as the "germaneness" rule, and is expressed in our official Legislative rulebook (Rule 2b): "no bill shall contain more than one subject and the same shall be clearly expressed in the title." That means a bill about about equine massage, for example, could not be amended into a bill about school funding. Similarly, even if a senator has two bills on agriculture – say, one about cattle branding and the other about industrial hemp cultivation – calling them the same subject because they're both generally about agriculture would be too far a stretch. The germaneness standard can be subjective, though. If members of the body think an amended bill is not germane, its inclusion can be challenged. When that happens, the sponsoring senator and the challenger each have a few minutes to argue their case. Then the final decision about whether the amendment bill is germane is made by the Speaker.
One good example of a vehicle that incorporates multiple bills is LB 873, which was introduced and prioritized by the Urban Affairs Committee. LB 873 is a clean-up bill that clarifies and updates a number of statutory sections on municipalities. An amendment has been introduced to incorporate five other related bills: LB 765, LB 748, LB 854, LB 768, and LB 880. Each of those bills deals with the same general subject matter as LB 873, so amending them together makes sense. In that way, bills without a priority can still have a chance to become law.
Committee Bill Hearings
I had just one of my bills presented at a hearing this week, which is the last full week dedicated to committees. Next week we will have hearings on Monday and Tuesday, and then switch to all-day debate on Wednesday. From Wednesday until the end of session, committees will only meet sporadically if there are other issues they need to address. For example, the Health & Human Services Committee has a few noon-hour hearings scheduled in March to discuss gubernatorial appointments.
My bill hearing this week was LB 839, which was heard in the Government, Military & Veterans Affairs Committee on February 22nd. LB 839 deals with electioneering. Electioneering communications are materials targeted at the electorate of a candidate that are distributed right before an election. These communications allude to candidates without explicitly recognizing the election or their candidacy, and therefore, do not have not have to be reported. LB 839 does not restrict or limit the activity of citizen groups, what can be said in electioneering communications, or free speech in any way. Instead, LB 839 simply creates a reporting mechanism to bring more transparency and accountability to our state's elections. If powerful groups or organizations are pouring money into Nebraska to shape campaigns in our state, the citizens and candidates have a right to know who they are.
When I am not introducing one of my own bills at a hearing, I am serving in my assigned daily committee listening to public testimony on bills. This week two of my committees (Business & Labor and Urban Affairs) had no new hearings because we finished all bill hearings last week. I did have hearings in the Executive Board: one for a bill on whether pay for senators should be increased (LR 295CA), and another to create an investigative committee to investigate Mental Health Centers and improve care for those with severe and persistent mental illness in the state (LR 296). On Wednesday, Thursday, and Friday we heard multiple bills in the Health and Human Services Committee. Those include bills to continue improving our prescription drug monitoring program, which has helped our state stand out as one of the states with the lowest levels of opioid deaths (LB 1057), and a bill to push the Governor and administration to allow an update in our psychology and mental health counseling practice regulations, which have been stalled for about 10 years (LB 891).
Floor Debate this Week
One of the big ideas we debated on the floor this week was occupational licensing. LB 299, introduced by Senator Laura Ebke, would create a new process to reassess the state's many licenses. I am a strong supporter of occupational license reform, as our current framework sometimes puts up unnecessary barriers to employment and includes more red tape than is necessary to protect public safety. I am also very supportive of a section that allows those with a criminal history to petition and seek clarity on whether their convictions should truly disqualify them from a licensed profession. In fact, I have talked to Sen. Ebke about an amendment to strengthen that language to make sure we include misdemeanors that sometimes exclude people from professions.
I also, though, have concerns about other provisions of LB299, particularly as they relate to our state's nearly 100 health care professions. The bill sets a standard that says government should not be regulating a profession for public safety unless there is evidence of present, substantiated and significant harm in Nebraska. This suggests that we cannot put professional regulations in place or keep professional regulations unless people have already been harmed – significantly – or unless those harms impact a significant number of people in Nebraska. This seems to be a dangerous standard that does not protect our citizens and consumers.
Another bill we discussed on the floor this week was LB 743, introduced by Senator Brett Lindstrom. One aspect of the bill is focused on improving consumer notification related to post-loss assignments for homeowners' insurance claims. Senator Burke Harr added an amendment to strengthen these provisions and improve consumer notification. Questions and concerns about assignments with a contractor were raised by a constituent, who came to see me in January. During that visit he brought an article about some challenges with the process, which he had been holding on to since August. Thanks to my great staff, I was able to take that concern to the floor as part of our conversation on the bill. The Department of Insurance posted a consumer alert about the post-loss assignment issue, which you can read here if you would like to know more.
Bellevue Library Legislative Coffee
This year's Bellevue Library town hall, hosted on Saturday February 17th, was a great success. Senator Carol Blood and I had the chance to meet with a number of residents to answer their questions, hear their concerns, and discuss how the Legislature is going this year. I deeply appreciate all the people who took time out of their weekend to come to the town hall, as engaged and interested citizens are the absolute cornerstone of our Unicameral system.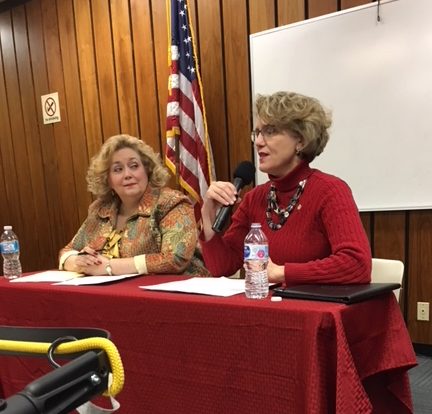 Answering a constituent question with Senator Blood 
Creighton Student Advocacy
Monday February 19th was a holiday, and I spent some time visiting with students at Creighton's Schlegel Center for Service and Justice. The students organized the gathering as a chance to learn about advocacy and public service. As part of the day, they agreed on a list of seven bills they support: LB 808, LB 922, LB 1013, LB 870, LB 875, LB 869, and LB 855. Speaking with the SCSJ's active and engaged young students is always a wonderful experience.
Capitol Visitors
We had a number of visitors to the Capitol this week. On Tuesday February 20th I had the pleasure of speaking to the League of Women Voters of Nebraska, who asked about redistricting, paid family leave, and other legislative priorities.

Speaking to the League of Women Voters at their Legislative Day
Also on Tuesday, Heartland Family Service held its annual Legislative Advocacy Day. HFS serves Douglas and Sarpy Counties and provides financial classes, counseling services, and other important support for families in our community. Advocacy days are an important way for organizations and individuals to connect with senators' offices and educate them about their work.

With Senator Merv Riepe (second from right) and several legislative staffers at the (very tasty!) HFS lunch
On Friday February 23rd, the Nebraska Young Democrats held their own Capitol day. In the afternoon I visited with Mina Davis and Natalie Weiss, two excellent leaders who I've had the pleasure to know for several years now.
Also on Friday, I had a chance to talk to students and educators with our Educational Service Units, including ESU #3 that serves our area. It was fun to see the computer and career education innovations in our ESU and in other ESUs across the state.
Stay Up to Date with What's Happening in the Legislature
You are welcome to come visit my Capitol office in Lincoln. My office is room 1016, and can be found on the first floor in the northwest corner of the building.
If you would like to receive my e-newsletter, you can sign up here. These go out weekly on Saturday mornings during session, and monthly during the interim.
You can also follow me on Facebook (here) or Twitter (@SenCrawford).
You can watch legislative debate and committee hearings live on NET Television or find NET's live stream here.
You can always contact my office directly with questions or concerns at scrawford@leg.ne.gov or (402)471-2615.
All the best,