Floor Debate
The very last bill we discussed this week, but one of the most important, was Senator Lynn Walz's LB 998. This bill would allow the Educational Service Unit (ESU) Coordinating Council to hire a social worker to coordinate mental health connections for students in ESUs across the state. Senator Walz has been working with a private foundation who would fund the program for three years to test the program. Then, if ESUs felt it was effective, they could continue the program. If not, then at least we would be helping some of our kids and families for three years and get some plans in place to improve linkages for children to services in all of our communities across the state. When I was out knocking doors in my 2012 election campaign and again in 2016, I heard a number of heartbreaking stories from parents and teachers of kids with mental health issues who have fallen through the cracks. LB 998 will help reach more of those kids with the help they need. I have heard over and over again in my 6 years as a senator, teachers need more help and parents often don't know where to turn. LB 998 works to improve both of those persistent challenges. We ran out of time and took no action on LB 998 on Friday, but I will continue to support Senator Walz as she works to get the bill passed. We will take LB 998 up first thing on Monday March 12th, so if you are interested in this bill you can still follow the debate and contact other senators to encourage them to support the bill.
The first bill we discussed this week was Senator Dan Watermeier's LB 44, which would require out of state internet retailers to collect sales taxes that are already legally owed on purchases from Nebraska. This bill will help address the competitive imbalance between internet retailers and brick-and-mortar stores, like the ones in Bellevue. Current federal law, as defined in the Quill vs North Dakota precedent, does not allow a state to require a seller to collect sales taxes unless that seller has a physical presence in the state. The Supreme Court is due to hear a case from South Dakota on this very issue soon, so the collection requirement part off the bill only takes effect if the Supreme Court determines such collections are constitutionally allowable. With that safeguard in place, it is important to pass LB 44 now, rather than wait for next session, so that retailers start collecting the sales taxes the state is already owed as soon as possible if the Supreme Court makes a favorable decision.
LB 44 also has a provision to encourage out-of-state retail stories to voluntarily collect sales taxes, and to help Nebraskans comply with existing law that requires payment of sales taxes on internet purchases when the internet seller does not collect the sales tax voluntarily. Amazon is one example of an outside vendor who has voluntarily agreed to collect sales taxes for Nebraska. Unless or until the Supreme Court overturns the Quill decision, LB 44 requires those out-of-state vendors who choose not to collect sales taxes in Nebraska to report to Nebraska consumers a summary of their taxable sales for the past year. You may or may not have noticed that your state income tax form asks you to report and pay sales taxes for internet sales for which sales taxes were not collected. Currently we all owe sales taxes on these internet purchases. LB 44 seeks to improve compliance and collection. It does not impose any new taxes.
My husband looks through all of our credit card statements at the end of the year to make sure that we comply. However, I suspect that most people just estimate a number or simply ignore this requirement. If the Quill decision is overturned, then out-of-state vendors will either collect the internet sales tax from your purchases voluntarily, or send you a report letting you know the purchases that you should report from that vendor on your income tax form. This was the second round of debate on LB 44, so there will be one more Final Reading vote before it goes to the Governor.
In the middle of the week, on Wednesday, we took up Senator Sara Howard's LB 714. This thoughtful bill was advanced to the second round of debate with no dissenting votes. Nebraska's statutes currently give no guidance on the procedures of emancipation of a minor; most guidance resides in case law. LB 714 provides a specific path in statute for the court to follow, and allows a minor who is at least sixteen years of age to file on their own behalf, which is currently not allowed. Senator Howard shared the story of a young woman named Faith who helped inspire the bill. Faith graduated from high school in 2015 and enrolled at UNO with the expectation that she could begin a new life as an independent adult free from her mentally, physically, and emotionally abusive parents. But though she was living independently, her parents retained legal control over her affairs and proceeded to stalk, harass, and otherwise make her life unbearable. Because she was only 18, she was caught between adulthood and childhood as far as the courts were concerned, so could not find redress there. LB 714 is a vitally important bill that will help students like Faith achieve true independence away from abusive parents. It will also help the young people who are seeking emancipation because they have been on their own for a while, or because they don't have the backing of an adult to make certain decisions that they are not allowed to make as a minor. This might be something simple like opening a checking account, or more complex like signing up for a loan to buy a car. I am proud to have supported LB 714, and will continue to do so until it becomes law.
Late Nights
This week Speaker Scheer shared his plans for our late night schedule. Friday March 9th was the 40th day of this 60-day session, so we are rapidly approaching the end of our in-session work for this year. As that last day approaches, we will begin to debate later into the evening rather than adjourning at 5:00. To allow senators to plan ahead, the Speaker usually releases a list of scheduled late nights a few weeks early. This year we have 12 late nights scheduled in March and April. Some evenings we will stay in session until 7:00 pm; some nights it may be 11:59 pm. So if you are at home in the evenings and want to see if we're still going, you can always tune in to NET to watch!
"Zero Weeks" Film Panel
On Monday March 5th I participated in a panel hosted by UNO as part of their Women and Public Policy Week. Zero Weeks is a film that highlights the United States' status as one of only two countries in the world that have no guaranteed minimum paid family leave. I have worked hard on paid family and sick/safe leave throughout my time in the Legislature. Too many families are forced to choose between taking time off to care for themselves or their families, or keeping their job and health insurance. The Zero Weeks screening and panel led to a great discussion with the other panelists and attendees about what we can to to make paid leave a reality in Nebraska.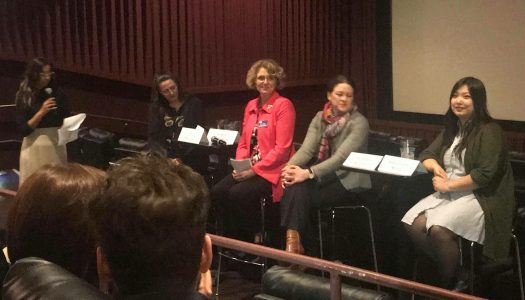 With moderator Dr. Sofia Jawed-Wessel and fellow panelists (L-R) Cary Mohiuddin, Sarah Ann Kotchian, and Sophia Haorei-Martig
Chili Cook Off
Bellevue's Boy Scout Troop 305 hosted their 7th annual Chili Cook Off on Saturday March 3rd, and I was honored to be a judge. I have been a regular judge at this annual fundraiser. It is always fun to meet the scouts and parents and the other judges. This year many of the judges were connected with the Omaha Beef arena football team.  
Capitol Visitors
This week we had a number of visitors to the Capitol. On Tuesday students from across the University system spent time watching debate and speaking to senators about their student experiences. Two of the students I met were UNK students Austin Partridge and Ivy Prater. Austin is also a student regent. These two were knowledgeable and engaged in the policy process – a great example for other students! Then on Friday, students from the UNL student government came to visit with Senators. I enjoyed talking with several of the students about their experiences at UNL and their future plans.

With Ivy and Austin in the Capitol rotunda
On Thursday the group Moms Against Gun Violence was at the Capitol. Lisa and Sophie Mamula, my good friends from church and LD45 residents, came to visit with me as part of their Capitol visit and advocacy day.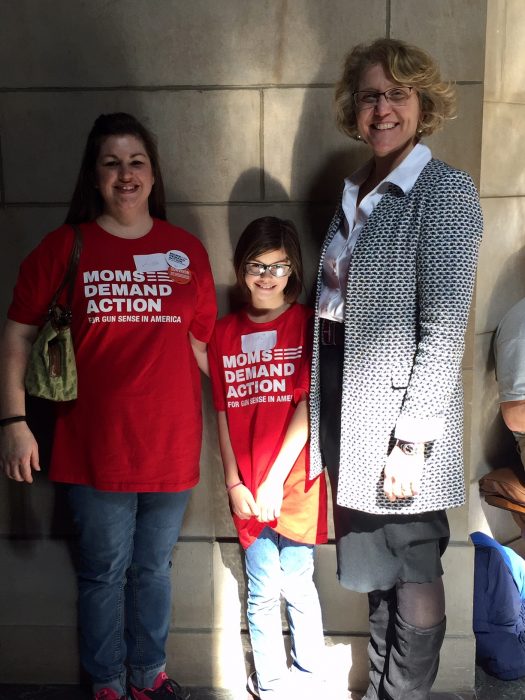 Lisa and Sophie outside the Norris Chamber entrance
Insure Nebraska Ballot Initiative Launch
Also at the Capitol this week was the launch of the Insure Nebraska ballot initiative. After six years of failed legislative efforts to require the state of Nebraska to participate in an expansion of Medicaid that raises the income eligibility limit and allows the program to cover more working families, advocates are pushing to put the issue on the ballot. Many of the advocates who will be working hard to get the needed signatures were at the capitol today for a press conference. If you are interested in learning more about this effort or getting involved, see the Insure Nebraska website.
Staff Academic Award
My administrative aide, Christina, is currently working on a Master's of Public Administration through UNO. Over the weekend she traveled to the University of Illinois-Chicago to participate in the NASPAA-Batten Student Simulation Competition. This competition asked public administration students to use their skills and experience to react to a simulated public health crisis. Christina's team was one of two champions at her site, who are now competing against 18 other site champions from around the world to name a global winner. We wish her luck, and congratulations!

Team L-R: Cristin Mathew (University of Illinois-Chicago); Christina; Amanda Eisbrenner (Wayne State University); Yash Kachhara, (University of Indiana-Bloomington); and Megan Conkle (Ohio University)
Stay Up to Date with What's Happening in the Legislature
You are welcome to come visit my Capitol office in Lincoln. My office is room 1016, and can be found on the first floor in the northwest corner of the building.
If you would like to receive my e-newsletter, you can sign up here. These go out weekly on Saturday mornings during session, and monthly during the interim.
You can also follow me on Facebook (here) or Twitter (@SenCrawford).
You can watch legislative debate and committee hearings live on NET Television or find NET's live stream here.
You can always contact my office directly with questions or concerns at scrawford@leg.ne.gov or (402)471-2615.
All the best,