Budget Debate
This week we took up our three annual budget bills. Nebraska runs on a biennial budget cycle, which means we pass a 2-year budget in odd-numbered years. The state's fiscal years run July-June, rather than on the calendar year January-December cycle. That means right now, for example, we are in the second year of the budget that runs June 2017 – July 2019. In the middle of each cycle, however, we can come back and make adjustments to our expenditures based on the most up-to-date fiscal information. This is one of those years, so our "budget" this year is really the process of making adjustments to the main one we passed last year. The bulk of our debate took place on Tuesday this week, and went late into the evening.
There are several important considerations when we go back and make budget adjustments. This year, the most talked-about provision was one related to how Title X federal money gets distributed to health facilities in the state. This language is similar to language that in previous years was submitted as an actual legislative bill and debated as a policy bill, where it would get full vetting and debate. Placing it in the budget both bypasses the committee of record, and requires re-debating it every two years since budget bills do not create lasting policy like a regular bill would. Last year the language was stripped, but this year it has remained in after the first round of debate.
The second major topic of public discussion was how much of a cut the University system would have to take. The Appropriations Committee chose to reduce the cuts requested by the Governor, so that our higher education system would take only a 2% cut this year and 1% next year (rather than the Governor's proposed 2% and 4% – read more detail from the Omaha World Herald here). Those changes were not altered once the bill hit the floor, so I am hopeful that those smaller cuts will prevail.
We will have two further rounds of debate on the budget. The second round will begin first thing on Wednesday morning next week.
Floor Debate This Week
This week my priority bill, LB589, was debated for three hours.  The bill related to pre-trial discovery depositions when a child has been the alleged victim or witness to a traumatic crime.  It asks judges to consider when a forensic interview has been conducted on videotape when determining whether to order a deposition of a minor.  It also directs the judge to consider possible protections for the minor if the deposition is granted. In Sarpy County there some standard protections regularly employed such as requiring the defendant to be out of the room.  This provision and some others are listed as possibilities in the bill as options for judges to consider requiring. When the bill is scheduled for debate again, we will have up to three more hours of debate. If the debate runs that long, then I will need 33 votes to approve a cloture motion to get to votes to advance the bill to the next round.  
Consent Calendar
Consent Calendar is a unique feature of the Unicameral that allows us to move quickly on noncontroversial bills. There is a strict 15-minute limit on debate for each Consent Calendar bill, after which point a vote is automatically taken.
There are some rules for the kinds of bills that can be placed on Consent Calendar. Bills must be non-controversial (which means either no opponent testifiers spoke at the public hearing, or else any opposition has been addressed by a committee amendment); the general topic must also be non-controversial (so for example a bill that makes a non-controversial change to a gun law would not be eligible for inclusion); the bill cannot make a lot of changes; it must have no general fund impact, but can have a cash fund appropriation; and it must have been voted out of committee, almost always unanimously. In other words, Consent Calendar is reserved for bills that are simple, unlikely to raise opposition, and do not spend state tax dollars. This is one of the few ways for a bill to receive consideration without a formal priority designation, and is designed in part to allow seemingly minor issues, which may not rise to the level of priority compared to other bills but are still important to the state, to be dealt with.
It is up to the Speaker to decide which bills get this special designation and how many bills get this designation, as unlike priority bills there is no maximum number. Even so, any three senators who disagree with a bill's inclusion can submit a letter to the Speaker to remove the bill from the Consent Calendar. In order for a bill to even be considered for the Consent Calendar, though, senators must send a letter to the Speaker making the case for inclusion. This year those letters were due on Tuesday March 13th, so I anticipate the Speaker will release his final list sometime next week.
Sarpy Chamber Legislative Coffee 
Friday March 16th was the final Sarpy County Chamber Legislative Coffee for the year. This month we were hosted by Bellevue University, and I was joined by my fellow Sarpy senators Carol Blood, Jim Smith, and John Murante. We had a good discussion about legislative priorities, and the issues we'll address in our final 16 session days.
Bellevue Student Visitors
I had a chance to meet with two Bellevue school groups at the Capitol this week. The first, on Monday, I met with Logan Fontenelle Middle School's Student Council and Diversity Club. I met them in the Warner Chamber to talk about the importance of diverse representation both in government and their own schools and communities. These budding young leaders asked great questions about the Legislature and how senators navigate the process.
On Wednesday the 4th graders of Two Springs Elementary made their annual visit and tour. We talked about the skills that are needed in order to be a good leader and senator – to be able to listen, work with other people, and talk about your ideas. The kids said (and teachers confirmed) that talking was definitely their favorite skill out of that list!
Other Capitol Visitors
Nebraska's chapter of the American Foundation for Suicide Prevention (AFSP)  held its Capitol day on Wednesday. During their lunch I met with Annette Eyeman and Susan Polk, who are both Sarpy residents. We talked about the toll suicide takes on families and friends, and discussed strategies to get help and resources to those considering suicide themselves. The Contact USA website, which can be accessed here, has a host of resources for people experiencing a wide variety of challenges. I encourage you to share it with anyone you know who may be struggling. AFSP was one of two groups visiting the Capitol this week to lobby for LB998, which would use private dollars to provide additional resources to the Educational Service Unit (ESU) Coordinating Council and ESUs across the state to hire social workers help to schools better connect students in need of mental health assistance to resources across the state. I wrote extensively about LB 998 last week; you can read that update here for a refresher.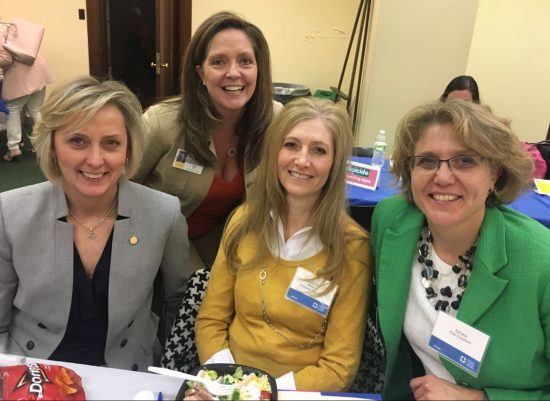 With (L-R) Senator Lynne Walz, Annette, and Susan at the AFSP lunch
Wednesday was also the annual Student Pharmacists day at the Legislature. Each year pharmacy students come to the Capitol to meet their representatives, get to know the legislative process, and learn strategies for successfully engaging with elected officials. I met with pharmacy students from Creighton and UNMC and highlighted how important it is to be informed about and engaged with the legislative process.  They were most interested in our bills related to opiate prescribing.
Stay Up to Date with What's Happening in the Legislature
You are welcome to come visit my Capitol office in Lincoln. My office is room 1016, and can be found on the first floor in the northwest corner of the building.
If you would like to receive my e-newsletter, you can sign up here. These go out weekly on Saturday mornings during session, and monthly during the interim.
You can also follow me on Facebook (here) or Twitter (@SenCrawford).
You can watch legislative debate and committee hearings live on NET Television or find NET's live stream here.
You can always contact my office directly with questions or concerns at scrawford@leg.ne.gov or (402)471-2615.
All the best,