Bills This Week
This was our first week with multiple late-night sessions, when we stayed to debate bills as late as 10:00 pm several nights. Debating for almost 12 hours in a day can sometimes result in frayed tempers, but it's important that we devote extensive time to working through as many proposals as possible during the short time we are in session.
One of the bills that came up late at night was my LB 865, which was designated a Speaker Priority bill and advanced to the second round of debate on Wednesday. Currently, cities of the first class, second class, and villages are prohibited from suspending the requirement that an ordinance be read by title on three different days for ordinances related to the annexation of territory. LB865 extends this provision to cities of the primary and metropolitan classes. LB865 also provides that cities and villages cannot suspend the requirement for three separate readings for ordinances related to the redrawing of city council or village board of trustees election district boundaries. Encouraging public participation in local government is a value we can all agree with. When city councils are allowed to make decisions about annexation or the redrawing of districts during a single meeting, it drastically impedes opportunities for members of the public to voice concerns or opposition to proposed changes. LB 865 ensures that residents in Nebraska will be given ample opportunity to address their city councils about changes regarding annexation and redistricting. I am pleased that LB 865 advanced with no dissenting votes.
The biggest issue to we discussed this week, as you may have read in the newspaper, was the budget. Like our discussion on the first round of debate last week, the two most contentious issues were funding for the University system and provisions about Title X federal funding. We discussed the first at length, after a senator introduced an amendment to strip another $17.5 million from the University system. That amendment was soundly defeated, as the vast majority of senators continue to recognize the value that our University system brings to the state. There are still conversations ongoing to resolve the current budget impasse. I am optimistic that we will get to a resolution early next week and get the budget adjustments passed.  
Teacher Spouse Rule Signing
On Monday the Governor held a ceremony to sign the revision to the Nebraska Department of Education's Rule 21, which now enables a special military spouse teaching permit. I was proud to work towards this change with Nebraska Department of Education (NDE) and Ms. Shannon Manion, a teacher herself and wife of 55th Wing Commander Col. Michael Manion. Shannon worked extremely hard to make sure NDE's efforts would meet the real needs of military spouses, who make extraordinary sacrifices to support their servicemember partners. To read more about the ceremony and see additional pictures, check out Offutt's public affairs article here.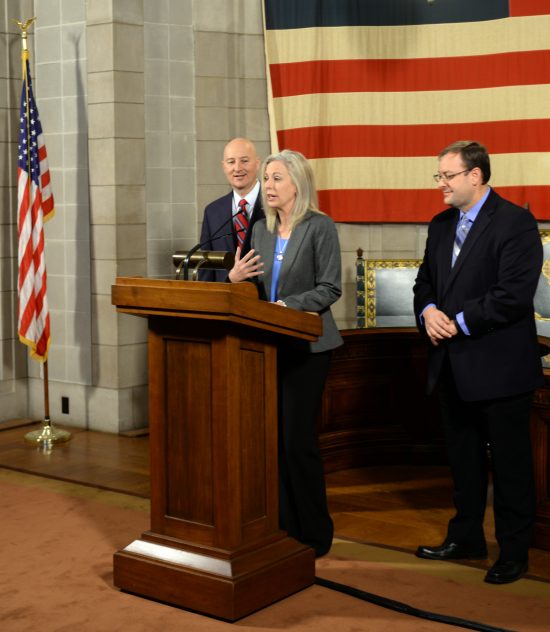 Shannon Manion (center) with Governor Pete Ricketts and Education Commissioner Matt Blomstedt. Photo by Drew Nystrom, Offutt Public Affairs.
This week my friend and fellow Bellevue senator Senator Carol Blood attended a military conference in Washington DC; one of the things we are hearing from military leaders is that licensure portability will high on their list of concerns as they consider base re-alignments and mission assignments going forward. This change to NDE rules is an excellent step to make sure Nebraska is judged favorably on those criteria, but we have more work to do. The Bellevue Leader just wrote a good article about our efforts, which you can read here.
No Limits Day
On Wednesday the anti-tobacco youth movement No Limits held its annual legislative day and rally at the Capitol. In the morning a small group of students, including superstar advocate Brooklyn Larimore and a couple of her fellow students, came to my office to talk about the dangers of tobacco.
Later that day the whole group held a rally on the west side of the Capitol, where Senator Mike McDonnell and I had the honor of addressing them all and congratulating them on their hard work.
ROAR Reading
On Friday evening I participated in a Reach Out and Read (ROAR) fundraiser to benefit military families in the Bellevue community. ROAR is a program that encourages parents to read to their children, which promotes both literacy and strong families. I read Chicka Chicka Boom Boom, which was one of my sons' favorite books growing up!
Capitol Visitors
AARP held its annual legislative lunch on Wednesday, and I attended along with several other senators. One of the issues we talked about is the importance of paid leave for families and caregivers, which will become ever more important as our state ages. My LB 844, the Healthy and Safe Families and Workplaces Act, is unlikely to advance this year. I am committed, though, to keeping sick and safe leave in the conversation among my colleagues, and to fight for guaranteed paid leave across our state.

Senators and AARP representatives after lunch
Students Invited – Unicameral Youth Legislature
Registration is now open for the annual Unicameral Youth Legislature, which this year will run June 10-13. High school students will take on the role of state senators at the State Capitol: sponsoring bills, conducting committee hearings, debating legislation, and discovering the unique process of the nation's only unicameral. The Unicameral Youth Legislature gives behind-the-scenes access to students who have an interest in public office, government, politics, law, public policy, debate or public speaking. Students will get to learn about the inner workings of the Legislature directly from senators and staff.
Scholarships are available; you can get more details about the program here, or you can call the Unicameral Information Office at 402-471-2420. The deadline to register is May 15.
Easter Closure
Legislative offices will be closed on Friday March 30th and Monday April 2nd to give staff a break during this very busy time of year. If you need assistance on those two days, please send me an email or leave a voicemail at my office. We will return to work (and another late night!) on April 3rd.
Stay Up to Date with What's Happening in the Legislature
You are welcome to come visit my Capitol office in Lincoln. My office is room 1016, and can be found on the first floor in the northwest corner of the building.
If you would like to receive my e-newsletter, you can sign up here. These go out weekly on Saturday mornings during session, and monthly during the interim.
You can also follow me on Facebook (here) or Twitter (@SenCrawford).
You can watch legislative debate and committee hearings live on NET Television or find NET's live stream here.
You can always contact my office directly with questions or concerns at scrawford@leg.ne.gov or (402)471-2615.
All the best,