Budget Bill Advances  
The mainline budget adjustment bill advanced to final reading on Wednesday night. It was unfortunate that debate of the important budget issues in this bill got sidetracked because of irresponsible and possibly unconstitutional Title X policy language that was inserted into the budget adjustment bill. A Nebraska Supreme Court case, Rein v. Johnson, 149 Neb. 67 (1947) emphasizes the importance of constitutional provisions that restrict bills to a single subject as it applies to appropriations or budget bills. The decision notes such protections seek to protect against provisions that take "advantage of the necessities of the state, force the Legislature to adopt them, or defeat the appropriation and thereby stop the entire machinery of government for want of funds to carry it on." The budget impasse that resulted during this session illustrates this point well. Unfortunately, there was not enough support to pull the language from the bill entirely this year. However, it will be critical that Senators continue to fight against substantive language about how money is used from being added to any budget bills in the future.
The Omaha World Herald editorial published on Thursday, which you can find here, nicely summarizes the recklessness of the language that was inserted in the budget and the Governor's resistance to efforts to address serious problems in that language that put all clinics that use the funds (and the health of those who rely on those clinics) at risk. It took two failed cloture motions and days of negotiation to just get to less reckless language that allows clinics across the state to help women who are in an emergency situation get a referral for medical help that they need.
Final Reading Bills Pass
We started Friday with a number of Final Reading bills, which will now go to the Governor for his signature. One of the bills we passed was Senator Carol Blood's LB 685, which provides a funding priority for special-needs military dependents under the Developmental Disabilities Services Act. The bill allows Nebraska to prioritize treatment for those who need it most, but are not covered by Tricare, by specifically adding dependents of active duty military members who are severely developmentally disabled to the list of treatment priorities kept by the DHHS. This policy is a priority of the Department of Defense, and shows strong state support for Offutt's missions. Senator Blood worked extremely hard to make sure LB 685 will not have a negative impact on others who also need DD services. Ultimately, the bill is a way to show support to our military families when they move state to state, so that they don't have to fall to the bottom of the waiting list when stationed in Nebraska.
Senator Sara Howard's 2018 priority bill, LB 931, was also passed on final reading Friday. The bill is another step in the fight against opioid addiction in our state. This bill came about after months of close cooperation between Senator Howard, Senator John Kuehn, Senator Brett Lindstrom, a few other senators. It serves as an example of what the Legislature can accomplish when political considerations are put aside in favor of a commitment to good policy, no matter where it originates. NET published an excellent overview of LB 931 when we debated it on General File – you can find that story here.
My LB 1078, a bill to ensure clear and timely data about sexual abuse allegations involving children who are state wards or in the state's care, was also advanced from Final Reading. During Select File, which is the second round of debate, two other child welfare bills were amended on to this bill including my LB 1073 and Senator Bolz's LB 411. LB 1073 calls for the Department of Health of Human Services to collect and share information with the Foster Care Review Office on whether relative and kinship foster placements are licensed, or instead, have been issued a waiver for licensing standards. It is critical that the state know how many of these homes are not meeting IV-E licensing requirements to ensure the state can maximize its drawdown of federal funds, but more importantly, to ensure the safety of our children in foster care. LB 411 clarifies that reasonable efforts should be made to place children in foster care with their siblings whether or not the siblings had a prior relationship. Additionally, LB 411 requires the department to report on efforts made by the department to locate the child's siblings. More information on how this package will strengthen Nebraska's child welfare system can be found in this press release by Nebraska Appleseed.
Another bill that's worth highlighting is Senator Robert Clements' LB 773, which updates our statutes to include text messages, social media communication, email, or other electronic messages in the current intimidation and harassment statutes. This is an important update to help control online bullying and stalking, as previously our law only covered telephone calls.
LB 1069 Pull Motion
The Legislature has an 87-page rule book that governs our work here in the Unicameral. Some of those rules come up all the time, and some are rarely if ever utilized. One of the items on the agenda Thursday was an infrequently-invoked rule usually called a "pull motion." Technically known as a Motion to Place a Bill on General File, the motion is a way to pull a bill out of a committee without that committee's consent – hence the nickname. Thursday was the first time we have had a pull motion in the 2018 session, and typically it only happens once or twice each year at the most. Pull motions are an allowable way to get a bill sent to the full Legislature if the committee of jurisdiction is unwilling or unable to come up with enough votes to advance it. Many senators feel, though, that short of extraordinary circumstances pull motions go around our standing committee structures and the safeguards that are built in. Thus, even senators who strongly support a bill may or may not support a pull motion if it is stuck in committee. Senator Schumacher and Senator Bolz both made very strong arguments about the critical importance of preserving pull motions for extraordinary situations. Thursday's motion was related to LB 1069, Senator Lydia Brasch's priority bill. The bill amends existing Americanism education and adds a requirement that students take the test that immigrants must pass to become naturalized citizens. The motion did succeed, so we will likely take this bill up further later this session.
Interim Study Resolutions
The deadline to submit interim study resolutions was Tuesday of this week. I introduced two interim studies this year. The first, LR 436, was introduced to fulfill a requirement from the Department of Defense that each state studies the effectiveness of occupational licensing programs for military spouses and transitioning service members. In 2015, Nebraska passed legislation requiring that transitioning service members receive credit towards occupational licenses based on military training, education, and experience. Over the years there have also been many efforts to simplify licensure processes for military spouses who are constantly re-certifying in new states such as the new military teaching license that was approved by the Board of Education (this effort was highlighted in my last update). LR 436 will assess the effectiveness of these efforts and work to identify areas of improvement for the state to keep workforce participation among these populations high.
My other interim study, LR 448, which I co-sponsored with Senator Linehan will examine the state's existing Medicaid Insurance for Workers with Disabilities program (MIWD). The objective of this "buy-in" program is to allow individuals with disabilities to participate in the workforce without losing important health care coverage. We use the term "buy-in" to reflect the income-based system used to determine premium rates for participants. The Health and Human Services Committee had a hearing on a bill this session that was looking to make changes to the existing program that would increase workforce participation. LR 448 will look at some of these proposed changes along with national best practices to identify ways that the MIWD program can best serve Nebraskans with disabilities.
Leadership Bellevue Day 
Each year the Bellevue Chamber of Commerce sponsors Leadership Bellevue, a 10-month program to help Bellevue residents develop leadership skills that they can utilize in our community.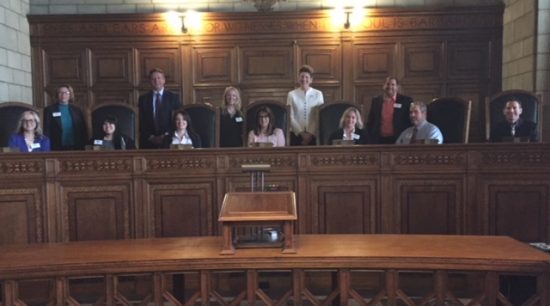 As part of the program, the group spends a day at the Unicameral hearing from representatives of all three state government branches. This year the group heard from six state senators, the Department of Economic Development and Department of Veterans' Affairs, and Judge Riko Bishop of the Nebraska Court of Appeals – a Bellevue native herself!
This year's Leadership Bellevue group was engaged and ready to learn, which speaks well to their leadership skills now and going forward. I wish them all the best.
Veteran Farmer Conference
Saturday March 24th I drove out to Hastings to speak at the opening of the Center for Rural Affairs' Veteran Farmer Conference. The conference helps connect current and prospective veteran farmers with information and resources that can help them succeed. I joined Senator Tom Brewer, an Army veteran who represents the 43rd Legislative District in the northwest part of the state, to give an overview of how veterans can get involved with their state government, the kinds of veteran-related legislation we have passed in recent years, and other highlights from this year's session.
Capitol Visitors
Cornerstone Christian School visited the Capitol on Thursday, and happily I was able to stop in and meet them. Nebraska's 4th graders have been visiting the Capitol for decades, which is a great tradition that makes a real impact on students. I've spoken to multiple people who remember when they came to the Capitol as 9- and 10-year-olds many years ago. It is always a pleasure to meet these bright young people.
Easter Closure
As a reminder, Legislative offices will be closed on Monday April 2nd in to give staff a break during this very busy time of year. If you need assistance on Monday, please send me an email or leave a voicemail at my office. We will return to work (and another late night!) on April 3rd.
Stay Up to Date with What's Happening in the Legislature
You are welcome to come visit my Capitol office in Lincoln. My office is room 1016, and can be found on the first floor in the northwest corner of the building.
If you would like to receive my e-newsletter, you can sign up here. These go out weekly on Saturday mornings during session, and monthly during the interim.
You can also follow me on Facebook (here) or Twitter (@SenCrawford).
You can watch legislative debate and committee hearings live on NET Television or find NET's live stream here.
You can always contact my office directly with questions or concerns at scrawford@leg.ne.gov or (402)471-2615.
All the best,