Bills on the Agenda
This week the Legislature had multiple late nights and took up a number of issues that received extended debate. Two of the bills we discussed were LB 947, the governor's tax cut bill introduced by Senator Jim Smith, and LB 989, Senator Anna Wishart's proposal to allow autonomous vehicle testing on Nebraska roads. Both bills were taken up, debated at length, and then shelved for the time being.  In the realm of tax reform we also debated Senator Friesen's LB 1103, which contained provisions to increase education funding in rural areas and relieve property taxes. This bill included provisions from one of Senator Briese's bills that included multiple revenue streams to pay for more funding for education and property tax relief.  After this debate was also stalled, Speaker Scheer called on a few of the members of the legislature to come together to try to come up with a plan that could still make it through to the Governor's desk this year. Conversations are expected to continue throughout the weekend with the goal of a new proposal making it on the agenda next week.
The HHS Committee chair's priority bill, LB 1034, advanced from the first round of debate on Tuesday with my LB 894 amended in. LB 894 authorizes Nebraska to be a participating state in the EMS Personnel Licensure Interstate Compact (REPLICA). As a member state, licensed Nebraska EMS personnel will gain the ability to practice in other participating states and those licensed in other REPLICA states will be able to provide services in Nebraska. There are currently 11 states participating in the compact including three of our border states: Colorado, Kansas, and Wyoming.
A tax bill that we did advance this week was LB 738, a bill by Senator Brett Lindstrom to peg our state's Social Security taxes to annual inflation rates. This will allow seniors to keep more of their Social Security checks in their own pockets as our economy changes, so that their monthly income doesn't get continually eaten away by factors out of their control.
We also advanced LB 807, a bill originally introduced by Senator Burke Harr to switch up Nebraska's representation in the National Capitol's Statuary Hall. The two current statues are William Jennings Bryan and J. Sterling Morton. Under LB 807, those two statues will be returned to Nebraska and replaced with Willa Cather and Ponca Chief Standing Bear. This bill is an opportunity for Nebraska to honor two great individuals who contributed significantly to our state and national history, and to do so at no cost to taxpayers. Senator Tom Brewer, who has endeavored to highlight Standing Bear's indispensable legacy since he was elected in 2016, worked closely with Senator Harr to get the bill advanced unanimously.
Next week we will have the final three days of substantial debate for this session. After we adjourn on Wednesday, the body will recess for a week until Wednesday the 18th. That gives the Governor the required time to review the bills we send him, so that, if needed, we can attempt veto overrides on the very last day of session. I do not know whether we will undertake any overrides this year, and we may not find out until we reconvene on the 18th.
2017-2018 Crawford Bills Passed
We have reached the point in the session when all of my priority bills have reached what is likely to be their final disposition. Over the course of the 2017-18 biennium, I introduced 45 bills (29 last session, and 16 this year). Between bills that were passed on their own, amended into other bills, and included in the budget, I got a total of 17 proposals enacted into law. I am very proud to have represented you through these proposals, from the creation of a vital south Sarpy sewer funding mechanism, to reporting requirements that will help the state better protect foster children, to needed updates to our state building codes. As we officially enter the interim period in the next few weeks, we will be shifting gears to consider the proposals and policies that we might introduce in the final two years of my term. As always, it is an honor to represent all of you.
K-12 Computer Science Education Week
While we can only introduce legislation in the first ten days of each session, we can submit legislative resolutions at any point during the session. On Wednesday I introduced LR 472, which proclaims the second week in July this year as K-12 Computer Science Education Week. This year the Computer Science Teachers Association is holding its annual conference in Omaha, which will coincide with the designated week. I look forward to welcoming teachers from across the nation to our state, as technical education is such a vital part of our modern economy.
Economic Development Task Force
If you recall from last summer and fall, I was elected Chair of the Legislature's Economic Development Task Force. That group is designed to do most of its work in the interim rather than during session, but now the members are beginning to meet up and informally discuss the issues we want to explore in the months ahead. The Task Force is an important avenue for the Legislature to explore complex and long-term economic development issues in this era of term limits. I will keep you all updated on the Task Force's activities once we gear up in earnest.
Sophomore Pilgrimage
On Wednesday the annual Sophomore Pilgrimage came to Lincoln to observe the Legislature and meet their representatives. I got to join the group over lunch at the Governor's residence, and had the pleasure of talking to Laura Sheldon and Logan Stoddard, two students from Bellevue.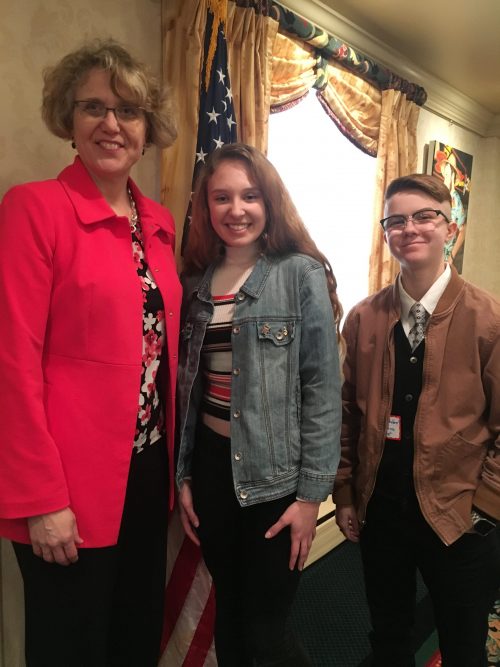 Students Invited – Unicameral Youth Legislature
Registration is now open for the annual Unicameral Youth Legislature, which this year will run June 10-13. High school students will take on the role of state senators at the State Capitol: sponsoring bills, conducting committee hearings, debating legislation, and discovering the unique process of the nation's only unicameral. The Unicameral Youth Legislature gives behind-the-scenes access to students who have an interest in public office, government, politics, law, public policy, debate or public speaking. Students will get to learn about the inner workings of the Legislature directly from senators and staff.
Scholarships are available; you can get more details about the program here, or you can call the Unicameral Information Office at 402-471-2420. The deadline to register is May 15.
Stay Up to Date with What's Happening in the Legislature
You are welcome to come visit my Capitol office in Lincoln. My office is room 1016, and can be found on the first floor in the northwest corner of the building.
If you would like to receive my e-newsletter, you can sign up here. These go out weekly on Saturday mornings during session, and monthly during the interim.
You can also follow me on Facebook (here) or Twitter (@SenCrawford).
You can watch legislative debate and committee hearings live on NET Television or find NET's live stream here.
You can always contact my office directly with questions or concerns at scrawford@leg.ne.gov or (402)471-2615.
All the best,