Legislature Adjourns Sine Die
On Wednesday of this week we adjourned "Sine die," a Latin phrase that translates to "without day." We adjourn in the regular manner at the end of each session day, but always with a specific fixed time to re-convene (either the next day, after the weekend, or whenever else the Speaker determines). Thus, when we adjourn Sine Die at the end of each session, we do so without that fixed re-convening point – literally, without a day in mind to resume our official business. Though our state constitution dictates the first day of each session – "annually, commencing at 10 a.m. on the first Wednesday after the first Monday in January of each year" – it will be a different group of people, with some new senators, who convene at that time.
Though we will not know the outcome of many elections until November, we do know that there will be at least eight senators who are not returning. Senators Paul Schumacher, Lydia Brasch, Burke Harr, Jim Smith, Bob Krist, and Tyson Larson have served their full terms and are ineligible to be re-elected this cycle. Senators John Kuehn and Roy Baker have reached the end of their first 4-year term, and have decided not to run for re-election. Each of these senators has made a unique contribution to the body in the years they have served, and it has been an honor to work with all of them. I wish them well as they move back into their private lives.
Our legislative processes can seem opaque and complicated from the outside, so I want to take this opportunity to explain what it means, process-wise, to adjourn Sine Die. Because Nebraska runs on a biennial session calendar, the process is different each year. When we adjourn Sine Die at the end of a long 90-day session (which occur in odd-numbered years like last year, 2017), we essentially hit pause on everything we're doing. Then we come back in even-numbered years (like this one) for a short 60-day session in which we pick up right where we stopped. All the bills that we introduced carry over to the same place we left them the previous year, committee assignments and leaders are the same, and we stay in our same offices.
Adjourning Sine Die at the end of short sessions, like this year, is less a pause than a full stop. Any bill that hasn't been passed and signed by the governor is Indefinitely Postponed (IPP'd), which means it is no longer active. Come January 2019 we will start with a completely clean slate with no carry-over bills. We will elect a new Speaker and committee chairs, and can move offices within the building if we so choose. Thus, in the coming months and into the fall my office will begin to craft my final biennial legislative agenda for 2019-20, after which time I too will be term-limited out of office. There may be some bills from this just-completed session that I choose to reintroduce, and there will be some completely new proposals. As always, I am interested to hear your thoughts and ideas for legislation. Serving you all is an honor.
Capitol Renovation Plans
Speaking of moving offices, we have just over one week remaining until a decade-long HVAC renovation project of our state capitol building starts in earnest. Starting in May, 18 senators' offices will begin the process of packing their things to move up to new space in the capitol tower on the 8th, 11th, 12th, and 13th floors. Many committee chairs are also moving, but will remain on the building's first and second floors. Other executive and legislative offices have spent the last six months moving out of those spaces to make room, and are now located outside the building. In June, the capitol's entire southwest quadrant will be walled off for at least 18 months so that construction teams can do their work. That work is extensive, and includes changes to our heating/cooling system, fire system updates and upgrades, window replacements, electrical work, and more. The entire project, which is split into multiple sections, is expected to take 10 years to fully complete. NET wrote a good article on this massive endeavor, which you can access here.
For visitors to the capitol, the biggest impacts will be the closure of the cafeteria over the next two years and hallway closures that may affect how you get to certain places. If you want to visit a particular senator, you will also need to check whether they've moved, and if so where to. The information desk in the 1st floor center lobby will be there to assist you in finding anything, and senators' websites will be updated with their new locations. All emails, phone numbers, and mailing addresses will stay the same. My office will not be moving, so you can still find me and my staff in room 1016 for the duration of my term in office.
4th Grade Visitors
This last week of session we had three schools visit. The first, on Tuesday, was Belleaire Elementary. They also got to meet Governor Ricketts on their tour, as he happened to be passing and was kind enough to stop and speak with them.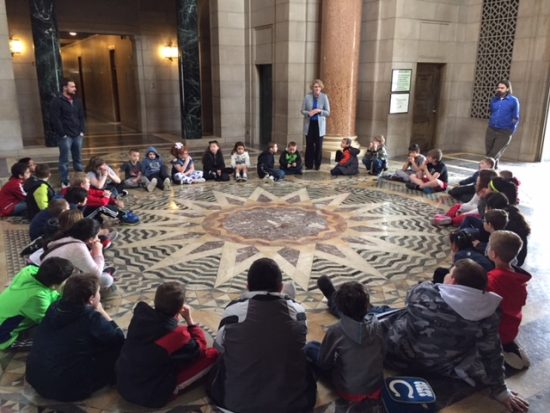 On Wednesday we welcomed groups from Bertha Barber & Central Elementary schools.
I hope all the students had a fun time in Lincoln learning about their state government!
BPS Foundation Scholarships
Thursday was the annual Bellevue Public Schools Foundation Community Breakfast. Among the honorees at the breakfast were recipients of 2018 BPS Foundation scholarships. I knew some of these bright young stars already through their community work.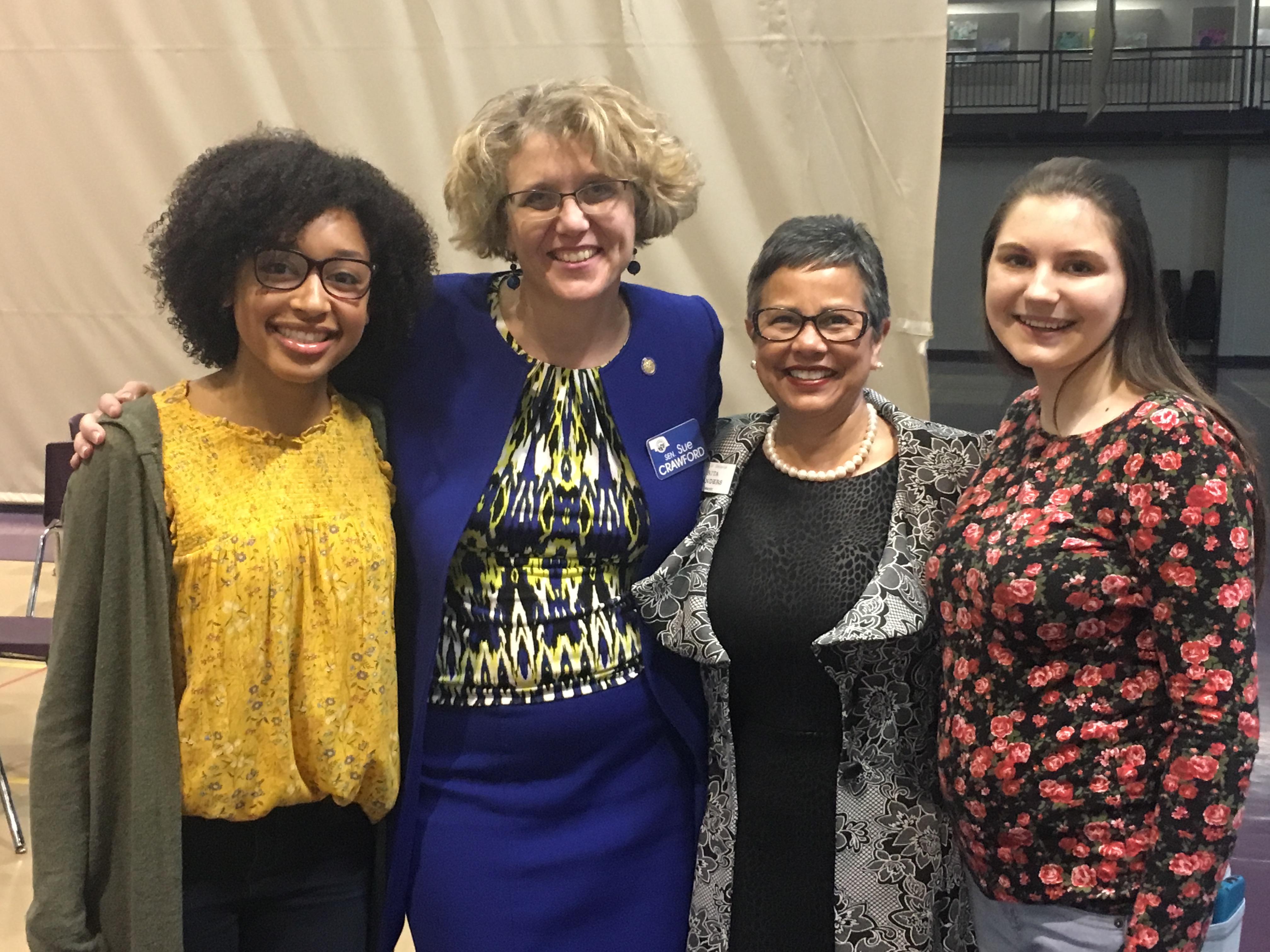 With (L-R) Courtney Owens,  Mayor Rita Sanders, and Kathryn Woerner

(L-R) Brooklyn Larimore, Eden Liebenthal, and Erin Jenkins.
Congratulations to all of these outstanding scholars!
Bellevue Events
There are two upcoming events in Bellevue to share with you. The first, which will take place next week, is a Sarpy County job skills and employment fair. It is a smaller job fair, which is done on purpose so that organizers can focus on high-quality interactions between local businesses and job-seekers. The event will take place on Wednesday April 25th, from 10:00-2:00 at First Baptist Church (112 E 23rd Ave). For more information, you can contact Erin Cooper, the event's coordinator, at 402-934-2814.
The other event is a Mental Health Resource Expo, which will take place on Sunday May 12th from 9:00-12:00 at Thanksgiving Church in Bellevue (3702 S 370 Plz). This free event will include speakers who will discuss how to recognize and manage mental illness in yourself or in those around you, and offer a collection of resources that can help. They will also have one-on-one mental health support specialists who can offer advice and answer questions in a private setting. If you have questions, you can call 402-871-9500. Registration is not required, but will help organizers know how many people to expect. The website to register can be found here.
New Update Schedule
Now that the 2018 legislative session is complete, I want to remind you that this is our last weekly update before we switch back to our monthly schedule. After today, you can look for updates on Saturday mornings at the end of each month.
Arbor Day Closure
All state offices will be closed on Friday April 27th in observance of Arbor Day. If you need assistance that day, please send an email or leave a voicemail at my office. We will reopen on Monday April 30th.
Stay Up to Date with What's Happening in the Legislature
You are welcome to come visit my Capitol office in Lincoln. My office is room 1016, and can be found on the first floor in the northwest corner of the building.
If you would like to receive my e-newsletter, you can sign up here. These go out weekly on Saturday mornings during session, and monthly during the interim.
You can also follow me on Facebook (here) or Twitter (@SenCrawford).
You can watch legislative debate and committee hearings live on NET Television or find NET's live stream here.
You can always contact my office directly with questions or concerns at scrawford@leg.ne.gov or (402)471-2615.
All the best,