Property Tax Reform Update
In my last newsletter I shared with you all that there was a formal call to hold a special session about property tax reform, and that senators had time to decide whether to join that call or not. When the final tally was announced on April 23rd, there were nowhere near enough votes to call the session – only 14 of the required 33 senators approved the call. Thus, at least for now, there are no plans to hold a special session this interim.
You may also have seen the news that the property tax reform referendum campaign was abandoned last week. The Journal Star covered that development here. Even with the referendum and special session call no longer active, however, property tax conversations are still happening at the capitol. My office will spend time this interim looking for comprehensive solutions to the property tax problem, so that we can try to alleviate the burden on property owners without devastating our state and local budgets. My office is not alone in those conversations, and I am committed to working seriously and collaboratively on this issue for as long as it takes.
Gubernatorial Vetoes
In our unicameral bill process, every bill that is passed goes through the three rounds of debate. It then goes to the governor; if he vetoes the bill, he sends a letter back to the legislature sharing his decision and his explaining reasoning. Typically, the introducing senator then has the option to make a veto override motion, which requires 30 senators to achieve. Bills that are passed too late in the session, however, run the risk of being returned after senators have gone home for the year; thus, the governor's veto stands as the final decision in such situations. The governor does not have unlimited time to decide whether to sign or veto bills, and usually extra recess days are built in to the end of our session calendar so that, if necessary, we can come back and attempt overrides as necessary on the last day.
The schedule of our final days this year meant that on the very last day, we spent time passing a number of bills on final reading. We knew that vetoes without possibility of overrides were possible, but it is the Speaker's prerogative to set the schedule. This year we did have three bills that were vetoed without the option to override: LB 873, LB 449, and LB 998. I supported all three bills, and am disappointed that the Governor chose not to sign them into law. I would not be surprised to see all of them brought back in some form next session.
Upcoming Staff Changes
My Legislative Aide, Shayna Bartow, has been an amazing asset to my office these last two years. She is known around the capitol as one of the hardest working staffers, whose dedication helped us pass 17 bills this biennium among other accomplishments. Shayna's last day will be May 11th, as she will be starting law school in August. She has been an outstanding part of this office and we are of course sad to see her go, but I know Shayna will make the most of this exciting opportunity to continue her education. I wish her nothing but the best as she begins this new chapter!
With Shayna's upcoming departure, one of the things my office spent time on in the last few weeks was conducting interviews for her successor in the LA position. My AA, Christina, will be continuing in her current role so there will be a smooth transition. The new LA is named Hanna Murdoch, and her first day will be May 16th. Look for an introduction in next month's newsletter – I know she'll be great, and look forward to having her join our office team!
Bellevue Small Business Awards
The Bellevue Chamber held its annual Small Business Awards lunch on April 27th. The event honors small businesses throughout Sarpy County who have done outstanding work for their customers and have contributed to the community. Congratulations to all of this year's recipients!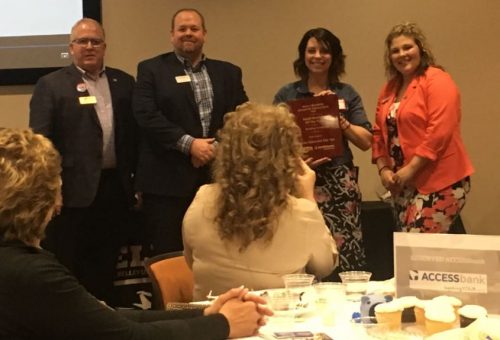 Art Show 
Each year the Bellevue Kiwanis Club hosts the AC Lofton Art Show to show off work from some of the outstanding artists who attend Bellevue Public Schools. This year's Best in Show award was awarded to Mikayla Gallagher, while the runner-up was Celia Abolafia. The Bellevue Leader published a full list of award winners here. I attended the art show with Mayor Rita Sanders, and it was wonderful to see so many amazing pieces of art from our own local students.

With Celia Abolafia (L) and Mikayla Gallagher (R)
Avery Elementary Visit
The Avery Elementary School 4th graders visited the capitol on April 23rd. My staff visited them during their tour and welcomed them to the building. 
There were several bright young faces who said they hope to be senators themselves some day. We certainly encourage all of the student visitors who come through their halls of government to dream big, be good friends and community members, and study hard!
Spring Game
On April 21st I joined some 85,000 fellow Nebraskans at the Spring Game at Memorial Stadium. Though it was a bit chilly, everyone had a great time. Go Big Red!
Stay Up to Date with What's Happening in the Legislature
You are welcome to come visit my Capitol office in Lincoln. My office is room 1016, and can be found on the first floor in the northwest corner of the building.
If you would like to receive my e-newsletter, you can sign up here. These go out weekly on Saturday mornings during session, and monthly during the interim.
You can also follow me on Facebook (here) or Twitter (@SenCrawford).
You can watch legislative debate and committee hearings live on NET Television or find NET's live stream here.
You can always contact my office directly with questions or concerns at scrawford@leg.ne.gov or (402)471-2615.
All the best,