Epidiolex Gains FDA Approval
On June 25th the Food and Drug Administration (FDA) announced its approval of Epidiolex, the first cannabidiol-based medication ever to clear that hurdle. This approval will lead to federal rescheduling for this CBD extract drug, and it will hopefully be available for general distribution by prescribers this fall. You can read more about Epidiolex's approval here.
In 2015 I introduced LB 390, which authorized UNMC to conduct pilot studies of cannabidiol-based pharmaceuticals. For over a year, UNMC has been working on studies of Epidiolex. They plan to continue that research until at least 2019, when LB 390 originally sunsetted the pilot project, or for as long as the study sponsor is willing to provide them with supplies of the drug. That will allow UNMC to add their findings to the available literature on the subject. That also provides continued access to some families with children with intractable epilepsy now, while the next steps to make Epidiolex available by prescription move forward with the federal government.
In the meantime, I encourage parents of children with intractable epilepsy who may benefit from Epidiolex to remain in touch with their medical team. This approval is an encouraging sign.
Constituent Open Hours
This summer I am hosting two more open hours events for constituents to stop by, say hello, and talk about anything you wish. The next event will be July 10th at the Bellevue Public Library from 4:30 – 6:30 pm.
I will also have a booth at the Bellevue Farmers Market at Washington Park on August 25th from 8:00 am – 12:00 pm.
You are warmly invited to attend either of these events, or both if you would like! I look forward to seeing you.
Quarterly Heritage Health Oversight Hearing
Every three months the Health and Human Services Committee meets to hold a Heritage Health Oversight Hearing. In these meetings we hear from both the Department of Health and Human Services (DHHS) as well as providers and patients who are involved with the Heritage Health managed care system through Medicaid.
This quarter's hearing provided an opportunity for Director Matthew Van Patton to provide an overview of metrics being used to hold the managed care organizations who provide care through Heritage Health accountable. We raised some tough questions about the measures and additional information that we need to make sure that we are pushing hard to continue to improve care and improve relationships with our providers who serve our Medicaid patients. The public testimony portion of the hearing focused primarily on announced changes to one Heritage Health plan's fee schedule for durable medical goods. Members of the committee, including me, are following up with the Director on this issue. Several providers in attendance said they would be forced to stop accepting this plan if the planned changes go through. These public meetings are an important avenue for us as senators to hear from Nebraskans and ask DHHS for feedback and follow-up.
Though the formal committee meets only a few times per year, I and other senators are frequently in touch with DHHS directly. If you or anyone you know is has questions or concerns about Heritage Health, you should contact the DHHS email helpline at DHHS.HeritageHealth@nebraska.gov or email my office.
Medicaid Buy-In Study
This interim I introduced LR 448 in partnership with Senator Lou Ann Linehan of Elkhorn to study the state's Medicaid Insurance for Workers with Disabilities program – also called "Medicaid Buy-In." The purpose of this resolution is to examine the Medicaid Buy-In program to determine where improvements might be made to enable more Nebraskans with disabilities to work and earn more while maintaining appropriate health insurance coverage for their needs.
We have heard from several disability rights advocates that under the current program, many adults with disabilities who do not work but want to, or who work only part time but want to work more hours, often do not because they fear losing their Medicaid benefits once their income reaches a certain threshold. This week, Senator Linehan and I sat down to discuss our next steps and identify research priorities. We plan to hold a meeting with the Department of Health and Human Services Medicaid Division soon to discuss possible opportunities and barriers to updating parts of our currently policy that may be outdated.
I also want to share a wonderful event that will be taking place at the State Capitol on July 13th. The annual Disability Pride Day rally will run from 1:00-4:00 pm on the building's north steps. It should be a great celebration of all our friends and fellow Nebraskans with a wide array of abilities and talents.
Offutt Appreciation Day Picnic
Each summer partners across the Metro area join together with the Offutt Advisory Council to put on a huge picnic for our military families. I am proud to be a regular sponsor of this event. This year I was able to attend the event and volunteer all day. The Air Force band plays, we have inflatables for the kids, lots of food is shared, and prizes are given out. This year several partners also contributed to a bike giveaway. It was fun to see the kids and parents riding on the bikes at the end of the picnic. Thanks to Herman Colvin for coordinating the event and to all of the sponsors. Thanks especially to our military families for all of their sacrifices throughout the year.
"Not On My Watch" CWS Campaign
The NCAA College World Series is an awesome event for Omaha and its residents to enjoy the top baseball teams in the country in a fun family atmosphere. For human traffickers, though, the CWS and other large sporting events are also an opportunity to expand their reach among travelling fans and sell vulnerable people for sex.
The Not on My Watch campaign is sponsored by the Women's Fund of Omaha. It brings together human trafficking survivors, researchers and experts, policymakers, and the public to raise awareness of human trafficking, educate people to spot signs of human trafficking victims, and help put a stop to the practice. On June 14th many of my fellow state policymakers and community activists gathered for a kick-off press conference.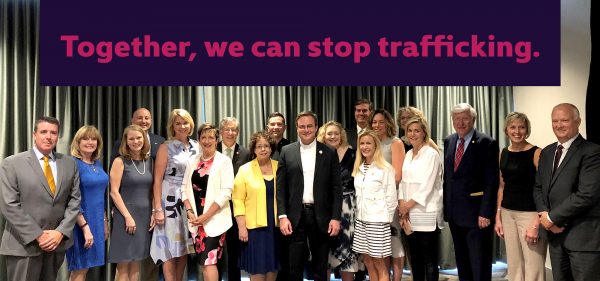 I also joined the volunteer team of public officials that Senator Carol Blood organized to help hand out information around the park during the CWS the following week. People who may be under the control of a trafficker might exhibit signs such as bruises or scars, difficulty focusing, being persistently fearful, not being in control of their identification, being unable to speak for themselves, and tattoos that appear possessive, like bar codes. If you ever encounter someone who you believe may be a victim of human trafficking, do not approach them directly as that may put them in danger. Instead call 911, the National Trafficking Hotline at 888-373-7888, or Crime Stoppers at 402-444-STOP.
Human trafficking is a scourge, and it is incumbent on all of us to do what we can to put a stop to this crime.
Stay Up to Date with What's Happening in the Legislature
You are welcome to come visit my Capitol office in Lincoln. My office is room 1016, and can be found on the first floor in the northwest corner of the building.
If you would like to receive my e-newsletter, you can sign up here. These go out weekly on Saturday mornings during session, and monthly during the interim.
You can also follow me on Facebook (here) or Twitter (@SenCrawford).
You can watch legislative debate and committee hearings live on NET Television or find NET's live stream here.
You can always contact my office directly with questions or concerns at scrawford@leg.ne.gov or (402)471-2615.
All the best,