Conference Travel
July was a busy travel month for me, as both of the primary national state legislative organizations held their annual conferences. These conferences are great opportunities to learn from national experts and other state legislators. The sessions and the one-on-one discussions with other state legislators help me to get ideas to strengthen our policy in Nebraska.
In mid-July I traveled north for the Council of State Governments (CSG) Midwest meeting in Winnipeg. Since the meeting was in Canada we had more emphasis on what U.S. and Canada state/province governments can learn from each other. There were particularly interesting panels on lessons for improving access to mental health and and transportation. The National Council of State Legislators (NCSL) held their annual conference in Los Angeles in the last week of July. Two of the dominant issues at the NCSL conference were preventing sexual harassment in our state legislatures and getting ready for redistricting in 2021.
NCSL and CSG are both important sources of expertise, support, and research for state policymakers above and beyond these national meetings. We often turn to their resources to see model legislation from other states and to see research on various policy topics. While many resources are only available to members, you can see some of their work at their websites: http://www.ncsl.org/ and https://www.csg.org/
Interim Meetings
Though it seems like January 2019 is a long way away, my office is already working hard to develop, research, draft, and find support for a number of bill ideas. In addition to my two formal interim studies (on Medicaid buy-in and military spouse occupational licensing), my staff are spending time on issues as diverse as cottage food regulations, paid family leave, veteran retirement taxes, campaign finance rules, drug price transparency, and healthcare advance directives (to name just a few!). That means the next few months will be full of meetings to share ideas and hash out roadblocks as they spring up. This late summer period is when a lot of the policy heavy lifting starts, so that we can get off to a good start when the 107th Legislature formally convenes on January 9th.
In July I experimented with office hours in the Bellevue Public Library as a way to meet with constituents. Hanna and I were at the library to meet with constituents from 4:30 – 6:30 pm on July 10th. We enjoyed conversations with the folks who came to ask questions and bring ideas during that time. It is my goal to have some kind of event like this once a month in the district during the interim to meet with people and hear their input. In August I will be at the Farmer's Market (see below). Watch for announcements for the September and October events.
Bellevue Farmers Market Booth
I am hosting one more open hours event for constituents to stop by, say hello, and talk about anything you wish. I will have a booth at the Bellevue Farmers Market at Washington Park on August 25th from 8:00 am – 12:00 pm. I look forward to seeing you!
Normandy Hills visit
On July 20th my LA Hanna and I met with Jeanne McDonald in the Normandy Hills/Cedar View neighborhood to inspect ongoing road work.
I appreciate residents' ongoing engagement with the project, and will continue to work with the Department of Transportation and Sarpy County to make sure residents' concerns are heard.
CSTA Conference
The Legislature proclaimed the second week in July as K-12 Computer Science Education Week in Nebraska by LR472, a resolution I introduced last session to honor the contributions of computer science teachers across the country. The Computer Science Teachers Association held its national conference in Omaha from July 7th-10th, and I had the honor of presenting a copy of the Legislature's resolution at the plenary session.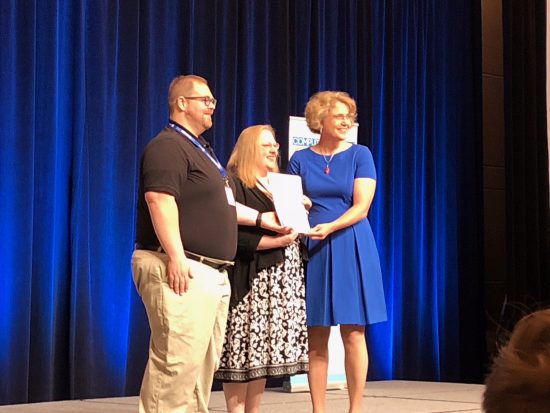 Visiting teachers from around the country enjoyed all that Omaha had to offer. I thank them for their dedication to their students and for teaching excellence in this important subject area.
Community Events
August is a great month for family events in Bellevue and Sarpy County.
The 2018 Sarpy County Fair started on July 31st and runs all the way through Sunday August 5th. Stop by for a good time with your family! A schedule of exhibits and events is available here.
National Night Out (NNO) is an annual event that helps residents get to know their police departments and public safety officers in a relaxed outdoor environment. Bellevue's central NNO party will take place on August 7th at Everett Park from 6:00-8:30 pm. There will be a cookout, bounce house, face painting, and other activities. I will be a popsicle sponsor at the event. Some individual neighborhoods will be hosting their own NNO parties, so look out for those too! For more information contact Roger Cox at 402-682-6623 or roger.cox@bellevue.net.
On August 11th and 12th Offutt will open its gates to the community for their annual Air & Space Show. Food, fun and flyovers will all be present in abundance, so head out to support Offutt and have a good time! More information about the performers, ground displays, and schedule can be found here.
This year's Arrows to Aerospace parade and celebration will be August 18th. The centerpiece parade will begin at 10:00, but there will be lots of other fun activities at Washington Park throughout the day. For the full schedule of events head to the Bellevue-Offutt Kiwanis' website here.
Stay Up to Date with What's Happening in the Legislature
You are welcome to come visit my Capitol office in Lincoln. My office is room 1016, and can be found on the first floor in the northwest corner of the building.
If you would like to receive my e-newsletter, you can sign up here. These go out weekly on Saturday mornings during session, and monthly during the interim.
You can also follow me on Facebook (here) or Twitter (@SenCrawford).
You can watch legislative debate and committee hearings live on NET Television or find NET's live stream here.
You can always contact my office directly with questions or concerns at scrawford@leg.ne.gov or (402)471-2615.
All the best,