Economic Development Task Force
The Economic Development Task Force, of which I am chair, has continued its work this interim. If you recall, last year the Task Force focused on hearing from a broad range of economic development specialists, businesses, and community organizations to get an idea of Nebraska's biggest economic challenges and opportunities. Our final report from that work, which was issued in December 2017, can be found here.
The Task Force has spent this interim focusing in on some of the key issues we identified in that 2017 report. One of the top priorities has been to work through the possibilities for the future of the Advantage Act, Nebraska's primary business incentive program, which is set to expire in 2020. The Task Force is working to identify common ground among legislators, explore novel ideas modeled on other state programs, and incorporate person-centered development in whatever we develop to replace the Advantage Act. It is still very much a work in progress, but I am hopeful that we can find solutions that will leave the state in a better position to harness its economic potential and support the workers who make our economy tick.
Holland Honor Roll
On October 18th I was honored, along with a number of my legislative colleagues, to be named to the Holland Honor Roll.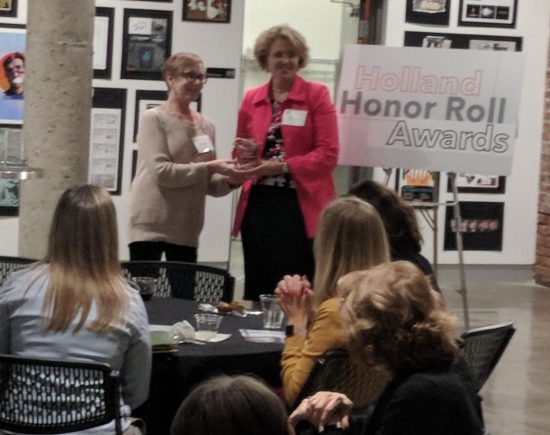 Maintained by the Holland Children's Movement, the Honor Roll recognizes senators who have a strong record of supporting children and working families in the Legislature. I pledge to keep working for our kids and our families as long as I remain your state senator.
MOMS Community Internship
Each year the Metro Omaha Medical Society (MOMS) arranges shadow experiences for community leaders. The program, known as the Community Internship Program, pairs participants with medical providers as they go about their daily practice. This year I was able to participate, and had the pleasure of shadowing Dr. Donna Faber at OneWorld Community Health Center on October 4th. The Community Internship Program was a valuable experience, and I am glad I was able to participate this year.
Fairview Elementary Visit
Fairview Elementary School's 4th graders made their way to the state capitol on October 18th. My staff met with the students, who were extra-engaged and asked all kinds of great questions about our legislative process, checks and balances, and the history of the building. The future is bright for these young people, and I hope they enjoyed their visit!
REASON Group Talk
The Rationalists, Empiricists And Skeptics Of Nebraska (REASON) held its annual fall forum on October 30th. This event has featured speakers on a wide variety of topics over the years, ranging from research at the Omaha Zoo to public education trends to social media. This year I gave a talk about midterm patterns and predictions. It was a lively group and we had a great discussion.
Veterans Day State Office Closure
All state offices, including my own, will be closed on Monday November 12th in observation of Veterans Day. If you need anything that day, please leave a voicemail or send and email. Our office will reopen on Tuesday.
Stay Up to Date with What's Happening in the Legislature
You are welcome to come visit my Capitol office in Lincoln. My office is room 1016, and can be found on the first floor in the northwest corner of the building.
If you would like to receive my e-newsletter, you can sign up here. These go out weekly on Saturday mornings during session, and monthly during the interim.
You can also follow me on Facebook (here) or Twitter (@SenCrawford).
You can watch legislative debate and committee hearings live on NET Television or find NET's live stream here.
You can always contact my office directly with questions or concerns at scrawford@leg.ne.gov or (402)471-2615.
All the best,