New Legislative Colleagues
The results of the election on November 6th mean we will welcome 11 new senators to the body when the 106th Legislature convenes on January 9th, 2019. I was able to meet many of those new colleagues for the first time at the annual Legislative Council meeting on November 15th and 16th in Nebraska City. The gathering is an opportunity for everyone – departing senators, senators-elect, and incumbents – to discuss priorities, policy ideas, and expectations for the next session.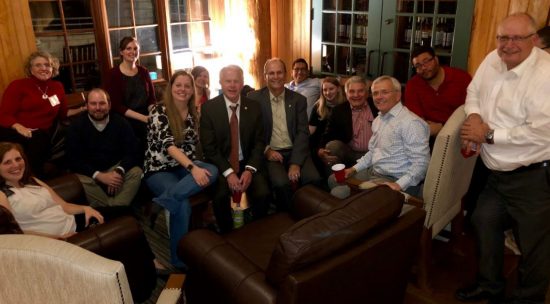 The Legislative Council meeting is also a chance to get to know each other as people, which is a key component to a fruitful working relationship that is too often overlooked. I look forward to working with all of them!
Medicaid Expansion
In addition to electing their representatives to state, local, and federal seats, the majority of voters approved the Medicaid expansion initiative. This expansion will be a boon to Nebraskans who currently fall into the coverage gap.
MHEC OER Conference
The Midwestern Higher Education Commission (MHEC) has partnered with the William and Flora Hewlett Foundation to promote open educational resources (OER). OER refers to teaching, learning, and research materials that are free for people everywhere to use and repurpose. OER is an important strategy to reduce textbook costs for students.
I spent November 28th-30th in Chicago for a summit to discuss state and regional strategies for strengthening OER initiatives, funding sources for launching OER efforts, and best state and institutional policy practices. I was joined by a number of educational professionals and legislators from across the Midwest in a productive few days of planning and discussion.
The Nebraska delegation will come home with new ideas and a stronger network as we work to make OER available to our students.
Committee Interim Hearings
This month I attended two interim hearings at the capitol. The first was a hearing for the Health and Human Services Committee on November 8th to discuss the Family First Prevention Services Act (FFPSA). This federal regulation allows states to use certain child welfare funds for the purpose of "prevention services" in families that are involved in the child welfare system, and emphasizes the use of family foster homes rather than group placements for children in state care. The hearing was held to discuss how the FFPSA might impact Nebraska's child welfare systems. The National Conference of State Legislatures published a detailed explanation of the FFPSA's changes, which can be found here.
On November 27th the Business & Labor Committee held a public hearing to consider the consequences of adopting a worker's compensation drug formulary. A drug formulary would instruct doctors on the preferred drugs for different symptoms and require additional justification for drugs that are not on the formulary. Representatives from commonly used formularies came to explain how their formularies use evidence-based guidelines. I expect that we will see a bill to move to a formulary in the next session. I will be cautious about this policy change because of the impact it may have on the ability of injured workers to get the care that they and their doctors agree is necessary.
ACS CAN Policy Forum
The American Cancer Society's Cancer Action Network held a forum on November 13th to talk about access to healthcare for those who have been diagnosed with or who have recovered from cancer. I served on a panel of professionals who work in the public health, insurance, and patient advocate fields.
Among other policy issues important to cancer patients, we discussed the possible impacts of Medicaid expansion and the challenges of healthcare access in rural areas.
Sarpy Law Academy
Each year the Sarpy County Attorney and Sarpy County Teen Court hold a Law Academy for students in 7th to 12th grade in the Omaha, Papillion, Bellevue, and Millard areas. These students, who are often interested in public service careers and want to learn more about government, heard from a variety of speakers over four evening sessions. Speakers included judges, military officers and lawyers. I spoke to the group on November 8th about the Legislature and my role in the judicial process. I enjoyed answering the students' great questions and helping them to understand the complexities of government.
Holiday Office Closures
To allow my staff to celebrate with their families, my office will be closed on December 24th. All state offices will be closed on Christmas Day, December 25th, and New Year's Day, January 1st. If you need any assistance on those days please either send me an email or call my office and leave a voicemail.
I wish you and yours a very happy holiday season!
Stay Up to Date with What's Happening in the Legislature
You are welcome to come visit my Capitol office in Lincoln. My office is room 1016, and can be found on the first floor in the northwest corner of the building.
If you would like to receive my e-newsletter, you can sign up here. These go out weekly on Saturday mornings during session, and monthly during the interim.
You can also follow me on Facebook (here) or Twitter (@SenCrawford).
You can watch legislative debate and committee hearings live on NET Television or find NET's live stream here.
You can always contact my office directly with questions or concerns at scrawford@leg.ne.gov or (402)471-2615.
All the best,