Session Begins January 9th
This will be my last update during the interim – the next time you hear from me will be at the end of week that the 106th Legislature convenes on January 9th. Here's a quick overview of how the first few days of session will go:
On January 9th, Day 1, the Legislature will hold its opening ceremonies. All newly elected and re-elected senators will be sworn in, temporary operating rules will be adopted, and the Clerk of the Legislature and other administrative officers will be formally re-appointed. Then we will move on to elect the Speaker from among the 49 senators. Next we will elect Chairs to the various standing and select committees, which is done by secret ballot. Once those Chair positions are finalized, the crazy task of assigning and moving offices begins. I intend to stay put in room 1016 this session, so you will be able to find us there in the northwest quad!
On January 10th, Day 2, senators will begin to introduce bills. Our formal program for Day 2 is usually a swearing-in ceremony for new and returning members of the Board of Regents, Board of Education, Public Service Commission, and Nebraska Supreme Court.
On January 11th, Day 3, our only formal business is typically new bill introduction.
Once the Speaker is elected on Day 1, he or she will finalize the (now tentative) legislative calendar for 2019. You can find the current proposed calendar here. In our next update I will give an overview of key dates for the whole session – when committee bill hearings will start and end, statutory deadlines for the budget, etc. I look forward to joining all my new and returning colleagues to have a productive 2019 session.
National Guard Birthday 
On December 14th the National Guard celebrated its 382nd birthday at a ceremony in the Capitol rotunda. The National Guard, established in 1636 as a collection of militia units in Massachusetts, today consists of "citizen-soldiers" who train and serve part-time while simultaneously holding civilian employment. National Guard regiments have deployed in every major combat operation in US History. Nebraska's National Guard was organized in 1854, and will celebrate its 164th birthday on December 23rd.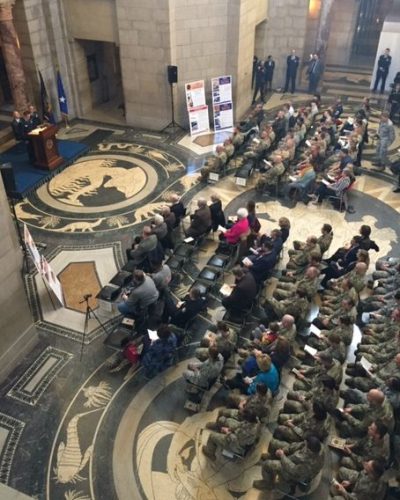 The capitol ceremony was a wonderful celebration of our state's National Guardsmen. Governor Ricketts, the Commander-in-Chief of the Nebraska National Guard, spoke about the sacrifices that members have made over the years – from giving up time with their families to giving their lives. An ensemble of the National Guard 43rd Army Band, based in Nebraska, provided delightful music for the occasion. It was an honor to attend and celebrate all the men and women who have served.
Military Officers Association of America
The Military Officers Association of America (MOAA) Heartland of America Chapter held its annual dinner on December 12th. I was honored to be recognized by the Association and Colonel Dan Donovan, the Chapter President.
Bellevue Ornament on the Capitol Tree
This year, in honor of the state's sesquicentennial, First Lady Susanne Shore led an effort to update the decorations on the Capitol Christmas tree. 316 design proposals, all in the shape of Nebraska, were submitted by artists from around the state, and 166 were selected as finalists to be created and put on the tree. One of the ornaments was created by Bellevue's own Alaina Jenkins.
Alaina called her creation "Beautiful Corn of Nebraska," and in her artist's note said that "I have created the corn landscape of Nebraska. Many people say that Nebraska is just a 'pass-over' state. But in my eyes, I think the natural view of corn, trees, grass and flowers are beautiful."
I agree! Thank you to Alaina and all the other talented Nebraskans who helped bring some of our state's beauty into the Capitol this Christmas season.
You can view all of the wonderful ornaments up close here, though of course I also encourage you to come see them in person and in their full splendor at the Capitol!
Farmers Union Panel
On December 7th I joined five of my legislative colleagues on a panel at the Nebraska Farmers Union Annual Convention in Lincoln. Made up of three current senators and three senators-elect, the panel was an opportunity for us to preview and discuss the topics and priorities that are likely to come up in the 2019 session.
Holiday Office Closures
All state offices will be closed on on Christmas Eve (Monday December 24th), Christmas Day (Tuesday December 25th), and New Year's Day (Tuesday January 1st). If you need any assistance on those days please either send me an email or call my office and leave a voicemail.
I wish you and yours a very happy holiday season!
Stay Up to Date with What's Happening in the Legislature
You are welcome to come visit my Capitol office in Lincoln. My office is room 1016, and can be found on the first floor in the northwest corner of the building.
If you would like to receive my e-newsletter, you can sign up here. These go out weekly on Saturday mornings during session, and monthly during the interim.
You can also follow me on Facebook (here) or Twitter (@SenCrawford).
You can watch legislative debate and committee hearings live on NET Television or find NET's live stream here.
You can always contact my office directly with questions or concerns at scrawford@leg.ne.gov or (402)471-2615.
All the best,