106th Legislature, First Session Convenes 
Wednesday January 9th was the first day of the 106th Legislature. Together with my 48 fellow senators, both new and returning, I look forward to a productive session serving you all!

My Legislative Aide Hanna Murdoch, Administrative Aide Christina Mayer, and I in the Chamber on the first day of session
Rules Committee Chairmanship
This year I had the honor of being elected as Chair of the Rules Committee. Rules is a Select Committee that meets at the beginning of each biennium to discuss proposed changes to the Legislature's permanent operating rules. Any senator can submit a rule change proposal. Once proposals have been submitted, a public hearing that runs just like a regular bill hearing will be held. This year the hearing will take place on Wednesday January 16th at 1:30 pm in room 1525 at the capitol. Each proposed change will begin with comments from the introducer, followed by an opportunity for members of the public to share their thoughts. If you would like to see all of the proposed changes ahead of time, please contact my office. We will have the final packet of rules compiled and available to share on Tuesday morning.
New Office – Room 1012
While my original intention was to stay put in my current capital office, we have now moved into room 1012. But don't worry if you want to find us and aren't sure where to go – our new office is right next door to the old one! You are most welcome to visit any time.
Inaugural Ceremonies
The 106th session began with two days of swearing-in ceremonies. On Wednesday January 9th we welcomed 13 new senators to the body and welcomed back a further 13 who won re-election to a second term in November. All of those senators gathered at the front of the George W. Norris Legislative Chamber on Wednesday morning and took an oath to uphold our Constitution and serve the Legislature with integrity.
On Thursday afternoon we held inaugural ceremonies for the executive offices – Governor Pete Ricketts, Lieutenant Governor Mike Foley, Supreme Court Justice Stephanie Stacy, Secretary of State Bob Evnen, Treasurer John Murante, Auditor Charlie Janssen, Attorney General Doug Peterson, Public Service Commissioner Tim Schram, State Board of Education members Maureen Nickels and Robin Stevens, and University of Nebraska Regents Elizabeth O'Connor, Rob Schafer, and Barbara Weitz.
Week 1 Bill Introduction
Other than swearing in new colleagues and executive officers, our primary business for this week was the introduction of new bills. Because this is the beginning of the new biennium, bills from last session do not carry over and we are starting with a completely blank slate. We did not do bill introduction on Monday; on Tuesday and Wednesday senators introduced 218 new bills. Of those bills, seven were mine. I will give a more in-depth description of my bills as they come up for public hearings in the next few months. Briefly, however, my bills this week are:
LB 120 amends an existing requirement for school staff to complete a one-hour suicide prevention training to allow schools to cover a wider range of topics relating to behavioral and mental health within the training.
LB 121 is a bill relating to limits on borrowing from banks by cities or municipalities. It specifies that loans are repaid in installments for a period of up to seven years and extends the limitations on borrowing for second-class cities.
LB 122 brings us into compliance with recent federal policy changes. It provides that veterans receiving vocational rehabilitation & education services through the VA shall receive in-state resident tuition rates for higher education if they are registered to vote in Nebraska and intend to become a Nebraska resident. I brought this bill at the request of the Department of Veterans Affairs.
LB 123 fixes an issue of compliance for the Nebraska Commission for the Blind and Visually Impaired. A current requirement in the Taxpayer Transparency Act requires them to publish information about their contracts with individuals receiving services online, which is in conflict with the Commission's confidentiality policies.  
LB 124 clarifies that municipalities can jointly administer a clean energy assessment district under the Property Assessment Clean Energy Act, or PACE program.  This is a "cleanup" bill that clarifies language to reflect the original intent of the bill.
LB 210 defines electioneering communications for candidate elections and ballot measures and requires reporting and disclosure of certain electioneering communications that are publicly distributed 30 days immediately preceding an election, refer to a clearly identified candidate or ballot issue, and are directed at the electorate of the office sought by that candidate or the voters voting on the ballot initiative.  
LB 211 provides that county offices be elected on a nonpartisan ballot. Those offices include county clerk, register of deeds, assessor, sheriff, treasurer, surveyor, county attorney, public defender, clerk of the district court, county engineer, and county commissioners and supervisors.
New Rooms and Detours at the Capitol 
The State Capitol is currently undergoing a lot of construction in the southwest wing, which means there have been significant changes in how the capitol looks and where senators and other offices are located. 18 offices are located up in the tower, and seven committee chair offices moved to a different location on the 1st or 2nd floors. It is therefore advisable that if you are coming to the capitol to visit a particular senator, you check their legislative website (the list is here) and look up whether they have moved. For senators in the tower you will need to call their office and have a staff member come down to get you, as the elevators no longer stop on the 8th, 11th, 12th and 13th floors unless you have an authorized security badge. The stairs by the west doors are also inaccessible, so to go upstairs I recommend you use the stairs/elevator in the middle of the building by the information desk.
There are also new room numbers to keep in mind once committee hearings begin on Tuesday January 22nd. Rooms 1113 and 2012 are no longer accessible, so other committees have shifted around to make sure we have enough room. The biggest change is that the Judiciary and Transportation & Telecommunications Committees will meet upstairs in the Warner Chamber. On Monday December 17th the Transportation Committee held an interim hearing on autonomous vehicle operations in Nebraska (LR 424) up in the Warner Chamber as a test run, so it should be a smooth transition. If you are coming to the capitol to testify on a bill, though, I recommend giving yourself some extra time in case your hearing is in a different spot than usual and you need to locate a new room. Below is a map of the capitol with construction zones marked off, committee hearing rooms circled in blue, and my office circled in orange.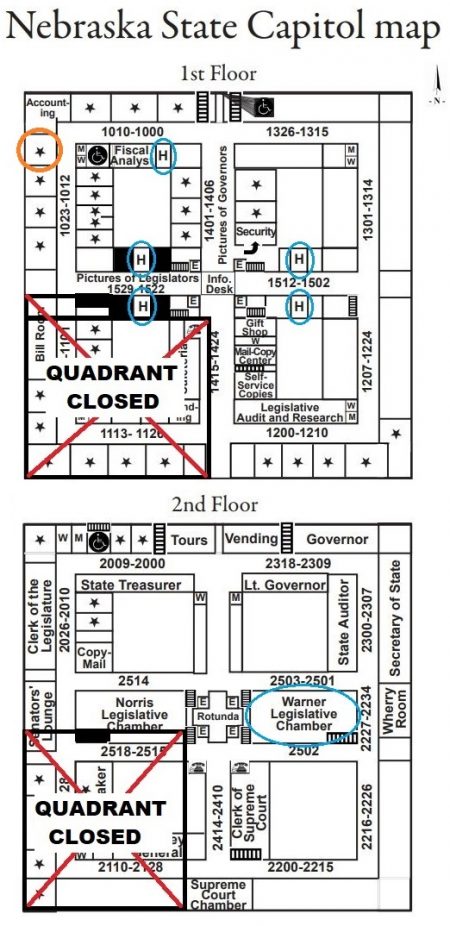 Stay Up to Date with What's Happening in the Legislature
You are welcome to come visit my Capitol office in Lincoln. My office is room 1012, and can be found on the first floor in the northwest corner of the building.
If you would like to receive my e-newsletter, you can sign up here. These go out weekly on Saturday mornings during session, and monthly during the interim.
You can also follow me on Facebook (here) or Twitter (@SenCrawford).
You can watch legislative debate and committee hearings live on NET Television or find NET's live stream here.
You can always contact my office directly with questions or concerns at scrawford@leg.ne.gov or (402)471-2615.
All the best,