PFML Press Conference 
On Tuesday January 15th Senator Machaela Cavanaugh and I hosted a press conference to announce our sponsorship of the Paid Family and Medical Leave Insurance Act. We were joined by friends and advocates who work with a wide variety of Nebraskans, from babies to working families to the elderly. The Nebraska Legislature's nonpartisan structure makes these issue coalitions extremely important.
I want to thank everyone who was able to attend and show their support for LB 311, as well as all those who have emailed or called to share how important paid leave policies are to you. If you are interested in advocating for the bill, please contact my office.
Week 2 Bill Introduction
This week we had five full days of bill introduction, bringing the total introduced since last week to over 400 bills and several constitutional amendments. I introduced a further 10 bills this week. They are:
LB 235 allows for those making home brewed alcohol to serve samples at festivals and fundraisers without a permit, so long as they are not selling the samples and the event is legally conducted under the Nebraska Liquor Control Act.
LB 236 – Provides that municipalities who have adopted the Nebraska Advantage Transformational Tourism and Redevelopment Act can receive information on the sales and use tax returns for retailers located within a redevelopment area via secure electronic means from the Nebraska Department of Revenue.
LB 237 – Restores a .5% monthly commission to counties across the state for all motor vehicle sales tax collections over $3,000. This is part of my efforts to address unfunded mandates to counties, and supporting our counties is an important part of the property tax equation.  
LB 304 is similar to the Cottage Foods Law I introduced last year (LB764). The bill allows producers of non-potentially hazardous foods, or cottage food producers, to sell the same foods they can already sell at farmers markets from their homes or at public events so long as food are properly labeled and producers follow the food safety regulations of the county.  This includes items that are not time/temperature controlled for safety, such as baked goods, jams and jellies, and fresh produce.
LB 305 or the "Healthy and Safe Families and Workplaces Act" requires employers with four or more employees to provide employees with one hour of "sick and safe" leave for every thirty hours worked.  Employers who choose to provide comparable benefits to employees on their own can be exempt from this requirement. Safe leave can be used by employees experiencing domestic violence or stalking.  
LB 306 allows caregivers to be eligible for unemployment benefits until they are able to return to work.  Under current law, Nebraska workers are only eligible for unemployment if they are out of work through no fault of their own, or unless they had "good cause" for voluntarily leaving employment.  This adds caregiving for a family member with a serious health need to the list of reasons that are considered "good cause" for leaving employment.
LB 311 is the Paid Family and Medical Leave Insurance Act, mentioned above. The Act will provide time off with partial wage replacement for qualifying reasons for all workers covered by unemployment insurance. The bill provides six weeks to care for a family member with a serious health condition or a military family member preparing for or returning from deployment, and twelve weeks to care for a new child or for one's own health condition.  Nebraskans value our families and our workers who contribute to a growing economy and thriving communities, and this Act will result in healthier families at home and more productive employees at work.
LB 322 establishes a uniform process for tobacco compliance checks performed by law enforcement and tobacco prevention coalitions.  Tobacco compliance checks allow law enforcement and tobacco prevention coalitions to work with young people to test whether tobacco sellers are unlawfully providing tobacco to underage persons.  
LB 323 amends eligibility criteria for Nebraska's Medicaid Buy-In for Workers with Disabilities (MIWD) program.  This program allows individuals with disabilities to pay a premium for, or "buy-in" to Medicaid coverage while working and earning an income that puts them over the traditional eligibility threshold.  Current eligibility criteria is outdated and prevents persons who should otherwise qualify from participating in the program.
LB 365 creates a centralized registry where Nebraskans can store advance healthcare directives, or instructions containing their wishes for end-of-life medical treatment, where it can be accessed by a medical professional when necessary.  
Meet Our Intern – Lillian Butler-Hale 
Our intern for this legislative session is Lillian Butler-Hale from Fort Collins, Colorado. Lillian is a junior at the University of Nebraska-Lincoln studying Sociology, Spanish and Human Rights and Humanitarian Affairs. Though she has cherished her time at Nebraska she hopes to return to Colorado for law school after graduation, where she can hike, ski and camp more often. When she is not studying or working, she loves to sing, watch movies and spend time with any/all dogs or babies. She is involved with the Student Ethics Board and is a member of Alpha Phi.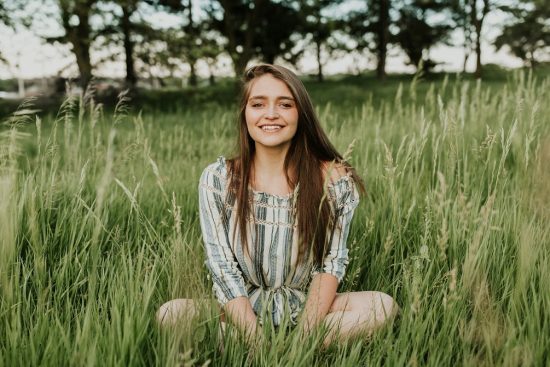 Lillian's responsibilities here at the capitol include assisting with administrative tasks, doing research and helping Christina and Hanna. We are excited to have her and look forward to an especially productive 2019!
Rules Committee Hearing
Last week I was elected Chair of the Rules Committee. The committee held its public hearing on Wednesday January 16th to discuss the proposed rule changes submitted by senators last week. We then met in executive session to discuss the proposals in more depth. On Friday the Committee reported its recommendations to the full Legislature, and I anticipate that we will begin debate on those proposals on Tuesday January 22nd.
Capitol Visitors – Mission Middle School
On Tuesday January 15th a group of students from Mission Middle School visited the capitol, and I was very happy to be able to meet them. They are participating in a national history contest and came to Lincoln to do some research in the State Archives. Their projects are about the history of women's suffrage, organ donation, the Holocaust, the history and invention of airplanes, and the first tornado forecast.
This creative group are a great representation of the good things going on in our schools, and I wish them the best with their competition!
Stay Up to Date with What's Happening in the Legislature
You are welcome to come visit my Capitol office in Lincoln. My office is room 1012, and can be found on the first floor in the northwest corner of the building.
If you would like to receive my e-newsletter, you can sign up here. These go out weekly on Saturday mornings during session, and monthly during the interim.
You can also follow me on Facebook (here) or Twitter (@SenCrawford).
You can watch legislative debate and committee hearings live on NET Television or find NET's live stream here.
You can always contact my office directly with questions or concerns at scrawford@leg.ne.gov or (402)471-2615.
All the best,