Bill Debate Begins
This week marked the start of bill debate each morning. The Unicameral's unique structure means that every introduced bill must have a public hearing, and that the public must have at least one week's notice before the hearing is held. That means that the bills we're debating on the floor now were mostly introduced in the first few days of session, then had quick hearings last week, and were non-controversial or simple enough that the committees acted on them expeditiously. My LB 121 and LB 305, discussed below, both fall into those categories. LB 121 passed on General File Friday morning after a short debate.
At the beginning of the biennium, bills are debated in what's known as worksheet order. That means bills come up for debate in the same order that committees report them out to the floor, without needing any kind of priority designation from a senator. That quick turn-around is one reason that senators often try to get bills introduced in the first couple of days when the session starts. At this point in the session that worksheet doesn't have very many bills on it – when General File debate of bills began Friday January 25th last week, we got through the whole worksheet (which held a whopping four bills at the time). This week, when we spent all four days debating bills in the morning, we took up a further 13 bills spread from Monday to Thursday this week and 14 more on Friday alone. That trickle of bills will soon turn into a flood as committee hearings continue and more bills are reported out. If you're curious to see where bills are in the process, you can access each day's worksheet by going to the Legislative Calendar (here), clicking on today's date, and opening the worksheet link under "Legislative Activity."
PFML and Military Retirement Bill Hearings
Two big bill hearings will take place next week on Monday February 4th and Thursday February 7th. The first, on Monday in the Business & Labor Committee, is my LB 311 to enact the Paid Family and Medical Leave state insurance program. This bill would extend access to paid family and medical leave to the vast majority of working Nebraskans through a small tax on employers – similar to the unemployment insurance system.
The Thursday hearing will be on LB 153 in the Government, Military & Veterans Affairs Committee. Senator Brewer's bill would exempt 50% of military retirement from state income tax for all veterans filing their return in Nebraska, not just recent retirees. I have been working for such an exemption for as long as I have been in the Legislature, and I am hopeful that we can get LB 153 passed this year. With the Governor's backing and a broad coalition of senators already signed on in support, we will work to make Nebraska even more welcoming for our veteran families.
If you would like to watch either of these hearings, or any other public business conducted by the Legislature, you are always welcome to come to the capitol and watch. For those of you who can't make it in person, all committee hearings and legislative debates are streamed online by NET. You can find those live streams here, and can always check hearing schedules and our daily debate agenda at the legislature's website here.
Bill Hearings This Week
The week of January 28th I had three public hearings for bills I introduced. The first was LB 306, which the Business & Labor Committee heard on Monday and advanced to the full Legislature on Thursday. Under current law, Nebraska workers are only eligible for unemployment if they are out of work through no fault of their own, or unless they had "good cause" for voluntarily leaving employment.  This adds caregiving for a family member with a serious health need to the list of reasons that are considered "good cause" for leaving employment. LB 306 allows caregivers to be eligible for unemployment benefits once they begin actively seeking work again. That may be because their caregiving duties have changed or ended, or because they are seeking a job on the night shift, for example – no matter the situation, this bill recognizes that uncompensated caregiving is often not a choice but a necessity, and will help caregivers financially once they are ready to return to the workforce. I am very pleased that the Business & Labor Committee acted so swiftly on LB 306, and I look forward to discussing the bill's merits with my colleagues in the full Legislature.
My next hearing was on Tuesday January 29th and discussed LB 121. The bill addresses the limits on borrowing from banks by cities or municipalities. It specifies that loans are repaid in installments for a period of up to seven years and extends the limitations on borrowing for second-class cities. This bill was approved by the Urban Affairs Committee and was already debated and advanced on the first round of debate in the full Legislature on Friday February 1st.
Last was LB 322, which was heard in the Judiciary Committee on Friday February 1st. The bill deals with tobacco compliance checks performed by law enforcement and tobacco prevention coalitions and establishes a uniform process for those checks statewide. Compliance checks allow law enforcement and tobacco prevention coalitions to work with young people to test whether retailers are selling tobacco products to under-18s. We had a good hearing and I am hopeful LB 322 will be advanced to the full legislature quickly.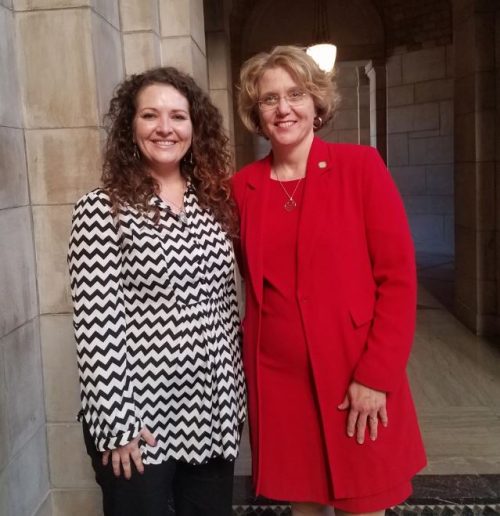 After the LB 322 hearing with Autumn Sky Burns, who first brought the bill to our attention and testified as a proponent at the hearing
Tele-Town Hall 
On Thursday January 31st I joined AARP of Nebraska for a tele-town hall about caregiving and paid family and medical leave. We had approximately 4000 Nebraskans on the phone over the course of the town hall, and had some great discussion about the importance of family caregiving and the challenges faced by workers who need time off to care for their or a family member's health. Thank you to everyone who was able to join the call or follow along on the Facebook stream!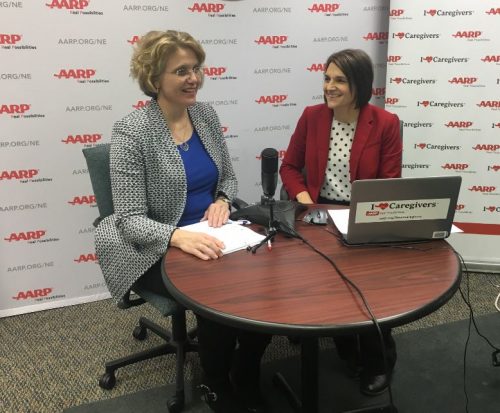 Taking calls with Jina Ragland of AARP Nebraska
Stay Up to Date with What's Happening in the Legislature
You are welcome to come visit my Capitol office in Lincoln. My office is room 1012, and can be found on the first floor in the northwest corner of the building.
If you would like to receive my e-newsletter, you can sign up here. These go out weekly on Saturday mornings during session, and monthly during the interim.
You can also follow me on Facebook (here) or Twitter (@SenCrawford).
You can watch legislative debate and committee hearings live on NET Television or find NET's live stream here.
You can always contact my office directly with questions or concerns at scrawford@leg.ne.gov or (402)471-2615.
All the best,