Celebrating Paul Hartnett
On Wednesday February 13th we celebrated the retirement from public life of former Senator Paul Hartnett, who represented LD 45 for 20 years. He was joined by his daughters Joan Hartnett and Debbie Burchard, plus friends Judy Garlock and Tex Richters. During the morning session I read the text of LR 23, a resolution to congratulate and thank Paul for his life of public service. Then Paul, his family and friends, and some of the many legislative staffers who have worked with Paul over the years headed over to the Parkway Lanes Bowling Alley for lunch (and most importantly, a slice of their superb pie!).

L-R: Joan Hartnett, Tex Richters, Debbie Burchard, Judy Garlock, and Paul Hartnett, with legislative staffers Sally Schultz and Julia Holmquist
Paul has been a tireless advocate for Bellevue in his half-century of public service. We are all grateful for his advocacy and his friendship over the years, and I trust he will enjoy his retirement to the fullest.
Debate and Hearings This Week
This week, and for most weeks going forward, the Legislature was only in session for four days. The intent of our four-day-week-schedule is to allow senators (especially those who live out west) enough time to get home, catch up on work for their other jobs, spend some time with their families, and check in with constituents in the district over the weekend. Many western senators stay in Lincoln during the week rather than try to drive several hours back and forth. Since the Unicameral is a part-time legislature, meeting only four days makes it easier for senators to serve and gives staff a day to catch up without the unpredictability of session.
This week on the floor we talked about several important bills. LB 160, introduced by Senator Dan Quick, would expressly authorize municipalities to use Local Option Municipal Economic Development Act funds for early childhood development infrastructure. We know that limited childcare is one of the barriers to attracting qualified applicants to jobs in Nebraska and that high costs can be a serious burden on families who already live here. LB 160 will provide an important tool to encourage new childcare facilities.
Another bill that drew significant attention and discussion was Senator Tom Briese's LB 183. The bill would change how ag land is valued when a school district or higher education institution issues bonds, with the purpose of limiting farmers' and ranchers' obligations under such bonds. Senator Briese brought this bill as part of the larger discussion around property tax rates – the state government does not collect property taxes but is under significant pressure to help lower them indirectly. Current law values ag land at 75% of its assessed value for bond purposes; Senator Breise's bill as introduced lowered that to 1%, and the Revenue Committee's amendment raised that to 30%. I did not support the bill in Committee and have serious concerns that such a low valuation on ag land would simply cause the burden to swing over to local homeowners and make it much more difficult for school districts and colleges to finance their work. After about two hours of debate LB 183 was placed on what's known as a Speaker's hold, which simply means it will not be rescheduled for debate until the Speaker feels that enough progress has been made to advance the bill.
Wednesday and Thursday in the Revenue Committee were very long nights, as we heard a series of bills over the two days that are all trying to update our tax system in different ways to reduce the property tax burden on ag producers. On Wednesday we discussed LB 182, which would allow school districts to adopt an optional income surcharge tax to reduce their dependence on property taxes for education purposes. Senator Bolz brought that bill and discussed in the hearing how it had helped to lower property taxes in parts of Iowa that had adopted it. On Thursday we took up LB 314, LB 497 and LB 677. These are three of the most systemic efforts to change revenue sources and reduce property tax rates. However, it is true that each of the various proposals we heard in Revenue Committee may have unintended consequences and increase the burdens on other people, which is an important part of the discussion. We heard from all kinds of testifiers about how the various proposed changes would affect them, both for good or for ill. Since I am new to the Revenue Committee this session I look forward to digging into all these tax bills and the broader implications they may have for individuals and businesses. We will have hearings on other bills this session that attempt to retool our tax code (including my LB 614, which is also a systemic approach to rebalance taxes and school financing). LB 614 does not yet have a hearing scheduled. These will be ongoing discussions and I do not expect the committee to take immediate action on any one bill.
Lincoln's Birthday Ceremonies
The 210th anniversary of the birth of Abraham Lincoln, born February 12, 1809, was Tuesday. On that day we began the session with a special Presentation of Colors ceremony by the Nebraska Department of the Sons of Union Veterans of the Civil War. The group also posted an honor guard that day at the statue of Lincoln on the capitol's west side.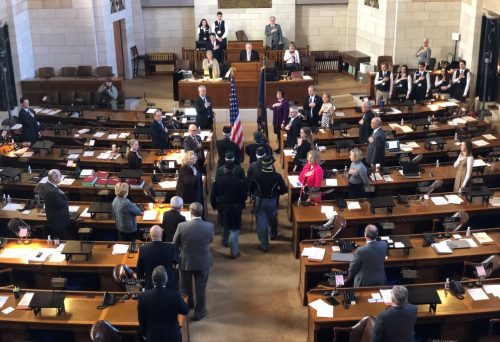 After the Civil War, the Grand Army of the Republic was formed as the first-ever fraternal organization for veterans. In 1881 the Grand Army of the Republic created the Sons of Union Veterans to carry on the memory and traditions of the G.A.R. after the last G.A.R. members were gone.
Today, the Sons of Union Veterans are recognized by Congress as a Veterans' organization, charged with keeping alive the memory of those who served our country during the Civil War, 1861 to 1865. Their presence on Tuesday was an excellent reminder of our nation's history and of President Lincoln's work to keep the United States together.
Sarpy Leadership Day
Tuesday February 12th was also Leadership Sarpy Day at the Legislature. Each year the Sarpy County Chamber of Commerce sponsors an 11-month program to help Sarpy residents develop leadership skills that they can utilize in our community. As part of the program, the group spends a day at the Unicameral hearing from representatives of the various state government branches. This year the group heard from several legislative committee chairs and the Sarpy senator delegation and two Supreme Court judges. If you are interested in participating in next year's Leadership Sarpy class, you can find more information here.
Papillion School Group
A group of students from Papillion Middle School, Liberty Middle School, and La Vista Middle School visited the capitol on Thursday as part of a program on government. Senator John Arch and I joined them briefly on their building tour to welcome them to the capitol and talk about our work as senators.
I know I saw several interested faces when I reminded them that any one of them – in a few years, of course – can serve in our legislature. They also spoke to Senator Carol Blood over lunch. I hope they enjoyed their time in Lincoln, and I trust they learned a lot.
OLLI Unicameral Class
The Osher Lifelong Learning Institute (OLLI) is a program at UNL for adults 50 years or older to take weekly classes in everything from salsa dancing to diabetes health to basketball bracketology. On Thursday February 14th I spoke to enrollees in the class "One of a Kind: Nebraska's Unique Legislature" about how I decided to run for office, the greatest achievements and challenges of my time in the Legislature, and some of the key issues the Unicameral is talking about this year. I always enjoy speaking to this group and this year was no different. If you want to learn more about OLLI, you can check out the program's website and brochure here.
Opening Prayer
I served as the Legislature's Chaplain of the Day on Valentine's Day, so I chose to speak briefly on the power of love in our lives. I deeply value the support of all my family and other loved ones, and I wish the best to you and yours!
Presidents' Day Office Closure
All state offices, including my own, will be closed on Monday February 18th in observance of Presidents' Day. If you need assistance that day, please send me an email or call my office and leave a voicemail.
Stay Up to Date with What's Happening in the Legislature
You are welcome to come visit my Capitol office in Lincoln. My office is room 1012, and can be found on the first floor in the northwest corner of the building.
If you would like to receive my e-newsletter, you can sign up here. These go out weekly on Saturday mornings during session, and monthly during the interim.
You can also follow me on Facebook (here) or Twitter (@SenCrawford).
You can watch legislative debate and committee hearings live on NET Television or find NET's live stream here.
You can always contact my office directly with questions or concerns at scrawford@leg.ne.gov or (402)471-2615.
All the best,