Flood Recovery Resources
My office is maintaining a post on my website with information about flooding assistance resources and key contacts. You can find that page here. My office will continue to update that page with additional information as it becomes available.
FEMA Individual Assistance Deadline 
The deadline for homeowners, renters and business owners to register for FEMA Individual Assistance is June 19.  Individual assistance can include grants for temporary housing and home repairs, low-cost loans to cover uninsured property losses, and other programs to help individuals and business owners recover from the effects of the disaster.
Individuals and businesses who sustained losses in the designated area can begin applying for assistance by registering online at www.disasterassistance.gov, by downloading FEMA's mobile app (click on "disaster resources," then "apply for assistance online"), or by calling 1-800-621-3362. The toll-free telephone numbers will operate from 7:00am to 10:00pm CT seven days a week until further notice. FEMA has an application checklist HERE to help you gather everything you will need to start the assistance process. FEMA also has a FAQ posted HERE that  answers some common questions.
SBA Business Loan Deadline
The deadline to apply for property damage assistance from the US Small Business Administration (SBA) is also June 19th, so you must apply soon if you think you may be eligible for this assistance. The deadline to apply for economic injury is Dec. 23, 2019. Businesses of any size and private, nonprofit organizations may borrow up to $2 million to repair or replace damaged or destroyed real estate, machinery and equipment, inventory, and other business assets. These loans cover losses that are not fully covered by insurance or other recoveries. For small businesses, small agricultural cooperatives, small businesses engaged in aquaculture, and most private, nonprofit organizations of any size, SBA offers Economic Injury Disaster Loans to help meet working capital needs caused by the disaster. Economic Injury Disaster Loan assistance is available regardless of whether the business suffered any property damage.
Applicants may apply online, receive additional disaster assistance information, and download applications at https://disasterloan.sba.gov/ela. Applicants may also call SBA's Customer Service Center at 800-659-2955 or email disastercustomerservice@sba.gov for more information on SBA disaster assistance. Individuals who are deaf or hard of hearing may call 800-877-8339.
Sine Die Adjournment
On Friday May 31st we adjourned "Sine die," a Latin phrase that translates to "without day." We adjourn in the regular manner at the end of each session day, but always with a specific fixed time to re-convene (either the next day, after the weekend, or whenever else the Speaker determines). Thus, when we adjourn Sine Die at the end of each session, we do so without that fixed re-convening point – literally, without a day in mind to resume our official business. Technically, of course, we know that our state constitution dictates the first day of each session – "annually, commencing at 10 a.m. on the first Wednesday after the first Monday in January of each year."
The Governor came to speak to the Legislature on the last day of session as usual. In reflection of the importance of the separation of branches in Nebraska government, members of other branches of government can only enter the chamber if they are invited by the Legislature and escorted into the chamber. So, when the Governor or the Supreme Court Justices, or members of the State Board of Education or the University Regents visit the chamber to speak or to be sworn into their offices, the Speaker appoints a committee to escort the guests into the chamber. I was a part of the committee this week that escorted in the Governor for his parting remarks. After the Governor's remarks, the Speaker gave his parting remarks.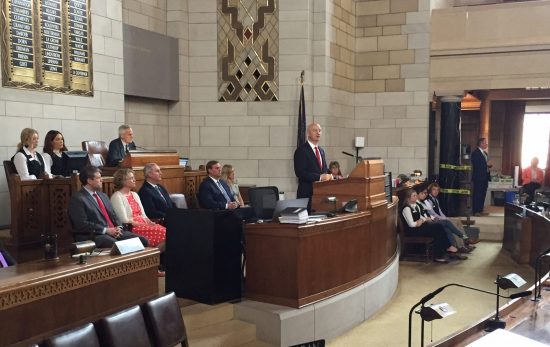 Our last business was to vote on the final motions required to approve the Legislative Journals and to indefinitely postpone (IPP) the bills that were already adopted as amendments to other bills. The bills that were not passed, adopted as amendments to other bills or IPP'd in committee will still be in play as we move into the next session. We will begin debate next session on those bills that advanced out of committee on to General File this year, but did not get to the floor before the priority bill deadline – officially those bills are on what's known as worksheet order, which I explained in a previous update here. There will be the usual ten days to introduce new bills at the start of the 2020 session, and all new bills must go through the committee public hearing process before they can advance to the floor. We can debate the holdover worksheet order bills that advanced in 2019 right away, even during this first 10 day bill introduction window.
Veto Override Motions
In addition to the closing ceremonies on the agenda, the full body did take up some substantive business on Friday. We convened at 9:00 to pass a final few bills on Final Reading, and we also took up two veto override motions. The first was for Senator Justin Wayne's LB 492, which creates the Regional Metropolitan Transit Authority (RMTA) Act to give cities in Omaha's vicinity the ability to create a joint RMTA. The authority would be governed by an elected board that represents all the member municipalities. This kind of board would be an important step for Belleuve and other cities in the Omaha metro area to combine resources and coordinate public transit options between municipalities. There have been several studies on the challenges of public transportation in Sarpy County. The option to join a RMTA would create one possible solution for Bellevue and other Sarpy cities to consider. The governor vetoed the bill, but the override motion was successful so it will become law nonetheless.
Senator Machaela Cavanaugh also made a motion to override the governor's veto of her LB 533. Nebraksa's statutes on marriage are out of date with current practice. The bill would have updated sections that reference "husband or wife" with "spouse" or other gender-neutral language. This is a simple but important change; the governor vetoed the bill, but it did spur him to issue an executive order that takes a step toward gender-neutral applications statewide. Senator Cavanaugh chose to withdraw her veto override motion, so we did not vote on it.
Final Status of 2019 Crawford Bills
Bills that Passed
This session I introduced a total of 22 bills. Eight of those bills have been signed into law:
Active Bills
We have four bills that are still active on the floor – they came out of committee and are sitting on worksheet order to be debated next session if we have time before we begin priority bills.  
Bills Still in Committee
Ten bills that I introduced last year remain in committee. Over the interim we will revisit these bills to determine which ones we may still be able to get out of committee, which ones need to be reintroduced in a different form, and which ones we are not likely to continue to pursue next session.
Barreras Family Farm Visit
On Saturday May 25th my husband David and I visited the Barreras Family Farm in Blair. Anthony and Mariel Barreras run a family operation raising chickens, goats, bees, pigs, and other livestock. Anthony is also an active duty Army officer, so the farm participates in the Homegrown By Heroes program.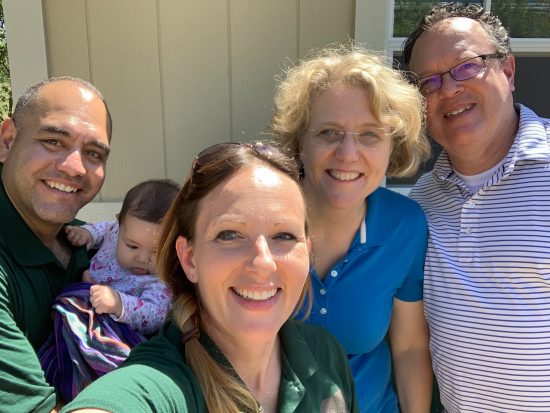 L-R: Anthony, baby McKenzie and Mariel Barreras, me and David
With their location near Omaha, they also offer educational programs and farm field trips to teach kids about farming practices. We had a great time meeting the Barreras family, learning about their operation, and feeding some truly adorable baby goats. Many thanks to Anthony and Mariel for their hospitality!
Bellevue Farmers Market
I am proud to be a sponsor of our Bellevue Farmers Market. The market began last Saturday May 25th and will run every Saturday through mid-September. The market takes place in Washington Park. You can learn more about the market's many products and vendors here.

Photo courtesy of the Bellevue Farmers Market Facebook page
Governor's Youth Advisory Council
Last week, Governor Pete Ricketts announced that he is seeking applicants for the Governor's Youth Advisory Council (GYAC). GYAC provides an opportunity for young people ages 14-19 to explore the legislative process and the role of the executive branch. The governor discusses issues impacting Nebraska's young people with his council, meeting quarterly and attending an annual luncheon with State Senators during the session. Interested individuals should apply at https://www.projecteverlast.org/councils/gyac.html. Applications are accepted any time and are reviewed on a quarterly basis.
Update Schedule Changing
We will shift to our interim schedule for future legislative updates. Until the Legislative session begins again next January, legislative updates will come out once per month. We will continue to feature events in the district, information about town hall events and interim studies. We will send our next update at the end of June.
Stay Up to Date with What's Happening in the Legislature
You are welcome to come visit my Capitol office in Lincoln. My office is room 1012, and can be found on the first floor in the northwest corner of the building.
If you would like to receive my e-newsletter, you can sign up here. These go out weekly on Saturday mornings during session, and monthly during the interim.
You can also follow me on Facebook (here) or Twitter (@SenCrawford).
You can watch legislative debate and committee hearings live on NET Television or find NET's live stream here.
You can always contact my office directly with questions or concerns at scrawford@leg.ne.gov or (402)471-2615.
All the best,