Urban Affairs Hearings
My colleagues and I on the Urban Affairs Committee have held several interim hearings this month in Lincoln, Omaha and Sioux City to discuss a handful of interim studies. These studies cover a range of topics, including emergency medical services (LR 165, introduced by Senator Mike McDonnell), the regulation of solar energy (LR 131, introduced by Senator Justin Wayne) and issues related to plumbing codes (LR 132, also introduced by Senator Wayne). 
Rules Hearing
On October 18th, the Rules Committee heard LRs 159 and 217. LR 159 is my interim study regarding the rules on information that is required to be included in committee statements.  Right now there is no recognition of letters for the record so that Senators can easily see who wrote letters for a particular bill.  The initial question of the study was whether information about letters for the record should be on committee statements that Senators see for each bill that comes out of committee. After more conversation and study, it appears that there might be other solutions that will work better.  I will be following up with the Executive Committee and IT to see what next steps make the most sense to better recognize those who take the time to write letters for the record for particular bills. LR 217, introduced by Senator Tony Vargas, examines the possibility of incorporating racial impact statements with certain pieces of legislation. We currently have fiscal impact statements for every bill.  Senator Vargas's study asks if we should also have racial impact statements for bills that relate to criminal justice and juvenile justice. 
Paid Family Medical Leave Discussions
This month, Senator Cavanaugh and I held discussion groups with local employers in both Lincoln and Omaha to determine how paid family leave would affect their businesses. These forums provided us with additional perspectives about incorporating paid leave into an employee's benefit package. Next month we will travel to Kearney to hear the opinions of business leaders and employees there. I appreciate the help of the Lincoln and Omaha Chambers for helping coordinate the meetings with the employers and look forward to further discussing ways in which we can make paid family leave work for both the employer and the employee.
Surprise Medical Bill
Have you or a loved one been impacted by a "surprise" medical bill after receiving care at a hospital from a provider that was not in your insurance network even though the hospital was in your network? Or have you received an unexpected bill specifically for a mammography procedure follow up? We're interested in hearing your story. Please contact me at scrawford@leg.ne.gov or at my office phone number: 402-471-2615.
Sarpy Chamber Annual Awards
It was my pleasure to join the Sarpy Chamber at their annual awards dinner on October 8th. I was joined by many business and community leaders who work to make Sarpy County better each year. Thank you to the Sarpy Chamber for their work to make the celebration special, and congratulations to all the award winners!
Levee Groundbreaking
On October 15th, I attended the groundbreaking ceremony for the new Missouri River Levee System. Upgrades to the levee system were federally mandated and part of an eight year long project to protect property and increase public safety. The flooding this past March proved that flood risk mitigation structures are critical to keeping Offutt and surrounding areas safe in the future. I was happy to see that the Papio-Missouri River Natural Resources District had a great amount of support in completing the new structure and securing a funding mechanism for it.
Facebook Community Safety Event
On October 23rd, I spoke at the Facebook Community Safety Event in Bellevue. Facebook is collaborating with the National PTA to conduct these events which help families address tech-related challenges like online safety concerns or cyberbullying. With the help of the Youth and Media Team at Harvard University, Facebook has created training programs that will promote awareness and safety for children and teens who have access to the internet and social media.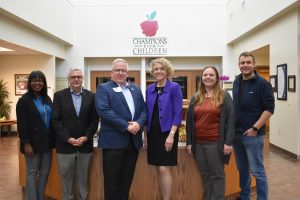 Holland Honor Roll Awards
David and I had a wonderful time at the Holland Honor Roll Awards on the 24th. This annual event celebrates the progress made by stakeholders and legislators last session in support of children and families. 23 Nebraska Senators received a 100% on the Holland Children's Movement's Legislative Scorecard. I am glad to see that our combined efforts are making a difference for Nebraska's young population.
Veterans Day Office Closure
All state offices, including mine, will be closed on Monday, November 11th in observance of Veterans Day. Thank you to all of our veterans for their service.
Stay Up to Date with What's Happening in the Legislature
You are welcome to come visit my Capitol office in Lincoln. My office is room 1012, and can be found on the first floor in the northwest corner of the building.
If you would like to receive my e-newsletter, you can sign up here. These go out weekly on Saturday mornings during session, and monthly during the interim.
You can also follow me on Facebook (here) or Twitter (@SenCrawford).
You can watch legislative debate and committee hearings live on NET Television or find NET's live stream here.
You can always contact my office directly with questions or concerns at scrawford@leg.ne.gov or (402)471-2615.
All the best,