Vaping Prevention Retreat
On December 10th I attended a Vaping Prevention Retreat with Tobacco Education and Advocacy of the Midlands (T.E.A.M.). This retreat brought together researchers, stakeholders, middle and high school personnel to share their thoughts and experiences with youth vaping. Many of my constituents have reached out this interim with their concerns about the popularity of vaping products among our youth. I share those concerns and am glad to see coalitions like T.E.A.M. reaching out to the Nebraska Legislature to pass along helpful information about vaping and the possible consequences.
Platte Institute Cottage Food Guide
The Platte Institute has published a directory of the 67 newly-registered cottage food producers who run home-based businesses due to provisions from my bill from last session, LB 304. The guide is available here and includes name, address, phone number and email. Thank you to the Platte Institute for this helpful publication and I wish all of Nebraska's home bakers a successful rest of their holiday seasons!
Commander's Holiday Reception
I was happy to attend the Commander's Holiday Reception this year. The reception is a nice opportunity to look back at the year with great company.
USSTRATCOM C2F Tour
This month I attended a tour of Offutt's new Command and Control Facility (C2F). The opening of the C2F is a testament to the modernization and progress at Offutt. I look forward to all that will be accomplished in the coming years with these new systems.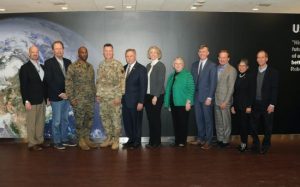 Traumatic brain injury round table
Senator Myron Dorn hosted a brainstorming session this month to discuss ways for people to access training and recognize symptoms of traumatic brain injuries. I applaud Senator Dorn for sharing this important message.
Session Begins January 8th
This will be my last monthly update during the interim – the next time you hear from me will be at the end of the week that the second session of the 106th Legislature convenes on January 8th. On the first day of session, the Legislature will hold its opening ceremonies. On Day 2, senators will begin to introduce bills. I will also be attending a briefing from the Judiciary Committee on mental health courts on Day 2 of session. On January 10th, Day 3, our only formal business is typically new bill introduction. Speaker Jim Scheer will then finalize the (now tentative) legislative calendar for 2019. You can find the current proposed calendar here. I look forward to joining my colleagues in January and having a productive 2020 session.
New Year's Day Office Closure
Next month, all state offices, including my own, will be closed on Wednesday, January 1st in observance of New Year's Day. Happy New Year!
Stay Up to Date with What's Happening in the Legislature
You are welcome to come visit my Capitol office in Lincoln. My office is room 1012, and can be found on the first floor in the northwest corner of the building.
If you would like to receive my e-newsletter, you can sign up here. These go out weekly on Saturday mornings during session, and monthly during the interim.
You can also follow me on Facebook (here) or Twitter (@SenCrawford).
You can watch legislative debate and committee hearings live on NET Television or find NET's live stream here.
You can always contact my office directly with questions or concerns at scrawford@leg.ne.gov or (402) 471-2615.
All the best,