106th Legislature, Second Session Convenes
Wednesday, January 8th was the first day of the second session of the 106th Legislature. I look forward to a productive session serving you all alongside my 48 fellow senators. Please feel free to reach out to Hanna Murdoch, my legislative aide, or Lillian Butler-Hale, my administrative aide, with questions. Our office phone number is 402-471-2615 or you can send me an email at scrawford@leg.ne.gov.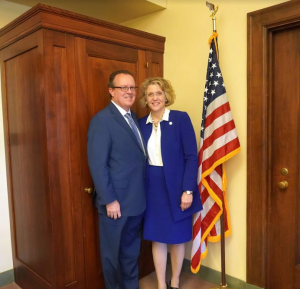 Week 1 Bill Introduction
Our primary business this week was the introduction of new bills. Because this is not the beginning of a new biennium, some bills from last session carry over. I will give a more in-depth description of my bills as they come up for public hearings in the next few months. Briefly, however, my newly introduced bills this week are:
LB 833 provides that Programs of All-Inclusive Care for the Elderly, or PACE Programs, are exempt from state licensure requirements. Currently, these programs are subject to four separate state facility licensing requirements, which are duplicative of existing federal requirements
LB 841 is a bill relating to certain certifications for homestead exemptions. If enacted, this bill would allow permanently disabled veterans to verify their disability status just once with the county assessor or Tax Commissioner, instead of having to verify their disability status and provide certification on an ongoing basis.
LB 842 changes provisions relating to motor vehicle taxes imposed on military service members. This bill provides that active duty members of the armed forces who are Nebraska residents, as well as their spouses, can qualify for a motor vehicle tax exemption.
LB 870 is a bill that would allow cities to directly borrow funds from a bank to supply infrastructure and services following a natural disaster, such as a flood.  This will allow communities impacted by disasters to more quickly obtain the funding they need to provide essential  resources like water to their residents.
LB 871 amends Nebraska's Uniform Deceptive Trade Practices Act to define an "unconscionable" pricing. This bill would create a mechanism for the Attorney General to take action against companies suspected of engaging in unfair pricing.
LB 933 changes provisions relating to the discontinuation of utility services. The intent is to prevent tragedies resulting from customers with medical needs being disconnected from their utilities. This provision already exists, but utility companies aren't required to grant the postponement of the shutoff.
Climate Crisis Press Conference
Yesterday I joined several of my colleagues for a press conference for a climate change resolution , introduced this year by Senator Kolowski and cosigned by me. Students at Prairie Hill Learning Center wrote the resolution this interim to bring awareness to climate change and how it impacts Nebraska youth. I am impressed with the commitment of these young people to taking care of the planet and was happy to join the press conference to bring more attention to the resolution.
Policy Breakfast with Senator Blood
This week Senator Carol Blood hosted a breakfast meeting to deliver an update on the Veterans' Bill of Rights legislation that she is introducing this session. I have cosponsored it and look forward to working with her on this important legislation.
Judiciary Committee Brieifing
On Thursday, Judge Doyle delivered a briefing about problem solving and mental health courts. The briefing reviewed the growth of problem-solving courts in Nebraska and evidence of their effectiveness. Problem solving courts, like our Veterans courts and Sarpy's DUI court, allow an intensive supervision alternative to traditional courts to help those who most need services to turn their lives around. I appreciate Senator Lathrop inviting members of the body to be a part of this important conversation.
OpenSky Legislative Symposium
The OpenSky Policy Institute had its first of their annual symposiums on Thursday. The symposium included conversations about current proposals to address property taxes. It also featured a presentation from Jeff Chapman, Director of The Pew Charitable Trust's State Fiscal Health Initiative, who discussed revenue volatility and projections. Overall, the symposium stressed the need to carefully consider budget sustainability issues as we decide what to do with our current annual budget.
Capitol Construction
Much like the beginning of last year, there is a construction crew working here at the Capitol to allow for updates to the HVAC systems in select offices. My office location has not changed since the last session and is easily accessible from the north or west doors. If you are trying to reach the information desk, it is still accessible from all four directions.
Stay Up to Date with What's Happening in the Legislature
You are welcome to come visit my Capitol office in Lincoln. My office is room 1012, and can be found on the first floor in the northwest corner of the building.
If you would like to receive my e-newsletter, you can sign up here. These go out weekly on Saturday mornings during session, and monthly during the interim.
You can also follow me on Facebook (here) or Twitter (@SenCrawford).
You can watch legislative debate and committee hearings live on NET Television or find NET's live stream here.
You can always contact my office directly with questions or concerns at scrawford@leg.ne.gov or (402) 471-2615.
All the best,