Week 2 Bill Introduction
This week we had four full days of bill introduction. By the end of the day Thursday 314 bills and 18 resolutions had been introduced this year. I introduced 3 bills this week. They are:
LB 948 requires that insurance companies offer coverage at no cost for more intensive breast cancer screening services for women with dense breasts or at higher risk of cancer. The bill also requires that MRIs be covered by insurance for these women. This bill ensures that women at higher risk of cancer get the coverage they need and are not stuck with surprise medical bills due to their intensive testing needs.
LB 983 eliminates the current provision that requires 1 point be issued against a driver's license for any speeding violation up to 5 miles per hour. Nebraska's point system is stricter than surrounding states and a small speeding violation can increase insurance costs.
LB 1001 requires that the Suicide Hotline number be printed on public school student IDs. The bill brings awareness to suicide prevention and encourages struggling students to access the suicide hotlines if they are in crisis.
Bills on the Agenda
This week we debated several key bills on General File first-round debate. Those include two of my own, LB 305 and LB 322.
LB 305 creates the "Healthy and Safe Families and Workplaces Act" and requires employers with four or more employees to provide employees with one hour of "sick and safe" leave for every thirty hours worked. Safe leave can be used by employees experiencing domestic violence or stalking. The discussion on LB 305 will continue next week.
LB 322 deals with tobacco compliance checks performed by law enforcement and tobacco prevention coalitions and establishes a uniform process for those checks state-wide. Compliance checks allow law enforcement and tobacco prevention coalitions to work with young people to test whether retailers are selling tobacco products to minors. The bill advanced to the Enrollment and Review stage with unanimous support from the body.
Suicide Prevention Press Conference
Senator John McCollister and I held a press conference on Wednesday morning to bring awareness to the suicide prevention legislation that is being brought forth by each of our offices this session. My bill, LB 1001, would require that public schools print the Suicide Hotline number on student ID badges. Senator McCollister's bill, LB 816, would put a 48-hour waiting period on purchasing a semi automatic rifle or shotgun so local law enforcement can conduct a background check. His bill also requires that suicide prevention material be provided with certification and a background check when purchasing a firearm at a gun show.
The statistics regarding teen suicide are sobering to say the least. LB 1001 is one small step we can take toward reducing teen suicide. I appreciate Channel 3 News covering this story and have linked their article here for those who would like more information on the subject.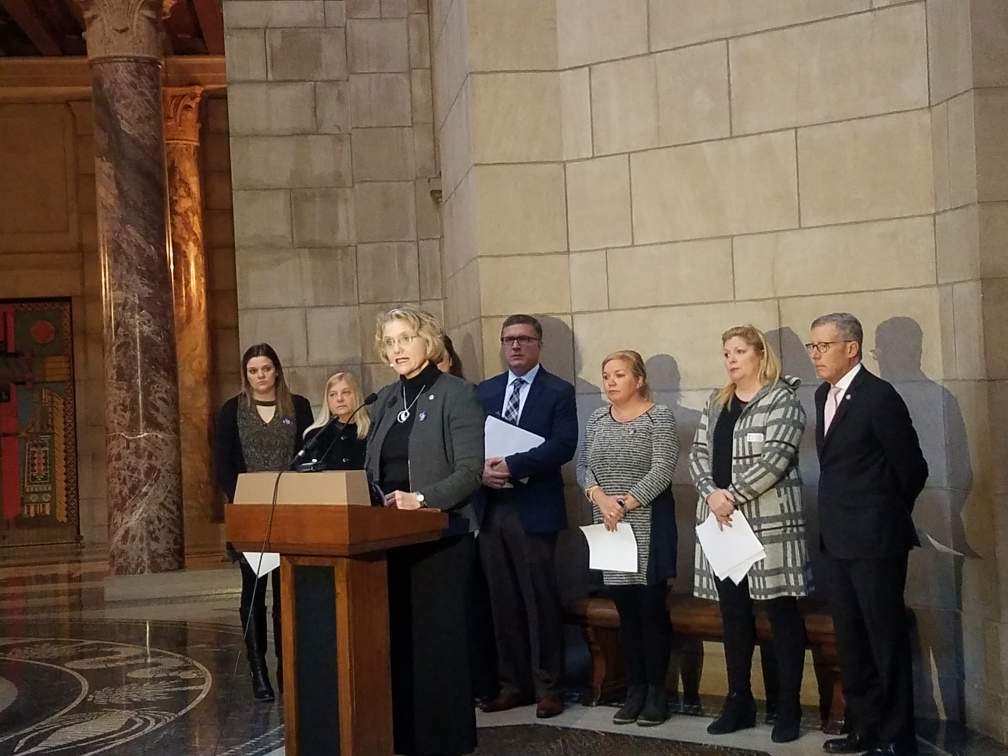 Bill Hearings Begin Next Week
Next week will mark the start of public bill hearings. I have two bills scheduled for hearings next week: LBs 871, my bill about price gouging, and 841, my bill about veterans' disability status and certification. You can find the schedule for bill hearings here. Committees must give at least one week's notice to the public before a hearing, so the schedule will continue to be updated as the session progresses.
Bill Tracker Tool
My colleagues and I have introduced 314 bills this year. If there are particular bills in that collection that you want to keep track of, our bill tracking tool is a great way to do so! You can sign up for the bill tracker here.
The Bill Tracker tool allows you to receive updates on up to 15 bills at a time for free or to sign up for a premium account to track an unlimited number of bills. If you check the box to receive email updates you will be sent a notification when a bill you selected is scheduled for a public hearing and when it is advanced through each round of debate.
Stay Up to Date with What's Happening in the Legislature
You are welcome to come visit my Capitol office in Lincoln. My office is room 1012, and can be found on the first floor in the northwest corner of the building.
If you would like to receive my e-newsletter, you can sign up here. These go out weekly on Saturday mornings during session, and monthly during the interim.
You can also follow me on Facebook (here) or Twitter (@SenCrawford).
You can watch legislative debate and committee hearings live on NET Television or find NET's live stream here.
You can always contact my office directly with questions or concerns at scrawford@leg.ne.gov or (402) 471-2615.
All the best,