Nebraska Thriving Index Briefing
On Monday I joined the Rural Futures Institute for their briefing on their recently published Nebraska Thriving Index. The report offers insights and context about economies and quality of life benchmarking in rural parts of the state. They also introduced a comparison tool for tracking regional trends. That tool is up and running for public use and is available here.
Nebraska LEAD Program Breakfast
On Tuesday morning I attended the Nebraska LEAD Program Breakfast honoring my constituent and LEAD Fellow John Bronner. The Nebraska LEAD Program is a nationally recognized organization that discusses agricultural policy, marketing, economics and technology. Congratulations to John for all his hard work and to the rest of LEAD #39 as well.
Public hearings this week
This week we continued the presentation of legislation at public hearings. Four of my bills were heard: LB 983, 842, 870 and 1061.
LB 983 and LB 842 were both heard on Monday in the Transportation and Telecommunications committee. LB 983 eliminates the current provision that one point be issued against a driver's license for any speeding violation of five miles an hour or under . LB 842 relates to motor vehicle taxes imposed on military service members. This bill creates a vehicle tax exemption for active duty members of the armed forces who are Nebraska residents as well as their spouses.
LB 870 was heard on Tuesday in Urban Affairs. This is a bill that allows cities to directly borrow funds from a bank to supply infrastructure and services following a natural disaster.
I presented LB 1061 in the Health and Human Services committee on Friday. The bill makes a number of changes to Nebraska's Child Protection and Family Safety Act. Thank you to the child welfare advocates that testified in support of this bill that will protect parents, children and caregivers.
Public hearings coming up
The next bill hearing I have scheduled is for LB 933. LB 933 changes provisions relating to the discontinuation of utility services. This bill would prevent tragedies resulting from customers with medical needs being disconnected from their utilities. The hearing will take place on February 13th in the Natural Resources committee.
Hall of Fame Banquet
On Thursday night I joined many of my colleagues at the Nebraska Chamber's Hall of Fame Banquet. Each year the Chamber holds this event to celebrate business leaders in Nebraska. This year's inductees were Richard Bell (former chairman and CEO of HDR in Omaha), Bill Marshall (former president of Five Points Bank in Grand Island) and Roland Temme (founder and owner of TMCO, Inc. in Lincoln). Congratulations to all of the inductees and thank you to the Chamber for putting on this event to honor our state's leaders in business.
Nebraska Veterans Council Day
The Nebraska Veterans Council annual Legislative Day was held at the Capitol yesterday. They spoke with legislators about their priorities and interests for this session. I was glad to welcome them to the Unicameral this year and update the group on LB 841, LB 842 and LB 153, three bills that would greatly benefit Nebraska veterans and active duty members.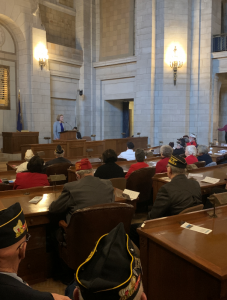 Elevating Nebraska's Early Childhood Workforce Program
The Nebraska Early Childhood Workforce Commission and Buffett Early Childhood Institute shared their new report and recommendations in a program on Thursday morning. Public and private sector leaders came together to discuss the need to prioritize the early childhood workforce in Nebraska for children and families. The report is available here and explains their comprehensive plan to ensure the workforce is highly qualified, diverse and engages stakeholders in the process.
Stay Up to Date with What's Happening in the Legislature
You are welcome to come visit my Capitol office in Lincoln. My office is room 1012, and can be found on the first floor in the northwest corner of the building.
If you would like to receive my e-newsletter, you can sign up here. These go out weekly on Saturday mornings during session, and monthly during the interim.
You can also follow me on Facebook (here) or Twitter (@SenCrawford).
You can watch legislative debate and committee hearings live on NET Television or find NET's live stream here.
You can always contact my office directly with questions or concerns at scrawford@leg.ne.gov or (402) 471-2615.
All the best,