Our office has a whole new staff that will be working tirelessly to serve Nebraskans. Learn more about these amazing individuals below.



Dave Gottschalk
Chief of Staff & Legislative Aide
Dave graduated from the University of Nebraska-Lincoln in 2010. After graduation, he spent time working for labor unions in Washington D.C. before moving back to Nebraska to work as an organizer for Planned Parenthood. He is currently a third-year law student at the University of Nebraska Law School.
In his limited spare time (law student), he enjoys baseball (Go Cubs) and reading, mostly history books. When not at work or school Dave is usually taking his dog to the dog park or on a bike ride. He is also a self-declared cinephile — a lover of movies.
Cassy Ross
Communications Director & Administrative Aide
Cassy studied at the University of Nebraska-Lincoln, majoring in Political Science and Global Studies. She has been heavily involved with Amnesty International and is currently a Sexual and Reproductive Rights trainer for the organization. She has previously interned for the ACLU, the Nebraska Unicameral, the University of Nebraska Public Policy Center, and Sisterhood is Global Institute in Amman, Jordan.
Cassy is currently studying to become fluent in Arabic and wants to begin to learn Russian next. She loves learning about other cultures through language. In her free time, she fosters animals for the humane society, works as a part-time bartender, and is a plant connoisseur.
Temi Onayemi
Intern
Temi is a senior Psychology and Political Science double major at the University of Nebraska-Lincoln. He is from the south suburbs of Chicago, Illinois, but has found a home in Nebraska. At UNL, Temi is the current president of the Afrikan Peoples Union, a member of the NU Student Alliance that helps advocate at the legislature on behalf of the university, and a couple of other fun clubs.
Reading, writing, soccer, and chess are all hobbies that Temi loves. Post-grad, he is deciding between a few interests that he might pursue, but he hopes that his road will lead back to Nebraska.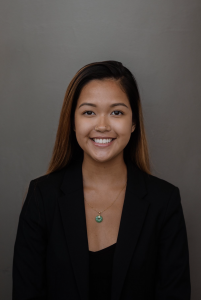 Anna Singharath
Intern
Anna is currently a senior at the University of Nebraska-Lincoln with a major in Global Studies and a minor in French. Her interests include foreign policy and working on basic human rights. Anna says that her position with Senator Hunt will allow her to dive deeper into the political field, which will help with incorporating her interests into her future career.
Anna enjoys traveling and learning about different cultures. After graduation, she hopes to travel to another country to teach English and learn about their government system for a year, then returning to attend graduate school.
Fun Fact: Anna has eaten at the same Mexican restaurant as Barack Obama (S/O La Juanitas in Sioux City, IA).
Matt Baldwin
Intern
Matt is a senior Political Science and Accounting double major student at the University of Nebraska-Lincoln. At school, he has been involved in various independent research projects regarding state legislatures, specifically term limits and ideas on representation. Matt says that coming to the Unicameral is like stepping out of the academic journal and into the wild!
As a lifelong Lincolnite and Nebraskan, he says that the Unicameral has always had a place in his psyche and he is thrilled to help on a team doing work to make this state a more welcoming place. In Matt's spare time, he loves to read books of all kinds: mythology, psychology, justice, history. He is also a huge fan of the Denver sports teams—Broncos, Nuggets, Avalanche, and Rockies.