Dorn visits intergenerational elder and child care facility in Adams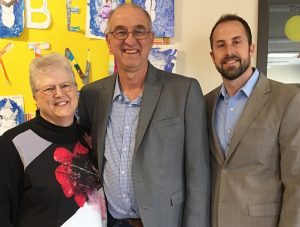 (Story and photos provided by First Five Nebraska)
While the Legislature was in recess last week, Senator Dorn took the opportunity to visit Gold Crest Retirement Center in Adams. The visit coincided with an interview for First Five Nebraska, a nonprofit that works to elevate the public conversation around quality early childhood programs. First Five Nebraska interviewed Senator Dorn and Gold Crest staff for an upcoming video highlighting intergenerational elder and child care facilities in Nebraska.
Gold Crest has served as a vibrant community hub for residents of Adams and Gage County since its founding in 1990. The facility offers independent living, assisted living and memory care for older adults, alongside a child care facility and preschool serving children from ages 6 weeks to 12 years. By combining nursing and child care, Gold Crest can take advantage of operational efficiencies while enhancing quality of life for children and residents through intergenerational activities. As children and residents interact, the "adopted grandparents" experience joy and enhanced well-being while the children build relationships with differently abled people.
"My father-in-law is an elder here and when the kids come by, it's great to see all those young, energetic, vibrant and full-of-energy kids come around. You see the smiles on the faces of the elderly," Dorn said.
Gold Crest was one of the first intergenerational facilities in the state, and the model may be one solution to help rural communities serve a growing older adult population while bringing in much needed child care programs. The Legislature's Health and Human Services Committee recently held a public hearing for LB1051, which would create a cash fund for one-time startup costs for nursing facilities interested in adding child care in their space.
In Adams, the intergenerational model has been a big win for the community.
"The program they have here and offer to everybody – the residents, the employees, the people of town and the surrounding communities – has just been a tremendous blessing to have."
Senator Dorn looks forward to continuing to work to support his constituents in District 30 through fiscally responsible solutions around elder care, quality early childhood programs and community development.
L-R in the group photo: Janie Jantzen, Director of Child Care Services at Gold Crest; Senator Dorn; Jeff Fritzen, Executive Director of Gold Crest