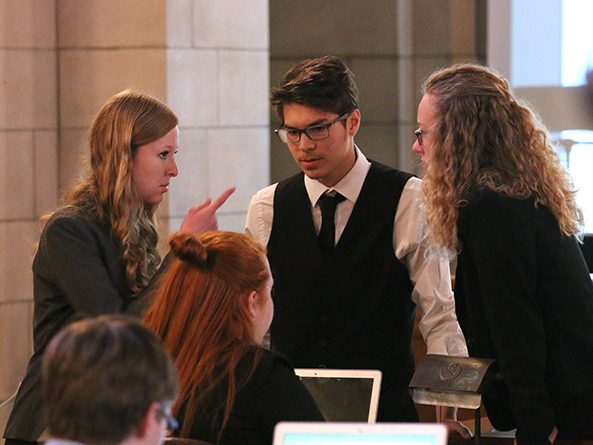 Sen. Erdman invites students to attend the Unicameral Youth Legislature. High school students are invited to take on the role of state senators at Nebraska's Unicameral Legislature June 11-14, 2017. At the Capitol, student senators will sponsor bills, conduct committee hearings, debate legislation and discover the unique process of the nation's only unicameral legislature.
The Unicameral Youth Legislature gives behind-the-scenes access to students who have an interest in public office, government, politics, law, public policy, debate or public speaking. Students will learn about the inner workings of the Legislature directly from senators and staff.
Senator Erdman believes students should familiarize themselves with both the United States Constitution and the Nebraska Constitution. The Unicameral Youth Legislature provides an excellent forum to foster this kind of knowledge in an experiential way.
Registrants are encouraged to apply for a Greg Adams Civic Scholarship award, which covers the full cost of admission. Applicants must submit a short essay to compete for the award. In addition, several $100.00 scholarships are available to participants.
The Office of the Clerk of the Nebraska Legislature coordinates the Unicameral Youth Legislature. The University of Nebraska-Lincoln's Extension 4-H Youth Development Office coordinates housing and recreational activities as part of the Big Red Summer Camps program. To learn more about the program, go to www.NebraskaLegislature.gov/uyl or call (402) 471-2788. The deadline for registration is May 15th.